Punjab govt's decision to advance paddy sowing aims to placate angry farmers ahead of polls, but ignores impact on groundwater
While the Amarinder Singh-led Congress government's decision to prepone the date for paddy sowing in Punjab to 13 June may ease the angry farmers ahead of the Lok Sabha polls, early sowing will put further pressure on the already depleted groundwater of the state
Over the years, the wheat-rice sowing pattern in Punjab, has put immense pressure on groundwater in the state resulting in some areas of the state going dry

Since 2008, the Punjab govt has been fixing date for paddy sowing in the state to remove the stress on ground water

The date was pushed to 20 June in 2018, but the Congress govt has preponed it to 13 June to assuage farmers' anger ahead of the Lok Sabha polls

Experts believe the decision will push further stress on the already depleting groundwater level in the state

The govt needs to provide financial certainty to farmers by setting competitive MSP for other environment-friendly crops
Editor's Note: A network of 60 reporters set off across India to test the idea of development as it is experienced on the ground. Their brief: Use your mobile phone to record the impact of 120 key policy decisions on everyday life; what works, what doesn't and why; what can be done better and what should be done differently. Their findings — straight and raw from the ground — will be combined in this series, Elections on the Go, over a course of 100 days.
Read more articles from the series here
***
Sangrur: A poll gimmick that could cause an environmental crisis is how many experts describe Punjab chief minister Amarinder Singh's announcement at an election rally that farmers can sow paddy from 13 June, instead of from 20 June. While the announcement brought smiles to the faces of farmers like Krishan Singh, 58, of Sangrur, agronomists like Professor Gian Singh said this will put further pressure on the already depleted groundwater availability. "Paddy is not conducive to Punjab's environment," said Gian.
Punjab's farmers shifted from their traditional sugarcane-wheat cropping pattern to wheat-rice cropping when the green revolution introduced hybrid seeds to increase productivity. Till 2007, farmers could plant paddy whenever they wanted. But in 2009, the state government introduced the 'Punjab Preservation of Subsoil Water Act' which allowed farmers to sow paddy from nurseries into the fields only on dates announced by the government.
Rice in Punjab is sown in May-June and harvested in October-November. The late sowing was to put less pressure on groundwater as farmers could use more surface water with the arrival of rains from 1 June. The policy seemed to work as a subsequent study conducted to assess the changes in the groundwater table after the implementation of the act found that the situation had improved.
A specific date, 10 June, to sow paddy was fixed for the first time in 2008 and advanced to 15 June in 2014. The date was advanced to 20 June in 2018. But now it has been preponed to 13 June.
With polling in Punjab due on 19 May, the Congress government obviously felt it had to do something to assuage farmers' anger over the successive state and central governments doing little to solve their problems. The early sowing and no doubt another round of increase in paddy MSP later, which in recent years has been going up every year, may please the farmers to some extent.
While the MSP on the common variety of paddy was Rs 1,470, it was Rs 1,510 for Grade A quality of paddy in the year 2016-17. The MSP was increased to Rs 1,550 and Rs 1,590 for common and Grade A variety, respectively, in the year 2017-18. The MSP for paddy further escalated and in 2018, the government fixed it at Rs 1,750 and 1,770 for common and A grade variety, respectively.
Regular increase in MSP is another reason why farmers are not willing to leave the crop for alternative options. But the consequences of this move on water availability, even in the short and medium term, is what worries experts, especially given that the area under paddy has been going up every year.
As it is, Punjab's paddy crop guzzles far more water than in other states. According to the Commission for Agriculture Costs and Prices, "West Bengal, for example, consumes 2,605 litres of water to produce a kilogramme of rice compared to 5,337 litres by Punjab." The report added that "water is increasingly becoming scarce in India with high opportunity costs and it is imperative to augment water productivity, ie, water intake per kilogramme of production".

Over the years, the wheat-rice sowing pattern in Punjab, has put immense pressure on groundwater in the state resulting in some areas of the state going dry. As per a report by the Department of Soil and Water Conservation, Punjab, the demand of water for agricultural purposes is 43.7 lakhs hectare metre of which 12.4 lacs hectare metre is met through over-exploitation of groundwater resources.
"Though not much change has been witnessed in the last few years in surface water resources, underground water resources have deteriorated to a large extent due to the paddy-wheat cycle followed during and after the green revolution. The area of Central Punjab where the water table has gone down below the critical depth of 10 metres was three percent in 1973, 25 percent in 1990 and 46 percent in 1994," the report said.
Another study by the Punjab Agricultural University said that there is a decline of 41.6 centimetre in the state's groundwater depth every year.
"This calls for urgent steps to conserve the available groundwater and increasing the recharge of groundwater resources," the study pointed out.
Economist Sucha Singh added that the "subsidy on electricity by the state government has resulted in indiscriminate exploitation of groundwater".
According to Punjab State Farmer's and Farm Worker's Commission, 110 out of 148 blocks in the state have been over-exploited for groundwater. As per a study by Central Groundwater Board, in major parts of the state, groundwater levels are in the range of 10 to 20 metres. However, in big cities like Jalandhar, Ludhiana, Patiala, Amritsar and Sangrur, water levels are at 20 to 40 metres. The extent of groundwater depletion can be seen from the depth of a tubewell in Krishan's field, which is more than 110 feet.
Digging a borewell could cost anything between Rs 75,000 to Rs 1,50,000 depending on the depth of the water table and other circumstances. Krishan said his costs keep going up as he has to dig deeper every year for water.
"There are farmers who have to spend a lot to dig really deep to reach the groundwater when the water table further recedes," he said.
Farmers in Punjab are already reeling under the burden of debt from banks, co-operative societies and money lenders. Small farmers, in particular, are infuriated over the Congress government for failing to end the vicious circle of debt despite its claims before the 2017 state Assembly polls. Although partial waiver was introduced by the state government, it did not help the large chunk of cultivators who are under debt, especially to money-lenders. To what extent their anger will be assuaged by the chief minister's decision to prepone the paddy sowing remains to be seen.
What also remains to be seen is the action the chief minister may take if and when the warnings by experts of a potential water crisis comes true. The effects of the increased use of groundwater due to early sowing will need to be assessed.
Gian adds that paddy not only consumed large amounts of groundwater, but is also a cause of pollution when farmers burn its straw after harvest. Late sowing and burning of stubble are an annual phenomenon as the sowing of paddy in June provides only a small window to the farmers between the harvesting of the crop and sowing of wheat. To remove the stubble quickly, farmers prefer to burn it rather than spending money to have it removed. Although the state government last year introduced a subsidy on the cost of machines to remove paddy stubble, most farmers still chose to burn the stubble.
One solution, according to Gian is for the government to frame policies that will incentivise farmers to go in for new crops that are environment-friendly.
"At present, there is income certainty for farmers from paddy. But paddy could be done away with from Punjab by just providing financial certainty to the farmers for growing other crops," he says.
As Jagbinder Singh, 65, a farmer in Sangrur puts it, "Small farmers (the total number of land holdings in Punjab is 10.93 lakh, of which 2.04 lakh or 18.7 percent are marginal farmers, 1.83 lakh or 16.7 percent small farmers and 7.06 lakh or 64.6 percent farmers who hold land more two hectare) will not move away from growing paddy unless the government provides minimum support price (MSP) like it does for paddy."
The author is a Ludhiana-based freelance writer and a member of 101Reporters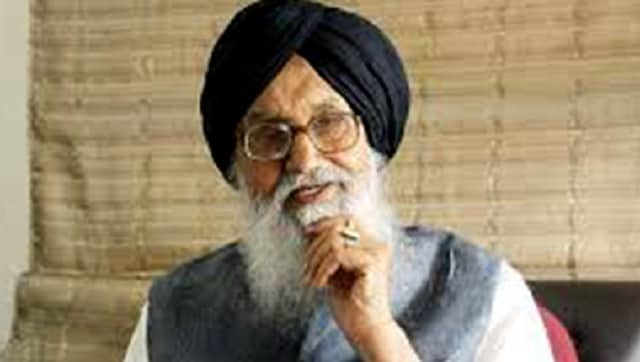 India
The former Punjab CM had been questioned in 2018 by the previous SIT probing the matter. He had then said the investigation was 'politically motivated' and an attempt to defame him
India
This is the second time that Badal has been summoned in the case. He was interrogated by the previous SIT headed by then ADGP Prabodh Kumar on 16 November, 2018
science
Information on CO₂ removal is found in academic literature and focuses on a global scale but actually doing it will involve everyone from local farmers to international financiers.