Puducherry sees sudden spike in premeditated murders, puts residents, cops on their toes
Political parties and activists say the police are to blame, and the current government needs to do more.
It seems like criminals in Puducherry are having a field day, with no fear of consequences.
Recently, the state grabbed headlines when Vinod, one of the alleged killers of a 17-year-old boy Suvethan, transported the victim's severed head to a Tamil Nadu police station around 10 km away and tossed it there, in full view of CCTV cameras.
When questioned, Vinod reportedly said that he transported the head so he could serve his sentence in the Cuddalore jail instead of a Puducherry facility.
While this may be an isolated case of gruesome violence, this year has seen some of the most daring murders in the otherwise peaceful Union Territory. The government has now prevented unlawful assembly through Section 144 of the CrPC (Criminal Procedure Code) to try and control the deteriorating law and order situation.
This year has been witness to some high-profile murders in the UT. In January, former Assembly speaker, VMC Sivakumar was attacked with country bombs and hacked to death in broad daylight in Karaikal. A history-sheeter, Murali, was also hacked to death in a busy part of Puducherry at 2.30 in the afternoon.
Puducherry averages around 30 murders a year. In 2017, while there were only two murders in January, February and March put together, since the beginning of April, there have been 12 murders in a row. The most prominent one is the murder of Velalagan, a labour contractor, where the local police brought in the CBCID to deal with the case. Four people were arrested, including an All India NR Congress functionary, for throwing a country-made bomb on Velalagan's car and hacking him to death. The police, however, say that even though it is a worrying trend, none of the murders are connected.
One troubling aspect that has surfaced is the police's involvement in the murders. V Deivasigamani, a police superintendent, was recently suspended for insufficient investigation of the Velalagan murder case. "The police officer in question is known to be involved in many illegal dealings, but he was still awarded the President's Award last year. Now, Deivasigamani has less than a year of service left, so his suspension seems almost pointless," Rajasekar, a senior journalist said.
Typically, murders in Puducherry happen on the spur of the moment, when people are drinking together and fights break out. Premeditated murder is not very common, a police officer says. The 12 murders in the last month and a half, however, have all been planned. There are two cases of wives plotting to murder their husbands, and the remainder were mostly petty criminals murdered by rivals.
The audacity and the frequency of the murders have instilled fear in the residents and a distrust of the authorities' ability to ensure their safety. Police and the government are now taking measures to mitigate the situation. "In almost every case, we have arrested the culprits in less than 48 hours," said Rajiv Ranjan, senior superintendent of police (law and order). They are also identifying known offenders, and so far have banned around 10 to 15 repeat offenders from the UT.
The government and police are also identifying criminals to be booked under the Goondas Act. "We have also conducted a meeting with police from bordering districts of Villupuram and Cuddalore to control the situation at the border," he said.
"The problem is not only with the police," Ranjan said. "Most murderers in Puducherry know they will be out on bail as soon as we file the chargesheet. The conviction rate of criminals is very poor, and the judiciary needs to cooperate with the police to instil fear amongst the criminals," he said.
The ruling Congress government said they are trying to improve the law and order situation. "Despite their differences, Lieutenant Governor Kiran Bedi and Chief Minister V Narayanasamy have been working together to bring Puducherry's law and order under control," K Lakshminarayanan, parliamentary secretary to the chief minister, said.
Speaking of the allegations against the police, a senior officer said there are several policemen who are known to have dealings with criminals. Without suitable punishment, the law and order situation would not improve. "In 2012, for example, a group of police officers teamed up with a gangster to kill Jagan, a history-sheeter, who was being transported from Puducherry jail to Karaikal. Jagan was murdered inside the police van, which would not have been possible without police cooperation," he said.
According to a retired Tamil Nadu police officer, the nexus between politicians, police and criminals in Puducherry is legendary. "Each politician has around 10 or 15 rowdies that work with them closely," he said. The suspension of the superintendent of police is the only time action has been taken against a senior officer, he said. Contrasting Puducherry with Tamil Nadu, he said that in Tamil Nadu, the government ensures that criminals with over two murder cases are booked under Goondas Act, something that has not happened in the UT for several years. "Even the investigations are very poor, with the police presenting insufficient evidence to ensure a conviction," he said.
Political parties and activists say the police are to blame, and the current government needs to do more. CPI National Council Member, Nara Kalainathan spoke of how meetings with the Tamil Nadu police have not yielded results over the years. "For a murderer to dare to throw a severed head into a police station in full view of the cameras is unconscionable. There is no fear of punishment amongst criminals, making the crimes more audacious. This spate of murders is only a culmination of years of inaction on the part of the police and the government," he said.
CPM unit secretary R Rajangam emphasises the need for more control over the police. "Although one police officer has been suspended, there are several more that have been known to have associations with criminals, but nothing has been done," he said. Rather than just suspending an officer, Rajangam recommends severe action be taken against officers who liaise with criminals.
Activists agree, saying the action taken is too little, too late. Citing the example of the 2012 Jagan murder case, activist Log Iyappan said blood from the murder site was swapped with dog's blood when it was sent to the forensic team. "Unless strict action is taken to weed out these officers, there is very little chance of the crime rate reducing," Iyappan said.
Find latest and upcoming tech gadgets online on Tech2 Gadgets. Get technology news, gadgets reviews & ratings. Popular gadgets including laptop, tablet and mobile specifications, features, prices, comparison.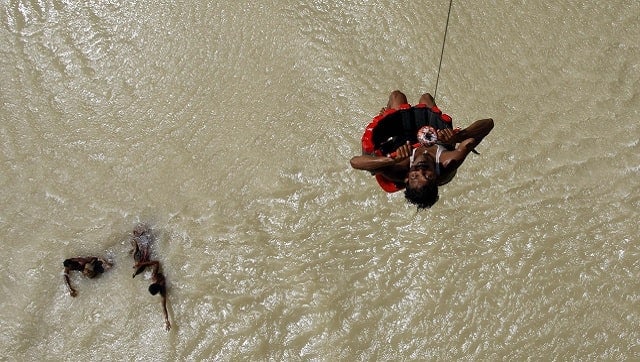 Lifestyle
In 1968, the Koshi river swept away hundreds of homes, destroying land and livelihoods. Generations later, villagers in Nepal's Sunsari district are still waiting for help from the Indian and Nepali governments.
India
In his address after laying the foundation stone for various infrastructure projects in Tamil Nadu, Shah said Narendra Modi has "waged a battle to end dynasty politics and corruption"
Lifestyle
'As I read Emily Ratajkowski's tale, I thought of many of the stories I had heard amongst the models I had interviewed that struck a similar chord,' writes Manjima Bhattacharjya in her monthly column, 'Curious Fashion'