PM Modi, Oz PM Abbott agree on closer cooperation on defence and trade in Australia
PM Narendra Modi, his Australian counterpart Tony Abbott decided to establish a Framework for Security Cooperation to reflect their expanding defence ties.
Canberra: Seeking to enhance defence ties, India and Australia on Tuesday established a framework for security cooperation, as they decided to conclude a long pending Free Trade pact by the end of next year and an "early closure" of the civilian nuclear deal that will facilitate uranium trade.
Prime Minister Narendra Modi and his Australian counterpart Tony Abbott held talks and decided to establish a Framework for Security Cooperation to reflect their deepening and expanding security and defence collaboration for advancing regional peace and combating terrorism among other challenges.
After the summit talks at the Prime Minister's office, just two months after Abbott's maiden visit to India, the two countries signed five pacts on social security, transfer of sentenced prisoners, combating narcotics trade, tourism, and Arts and Culture.
"This is a natural partnership, arising from our shared values and interests, and our strategic maritime locations," Modi said at a joint press conference with Abbott.
"Security and defence are important and growing areas of the new India-Australia partnership - for advancing regional peace and stability, and combating terrorism and trans-national crimes," he said.
The security framework, finalised hours before the talks, lays out an extensive "action plan" including annual prime ministerial summits and maritime military exercises, besides cooperation in counter-terrorism, border control and close consultations on regional and international institutions.
It's confirmation came only after Chinese President Xi Jinping left Canberra for Tasmania, Australian media reported. Modi said the two sides also "agreed on seeking early closure on the civil nuclear agreement, which will give Australia a chance to participate in one of the most secure and safe nuclear energy programme in the world."
Modi and Abbott had summit talks in Delhi last month during which India and Australia sealed a civil nuclear deal.
Australia has about 40 per cent of the world's uranium reserves and exports nearly 7,000 tonnes of yellow cake annually. India and Australia had commenced negotiations for the sale of uranium in early 2012.
Later in a rare address to the Parliament, Modi said the region has seen huge progress on the foundation of peace and stability.
"But, we cannot take this for granted. Preserving it will be the most important task in the region. India and Australia can play their part in it - by expanding our security cooperation and deepening our international partnerships in the region," he told the lawmakers.
Addressing the Parliament, Abbott said, "If all goes well, Australia will export uranium to India under suitable safeguards because cleaner energy is one of the most important contributions that Australia can make to wider world."
Abbott also said that "By the end of the next year we will have a Free Trade deal with what is potentially the world's largest market."
Noting that the world sees Australia to be at the heart of the Asia Pacific and Indian Ocean region, Prime Minister Modi said India sees Australia as a "vital partner" in its quest for progress and prosperity.
"I see Australia as a major partner in every area of our national priority," he said.
Modi, the first Indian Prime Minister to visit the country in 28 years after Rajiv Gandhi in 1986, said Australia will not be at the periphery of India's vision but at the "centre of its thought."
"We are united by the ideals of democracy," he said. While talking about India-Australia ties, he said: "India and Australia have a great economic synergy."
"There are huge opportunities for partnership in every area we can think of - agriculture, agro-processing, resources, energy, finance, infrastructure, education, and science and technology," Modi said.
Modi emphasised that the economic climate in India has changed. "I believe it will be a lot easier to convert opportunities into concrete outcomes."
He also announced that India will organise a 'Make in India' show in Australia in 2015 while Australia would hold a business week in India in January next year.
"Prime Minister Abbott and I discussed what we should do to impart real momentum to our economic partnership. Reconstituting the CEO Forum is an important step.
"We have agreed to speed up negotiations on the Comprehensive Economic Partnership Agreement. I also asked for easier access for Indian business to the Australian market and quicker investment approvals," Modi said.
The two-way trade stands at a relatively modest USD 15 billion a year compared with USD 150 billion for Australia's two-way trade with China.
Modi said India and Australia were members of several institutions "critical" to the region and the world and both the countries should coordinate more closely on global fora.
He said the two countries need not have to rely on borrowed architecture of the past nor did the two have the luxury to "choose who we work with and who we don't."
"But, what we do need is to work together and with others to create environment and culture that promotes the currency of co-existence and cooperation; in which all nations, small and big, abide by international law and norms, even when they have bitter disputes.
Highlighting the growing economic and military prowess of India, Abbott lamented the fact that the business between India and Australia was only limited to USD 15 billion.
"Australia welcomes India's strength in the Indian Ocean. Australia admires Prime Minister Modi's invitation to come Make in India which echoes our own determination that Australia will be open for business but despite that regrettably Australia only did USD 15 billion business with India last year and that hardly does justice to our two countries' potential," Abbott said.
"Although India's GDP per person is still only about half of China, its growth is strong and economic prospects are broad and population is likely to overtake China's in couple of decades. This is why people now speak of the Indo-Pacific.
It is now the focus of the world economic dynamism. With China, India is the rising superpower of Asia -- the emerging superpower that is already a democracy," he said.
"Narendra and I have spent quite some time this morning talking about what we need to do to really crank up the trade relationship. Trade means jobs, trade means prosperity, we both need more jobs and prosperity," Abbott said, referring to the Indian Prime Minister by his first name, indicating the close rapport established between the two leaders.
Modi said countries needed to ensure that outer space and cyber space remain instruments of connectivity and prosperity, not new frontiers of conflict.
More importantly, he said, both the countries can work together to deal with piracy and range of other issues related to security.
"The oceans are our lifelines. But, we worry about its access and security in our part of the world more than ever before," he said.
"Responding to the region's disasters, combating proliferation, acting against piracy, we can work together on a full range of security challenges," Modi said.
Noting that terrorism has become a major threat for all, Modi suggested a comprehensive global strategy and a resolve to isolate "those who harbour terrorists".
He sought "closer security cooperation, a policy of no distinction between terrorist groups or discrimination between nations, a resolve to isolate those who harbour terrorists, willingness to empower states that will fight them, a social movement against extremism in countries where it is most prevalent and every effort to de-link religion and terrorism."
"In India, we have seen its (terrorism) face closely for three decades. And, we see it with the clarity that comes with it," Modi told the Parliament.
"Terrorism is changing in character and expanding in its reach. Internet has made recruitment and call to violence self-generated. It also feeds off money laundering, drug trafficking and arms smuggling," Modi added.
PTI
World
Johnson will instead speak to Prime Minister Narendra Modi later this month to launch their plans for the future UK-India partnership, with their physical meeting expected later in the year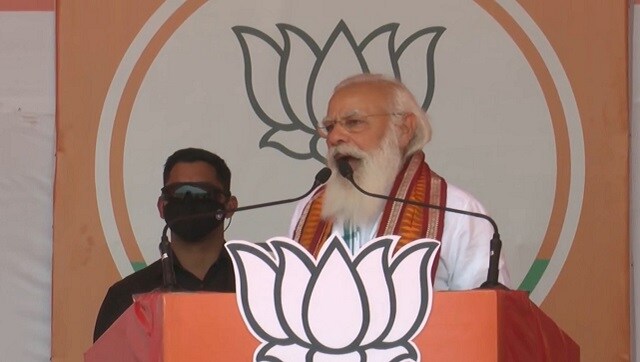 India
The prime minister also jointly inaugurated with Seychelles president Wavel Ramkalawan a solar power plant, a court building and 10 community development projects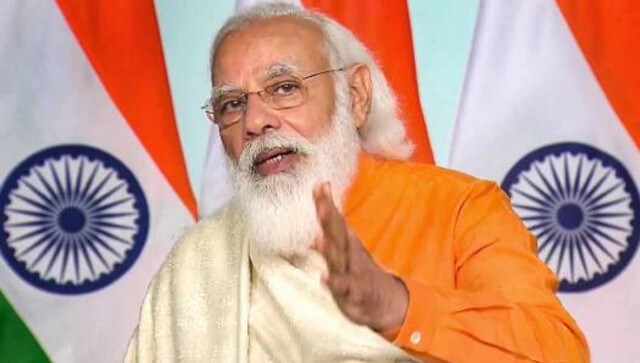 India
'The message of Lord Ram to all of us is that we should follow the boundaries of appropriate behaviour', said the prime minister