Patiala clashes: AAP blames Congress, Shiv Sena and Akali Dal for the violence as Oppn slams govt over 'lawlessness'
'The clashes were between Congress and Shiv Sena workers on one side and Akali Dal members on the other,' AAP Rajya Sabha MP from Punjab Raghav Chadha said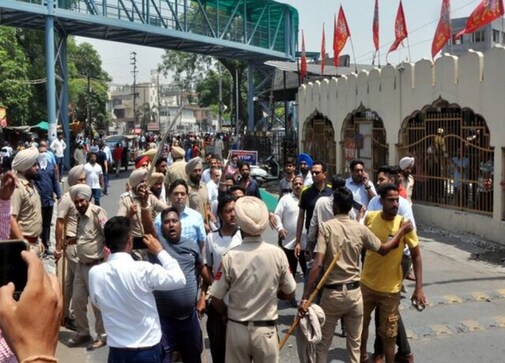 AAP Rajya Sabha MP from Punjab Raghav Chadha has blamed Opposition parties for the clashes that broke out near Kali Devi Mandir in the state's Patiala on Friday.
The leader who belongs to Punjab's ruling party said that clashes were not between two groups but between political parties. It was the Congress and Shiv Sena on the one side and the Shiromani Akali Dal on the other, he added.
According to several media reports, clashes broke out during a protest march held against a banned Khalistani outfit.
Violence erupted after a group that identifies as Shiv Sena (Bal Thackeray) came face to face with members of the Khalistani outfit, the reports added.
Earlier, Punjab chief minister Bhagwant Mann said that the "situation was under control".
Taking to Twitter, Mann called the incident unfortunate.
He said, "I spoke with the DGP, peace has been restored in the area. We are closely monitoring the situation and will not let anyone create disturbance in the state. Punjab's peace and harmony are of utmost importance."
Oppn slams govt over 'anarchy' in Punjab
Meanwhile, Opposition parties slammed the government over the law and order situation in Punjab. BJP National Spokesperson Shehzad Poonawalla said "Will (Arvind) Kejriwal blame Centre for what we see in Patiala too?
Former Punjab CM Amarinder Singh said he was "concerned about the tense situation arising" due to the clashes.
Singh was the Patiala Urban constituency MLA.
Congress leader Rahul Gandhi appealed to the Punjab government to maintain law and order saying that a "sensitive border state is not the place to carry out experiments."
With inputs from agencies
Read all the Latest News, Trending News, Cricket News, Bollywood News,
India News and Entertainment News here. Follow us on Facebook, Twitter and Instagram.
World
The IG Prison Mian Farooq Nazir has ordered Deputy Inspectors General of Prisons and Superintendents of Jails — including DIG Rawalpindi Region and superintendent of Jail Adiala Asad Javed Warraich to further improve the security of jails.
India
After shaking off the Punjab Police on Saturday, Amritpal Singh Sandhu continues to be on the run for the third day. So far, over 100 aides of the Khalistan sympathiser have been arrested, with four of them being shifted to a jail in Assam
India
Police on Saturday had launched a major crackdown against Amritpal Singh and members of his outfit 'Waris Punjab De.' Singh, however, gave the police a slip and escaped