Parliament highlights: Banking system on verge of collapse, ordinance last straw, says AITC's Saugata Roy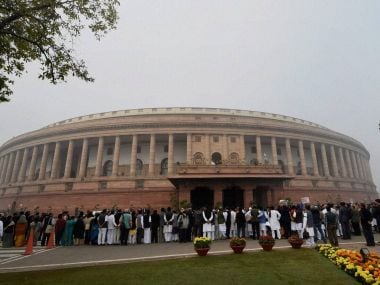 18:03 (IST)

Lok Sabha is adjourned for the day till Thursday 11 am

17:46 (IST)

The whole banking system is on the verge of collapse, ordinance is a straw: Saugata Roy of Trinamool Congress

Trinamool Congress' Saugata Roy echoes Veerappa Moily's words, says The whole banking system is on the verge of collapse and this ordinance is a single straw. "How can we trust the RBI as it has not even been able to count the money that was collected during demonetisation," says Roy.

17:26 (IST)

Senguttavan says huge NPAs are due to declining sense of morality

Senguttavan from AIADMK says, "As banks advance huge capital to industries, they have to bear the brunt of the loss. It is necessary to restore PS banks to their original strength. The RBI has the powers to give directions to banks/ banking companies to ensure resolution of stressed assets. The huge NPAs are due to declining sense of morality."

17:07 (IST)

India is an over-legislated country, says Congress' Adhir Ranjan Chowdhury

Congress' Adhir Ranjan Chowdhury asks why the banking ordinance is required considering India is an over-legislated country.

16:50 (IST)

Discussion begins on Banking Regulation (Amendment) Bill 2017

16:46 (IST)

The integrated Goods and Services Tax (Extension to Jammu and Kashmir) Bill is passed

16:37 (IST)

Rahul Gandhi slams Narendra Modi over Parliament sessions

PM Narendra Modi doesn't want discussion on things in both the houses: Congress Vice-President Rahul Gandhi pic.twitter.com/EnsIvCurOq

— News18 (@CNNnews18) August 2, 2017

16:19 (IST)

Finance minister Arun Jaitley says it was integral to incorporate J&K into GST law

Arun Jaitley says, "If we would not have integrated Jammu and Kashmir in GST, they would have missed out on input credit, making everything much more expensive. The revenue of Jammu and Kashmir would also have been higher."

"Those who are advocating for single tax slab have learnt it from some western nation where there are no BPL population. Single tax slab is an argument against the poor and only for the wealthy," says Jaitley.

16:07 (IST)

BJP's Anurag Thakur says J&K people have to decide whether they will be on consumer's side or separatists' side

15:54 (IST)

In a convoluted manner, GST hurts the tax payer: TRS MP

Konda Vishweshwar Reddy of TRS says in general prices of products have gone up and in a convoluted manner, the GST hurts the tax payer. In an immediate effect, there is not only a dip in government collection. He added, a lot of Jammu and Kashmir has barter system and GST may adversely affect the whole system there.

15:44 (IST)

BJP's Thupstan Chhewang calls for removal of Article 370 in Jammu and Kashmir

Chhewang calls for removal of Article 370 and requests the government to exempt Ladakh from GST for 5 years at least.

15:28 (IST)

Consumers still don't know what to expect of GST, says TDP's Jayadev Galla

TDP's Jaydev Galla says GST has expanded India's market and made it a world leader but there is still consumer ignorance. He added that consumers are yet to know what to look for and a campaign would benefit them. Galla also called for reconsideration of tax on textiles and sanitary napkins.

15:15 (IST)

Some 61 items have been altered in the GST law since it was introduced, says BJD's Tathagata Satpathy

BJD's Tathagata Satpathy says the GST is not one state one tax system as they would like us to believe and since its introduction 61 items in the law has been altered. "It is one of the ways for data gathering. The private agency monitoring GST will have access to a lot of data," says Satpathy. The BJD leader added, "How could the ministers have not seen as common citizens how the simplest of things can be corrupted through Indian bureaucracy? This just brings back the days of Congress rule."

15:00 (IST)

Congress party will not support Integrated Goods and Services Tax (Extension to Jammu and Kashmir) Bill, 2017

"Congress is with the GST Bill. But we are against the methods. Tax slabs were announced only before the tax was rolled out thereby making it difficult for people. Government has created tax only for the experts not for the common man. Jammu and Kashmir is a sensitive state. Its principal revenue generation is via tourism. We as a parliament have to make sure that its economy is not undermined by 'Finance Ministry's terrorism'. If GST is not rolled back, tourism is likely to suffer very badly in Kashmir. ," Shashi Tharoor said.

He said that it is important that the relationship of the Centre is maintained with the state, "and for that reason I and my party can't support the bill."

14:49 (IST)

Rajya Sabha reconvenes, adjourned within moments as relentless Opposition continues protests

14:48 (IST)

Rajya Sabha adjourned for the day

14:42 (IST)

Rajya Sabha adjourned for 15 minutes

14:38 (IST)

Rajya Sabha reconvenes amid Opposition uproar

The House was reconvened at 2.25pm but soon afterwards the Opposition members walked into the Well. Slogans like "Modi teri Gundagardi nahi chalegi, nahi chalegi" and "Loktantra ki hatya, band karo band karo!" were raised in the Rajya Sabha.

The deputy chairman PJ Kurien asked Union Minister of State in Finance and Corporate Affairs to move the Companies amendment bill despite the din. However, the Opposition took objection to this and said that how can a bill be moved when the House in not in order.

14:26 (IST)

Lok Sabha debates the Integrated Goods and Services Tax (Extension to Jammu and Kashmir) Bill, 2017

14:16 (IST)

Rajya Sabha adjourned for 15 minutes amid chaos over Karnataka I-T raids

14:11 (IST)

Opposition members troop to the Well in Rajya Sabha

Opposition members trooped to the Well, protesting against the Karnataka I-T raids against DK Shivakumar. Amid chants of "stop the murder of democracy" a Congress member asked that the federal structure of India spells out Centre's and State's roles clearly.

"Then what is this dictatorship that the Centre deployed CRPF in the state without keeping the local administration in loop," he asked.

14:01 (IST)

House proceedings reconvene

13:57 (IST)

Gujarat Congres MLA counters Arun Jaitley's statement in House, claims he has video footage of I-T raids at resort

Gujarat Congress MLA Shaktisinh Gohil rebutted the finance minister's statement in the House, claiming that the rooms of the MLAs were also searched. He also claimed that he has video footage of the I-T officials searching the resort premises.

#Gujarat #Congress leader Shaktisinh Gohil claimed to have video footage of a #Bengaluru resort room being searched. https://t.co/VBSD13fG44 pic.twitter.com/0y9yQb1fs8

— Firstpost (@firstpost) August 2, 2017

Gunmen were roaming around inside the hotel as if our MLAs are criminals. This is politics at its worst: Shaktisinh Gohil,Congress pic.twitter.com/RRFPtuTsOw

— ANI (@ANI_news) August 2, 2017

13:09 (IST)

Meanwhile.. Karnataka CM Siddaramaiah claims I-T dept did not keep local police in loop

Karnataka Chief Minister Siddaramiah said that the I-T department did not keep the local police in loop, instead CRPF was deployed. This revelation is likely to spur further protests in Parliament as both Houses will meet after 2.00 pm.

CRPF was used during IT raids instead of seeking police cooperation says Karnataka CM Siddaramaiah on IT raids in Bengaluru

— ANI (@ANI_news) August 2, 2017

13:05 (IST)

Govt wants to empty the Opposition benches in both Houses: Congress leader Kapil Sibal

They want no one on the opposition benches and want everyone with BJP. Won't let this happen: Kapil Sibal, Congress on IT Raids pic.twitter.com/MVLvpkE82W

— ANI (@ANI_news) August 2, 2017

13:04 (IST)

Lok Sabha adjourned till 2 pm

13:03 (IST)

Political killings in Kerala not limited to targetting RSS, BJP: Meenakshi Lekhi

​

BJP MP Meenakshi Lekhi alleged that several Congress, CPI, and Muslim League workers have also been targetted. She said that she fails to understand how those parties were silent on the deaths of their own people just to participate in political conspiracy against BJP.

12:55 (IST)

BJP raises 'political killings' of BJP, RSS workers in Kerala

BJP MP Meenakshi MP reads out 14 BJP, RSS workers names allegedly killed in Kerala adding that the names may not ring a bell now but if someone speaks about Pehlu Khan or Akhlaq, people immediately reconnect.

Quoting several other instances of incidents of violence, where victims were Hindus, Lekhi said that the selective outrage on political murders is not acceptable.

12:46 (IST)

"I warn everyone that if this kind of vendetta goes on in this country. Then no other party will be present in this democracy. Do not terrorise or threaten people, otherwise the government will not function," says Leader of Congress party in Lok Sabha, Mallikarjun Kharge.

12:42 (IST)

Congerss walks out of Lok Sabha

​

Congress leader Mallikarjun Kharge told the speaker that the government's attitude towards the Opposition is wrong and against the principles of democracy. He then staged a walk out, followed by all Congress MPs adding that the party condemns the politically motivated action.

12:38 (IST)

Congress to protest outside Parliament House near Gandhi statue

12:31 (IST)

Congress continues sloganeering as Lok Sabha discusses 'matters of urgent public importance'

12:24 (IST)

Rajya Sabha adjourned till 2 pm amid repeated uproar over Karnataka I-T raids

12:20 (IST)

Arun Jaitley denies vendetta, says no MLA harassed or approached

Responding to Congress MP Mallikarjun Kharge's allegations, Union minister Arun Jaitley said that the I-T raids were solely targeted on Karnataka power minister DK Shivakumar.

Jaitley said that the only reason I-T officials visited the resort was to interrogate and escort Shivakumar. He also added that the MLAs were neither searched nor approached by any official.

12:11 (IST)

Congress MLAs being threatened, harassed by I-T officals, says Malliakrjun Kharge

12:09 (IST)

Mallikarjun Kharge raises Karnataka raids in Lok Sabha

12:08 (IST)

Rajya Sabha adjourned for 10 minutes amid repeated uuproar over Karnataka I-T raids

12:05 (IST)

Opposition takes to protest Karnataka I-T raids once again in Upper House; Question Hour proceeds amid din

12:04 (IST)

Congress wants laws related to medical abortion amended

Congress members espoused the amendment of the current laws outlawing medical abortion after 20 weeks of pregnancy, citing the case of a 10-year-old rape victim who could not get the foetus aborted owing to the law.

Congress leader Ambika Soni said that the laws should be made to aide human beings and the humans should not be forced to fit the law.

11:57 (IST)

Meanwhile... JD(U) chooses to remain neutral on Karnataka I-T raids

JD(U) leader KC Tyagi, seeking to pull a balancing act on the issue, conceded that the timing of the I-T department's crackdown could have been questionable. He, however, added that the findings of the tax department from the raids could be important.

Ho sakta hai raid ki timing political ho,par kuch maamle agar nikalte hain to ye mahatvapurn hoga: KC Tyagi,JDU on IT raids in Bengaluru pic.twitter.com/Fp5JZZrKoH

— ANI (@ANI_news) August 2, 2017

11:50 (IST)

From NDTV to Congress, BJP using state machinery to Oppose those who criticise govt: Hussain Dalwai

Congress leader Hussain Dalwai invoked the CBI action against news channel NDTV, adding that the government is using state agencies like Enforcement Directorate, CBI and I-T department.

11:43 (IST)

Supreme Court agrees to hear Congress plea against NOTA option in Gujarat RS polls

The storm around the Gujarat Rajya Sabha polls refused to die, with the latest I-T raids against Karnataka minister tasked to 'look after' the MLAs holed up at Bengaluru resort.

Today, the Supreme Court agreed to hear a plea lodged by Gujarat Congress MLAs againt against decision to introduce NOTA in Rajya Sabha polls.

An Election Commission official, on the condition of anonymity, said that a provision to have the NOTA option in the Rajya Sabha polls came in to force in 2014, after a Supreme Court order said that NOTA button should be installed on electronic voting machines.

The official also pointed out that MLAs of a particular party have to show their marked ballot papers to the authorised agent of the party before putting it in the ballot box

11:37 (IST)

Conduct I-T searches on your people, who lure elected leaders with money: LOP in Rajya Sabha

Conduct raids on residences of those people from your party (BJP) who are offering Rs 15 crores: Ghulam Nabi Azad,Congress in Rajya Sabha pic.twitter.com/VN50Arkyny

— ANI (@ANI_news) August 2, 2017

11:37 (IST)

Meanwhile, Question Hour progresses smoothly in Lok Sabha

11:35 (IST)

Rajya Sabha adjourned after Congress members don't allow Dy Chairman PJ Kurien to speak

Congress members protesting the raids against the Karnataka minsiter DK Sivakumar, when he was responsible for coordinating the stay of Gujarat MLAs, trooped the well and raised anti-BJP slogans.

Deputy Chairman PJ Kurien tried to calm the Opposition adding that a notice for discussion can be raised. However, Kurien was forced to adjourn the House amid the rising din as Congress leaders chanted "Nahi chalegi nahi chalegi, tanashahi nahi chalegi"

11:30 (IST)

Rajya Sabha adjourned for 10 minutes

11:28 (IST)

Timing of raid on Shivakumar no coincidence: Anand Sharma

Responding to Arun Jaitley's claim that no raids were conducted at the resort, Congress leader Anand Shivakumar said that the minister and his brother coordinating the stay of Gujarat MLAs that is why it is a targeted timing. He said that the Opposition will not buy the argument that this is a mere coincidence.

11:22 (IST)

Congress raises slogans, troops to well over Karnataka I-T raids in RS

Uproar in Rajya Sabha by Congress over IT raids in Bengaluru pic.twitter.com/OBcgKiissB

— ANI (@ANI_news) August 2, 2017

11:21 (IST)

None of your MLAs have been searched, Eagleton resort not raided: Arun Jaitley tells Congress

Arun Jaitley said that DK Shivakumar was the target of I-T raids, who has been under the I-T scanner for a while. The minister also said that teh resort was not the target of the raids but I-T officials visited the venue because Shivakumar was present there.

Jaitley also added that the Congress MLAs were neither searched nor interrogated in the process.

No search has taken place in the resort as such and no MLA was searched, only one particular Ktka minister was searched: Arun Jaitley in RS

— ANI (@ANI_news) August 2, 2017

11:17 (IST)

It is a trend to target Opposition using state machinery: Anand Sharma

The minister & his brother, an elected representative coordinating in stay of Gujarat MLAs that is why it is a targeted timing: Anand Sharma

— ANI (@ANI_news) August 2, 2017
The Parliament is likely to see a stormy day ahead, as Opposition Congress and ruling BJP were on loggerheads on various issues outside the House, with the latest bone of contention being the Income Tax department's raids on the resort where Gujarat Congress MLAs are currently holed up, ahead of the Rajya Sabha elections in the state.
The party has criticised the Centre's "unprecedented witch hunt" merely for "one Rajya Sabha seat."
Attempt was made to bribe legislators in Gujarat; when everything failed, a frustrated BJP Govt now resorting to IT raids on Cong: Surjewala pic.twitter.com/oJ84UuuVK2

— ANI (@ANI_news) August 2, 2017
Congress to raise the issue of Income Tax raids in both the houses of Parliament, today. — ANI (@ANI_news) August 2, 2017
The issue of the alleged attempts by the BJP to lure Congress MLAs ahead of the Rajya Sabha polls had rocked the House earlier too. Opposition Congress had on Monday forced a brief adjournment of proceedings in Rajya Sabha alleging that the Gujarat police was kidnapping and threatening its MLAs in the state with a view to influence their votes in the upcoming polls.
On Tuesday to, the Rajya Sabha saw angry protests by Opposition members over an Election Commission (EC) notification that provides the MLAs the 'None of the Above' (NOTA) option in the Gujarat Rajya Sabha elections.
Leader of Opposition Ghulam Nabi Azad termed the matter as "very serious" and sought to know whether there was a separate Constitution for Gujarat as compared to the rest of India.
Ruling BJP has fielded three members including party president Amit Shah, union minister Smriti Irani and a rebel Congress MLA for the election. Ahmed Patel, Congress president Sonia Gandhi's political adviser, is seeking re-election.
Now with the I-T raids, coming up at a controversial timing, are likely to echo in the Parliament with the Opposition cornering government on practicing vendetta politics.
On Tuesday, Trinamool Congress MPs also accused the government of laying baseless charges against the Opposition leaders. TMC created uproar in the Lok Sabha after a BJP MP alleged that it emerged that the West Bengal chief minister's address was misused in a scam involving shell companies.
After the BJP MP Kirit Somaiya levelled the allegation while referring to the scam, almost all TMC MPs rose from their seats and vociferously protested the charges, calling them "totally baseless".
Updated Date: Aug 02, 2017 18:03 PM