'Pakistan-aided' terrorists kill Indian soldier, mutilate his body before fleeing back into PoK
In a 'barbaric' incident, terrorists, aided by the cover fire by Pakistani Army, on Friday crossed the Line of Control and killed an Indian army jawan and mutilated his body in Macchil sector of Kupwara district of Kashmir.
Terrorists, aided by the cover fire by Pakistani Army, on Friday crossed the Line of Control and killed an Indian army jawan and mutilated his body in Macchil sector of Kupwara district of Kashmir, an army spokesman said.
One attacker was killed in the incident which the Indian Army said will be "responded to appropriately".
"In an encounter close to the Line of Control this evening, one soldier was martyred and one terrorist was killed. The terrorists mutilated the body of the jawan before fleeing back into Pakistan-occupied-Kashmir under the cover of firing by Pakistan Army," he said.
He said the incident reflected the barbarism pervading in official and unofficial organisations in Pakistan.
"The incident will be responded to appropriately," he added.
Pakistani troopers continued heavy shelling targeting civilians and Border Security Force (BSF) facilities on the International Border in Hiranagar sector and RS Pura in Jammu and Kashmir on Saturday, police said.
"Around 6am, the Pakistan Rangers resorted to heavy mortar shelling and automatic gunfire. The BSF has started retaliating effectively," the police said.
"Shelling and firing exchanges are still going on in both these sectors."
As military confrontation increased on the border on Friday, two civilians were killed in Jammu region of India in cross-border shelling and firing overnight even as BSF claimed to have killed 15 Pakistani soldiers over the last one week.
BSF, which primarily guards the International Border with Pakistan, said it had also foiled two infiltration bids in Samba district two days back. Besides, BAT (Border Action Team) attacks from Pakistani side along the Line of Control have also been thwarted during the past 24 hours.
Firing mortar shells and using automatic weapons, Pakistani troops targeted civilian areas and forward security posts along the International Border and Line of Control in Jammu, Kathua, Poonch and Rajouri districts of Jammu and Kashmir.
"At 1720 hour yesterday, Pakistan Rangers started unprovoked heavy firing and shelling in Kathua sector of Jammu which further spread to Hiranagar and Samba. It continued till 0500 hours today in the area of 24 BSF posts," a senior BSF officer said.
"In the Pakistani shelling, one civilian died in Khour belt of Pallanwala sector today," Jammu Deputy Commissioner Simrandeep Singh said, adding another civilian was injured in RS Pura sector.
Similarly, one woman Usma Bi, aged 50 years, was killed in shelling by Pakistan on Gohlad village in Mendhar tehsil of Poonch district on Friday, Defence spokesman said.
Another civilian was injured in the area, the reports said.
BSF Additional Director General Arun Kumar said as per the ammunition used, it seems Pakistani Army Army is backing the Rangers and has taken over the posts of the paramilitary force, which is the further cause of escalation.
Kumar, who laid the wreath at the moral remains of the BSF martyr Head Constable Jitendra Singh here, said, "they (Pakistani side) are resorting to heavy firing and shelling and we are giving them befitting reply."
He said BSF has inflicted heavy damage on the Pakistani side. "As far the number of casualties on other side is concerned, which our men have seen through our eyes and instruments, 15 Pakistani soldiers have been killed after the sniping incident of Constable Gurnam Singh (on 21 October)," he said.
Gurnam was injured in the sniper firing and then succumbed to the injuries.
"They (Pakistani side) have suffered damage but are hiding them in public domain and they do not accept it. Last night we have destroyed their OP (observation post) towers and some OP towers caught fire due to our firing," Kumar said.
He said Pakistani Rangers, Pakistani regulars and civilian population on their side have suffered heavy damage because of the Indian retaliation.
"The damage to the civilian population is much more (than us)... We have seen a large number of ambulances coming and picking up injured. They have been making announcements from mosques asking people to assemble for last rites. All that points that they suffered a lot," the BSF officer said.
With inputs from agencies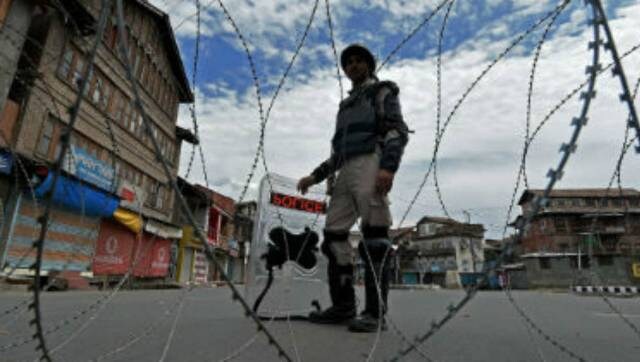 India
This comes just a day after two non-native vendors were shot dead by terrorists on Saturday in Srinagar
India
The bodies were recovered 48 hours after the Indian army launched a major combing operation in Jammu and Kashmir's Poonch
India
The incident comes just three days after five army personnel were shot dead during an encounter in the Surankote area of Poonch