#NotePeCharcha Episode 1: A train to Kasara that narrates the demonetisation story in rural India
While the effects of demonetisation on urban India are immediately apparent to those with access to mainstream English media, its impact on rural lives is as yet unclear. We travelled in a north-by-north easterly direction from Mumbai to examine the depth of the impact.
Firstpost sent out Apoorv Mishra, who was accompanied by his friends — Tahir Alimansoor and Kush Shah, into rural Maharashtra with an iPhone, a couple of mics, a GoPro and no institutional monetary support – they had borrowed money from friends and withdrawn all the cash permitted under prevalent restrictions.
Their journey started in Mumbai, on a Kasara-bound train, where the passengers told them about their lives post demonetisation. It's a tale of hardship and struggle that only gets worse as you delve deeper.
When they started out, they had no clear idea of where to go exactly. The idea was to visit a place in Maharashtra that truly fits the rural bill and Kasara just seemed like the natural choice.
On the way, Mishra met a businessman who seemed surprisingly unconcerned about the demonetisation of Rs 500 and Rs 1,000 notes. After all, "You only need money for travelling. You can use your debit card everywhere else," he said. "I don't want money [cash]," he said.
A little old lady told them that she was completely unaffected. "Those who have money need a bank," she said.
As the group approached Kasara, however, people's reactions started to change.
Many reported that their business was dead. The lack of money and change has hit them hard. A young man said that he hadn't been able to drive his rickshaw for over a week, yet another said that he hadn't sold anything in days.
All these tales are coming to us just on the train to Kasara. Watch the video to find out more about our quest to dig out how demonetisation impacted daily lives in rural India:
Firstpost broadcasted Mishra's road trip on our live blog, and our Facebook page, and is now releasing the videos in the form of a series of documentary shorts.
India
The prime minister has closely monitored the Kedarpuri reconstruction projects worth Rs 250 crore in Uttarakhand.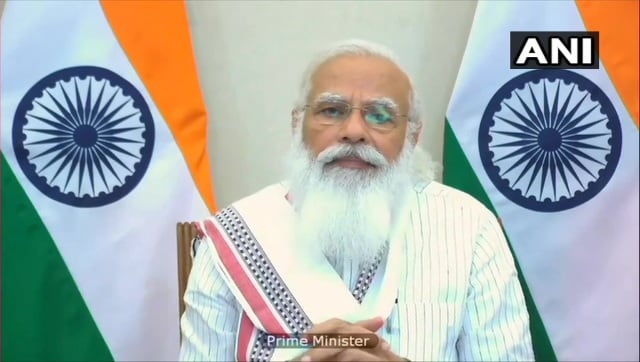 India
Modi cited the government's success in privatising loss-making public airline Air India to assert that this shows its commitment and seriousness.
India
Modi tweeted, "I pray for the good health and speedy recovery of Dr. Manmohan Singh Ji."