Nitish upset over condom remark row triggered by woman IAS officer; hints at possible action
Kumar, who was approached by journalists with queries about the National Commission for Women (NCW) slapping a notice on Bumrah, said, 'Orders are in place to inquire into the issue which I learnt about through newspapers'
New Delhi: Bihar chief minister Nitish Kumar on Thursday hinted that action may be taken against senior female IAS officer Harjot Kaur Bumrah whose indiscretion during a recent interaction with school girls has caused a major embarrassment for his government.
The officer has, meanwhile, issued a signed statement expressing regret over the controversy that arose after purported video footage of the September 27 function went viral on social media.
Kumar, who was approached by journalists with queries about the National Commission for Women (NCW) slapping a notice on Bumrah, said, "Orders are in place to inquire into the issue which I learnt about through newspapers. We are committed to providing all assistance to the state's women. If the IAS officer's behaviour is found to be against that spirit, action will be taken."
Bumrah is an Additional Chief Secretary rank officer who also heads the state's women's and child development commission.
At a state-level workshop organised in collaboration with UNICEF, she had rebuked school girls who requested that the government, which gives many doles such as free bicycles and school uniforms, should also consider providing free sanitary napkins.
"There is no limit to such freebies. The government is already giving a lot. Today you want a packet of napkins for free. Tomorrow you may want jeans and shoes and, later, when the stage comes for family planning, you may demand free condoms as well," Bumrah can be heard saying in a purported video footage that has gone viral.
Read all the Latest News, Trending News, Cricket News, Bollywood News,
India News and Entertainment News here. Follow us on Facebook, Twitter and Instagram.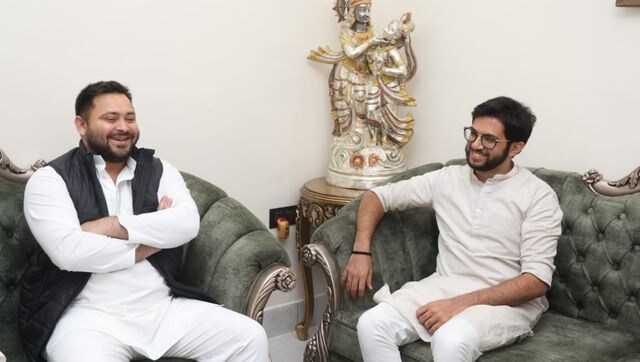 Politics
Bihar Deputy Chief Minister Tejashwi Yadav and Shiv Sena leader Aaditya Thackeray also met Chief Minister Nitish Kumar in Patna
India
Bihar chief minister Nitish Kumar inaugurated the 'Har Ghar Gangajal' scheme in Rajgir which aims to provide the excess water of the holy river through pipes to arid regions of the state. The treated water will be available in Rajgir, Gaya and Bodh Gaya under the first phase of the project
Politics
The ASI didn't maintain the Ashokan edicts at the cavern. In its neglected state, in 2005, local Muslims of the area 'captured' the cavern and installed a gate at its entrance. They then declared that the cavern was the mausoleum of an obscure Sufi saint and began offering prayers there