Nitish Kumar meets PM Modi as floods disrupt normal life in five states, including Bihar
While UP, Bihar and madhya Pradesh remain the worst hit states, water has started receding in Gujarat and Rajasthan, rekindling hope that normalcy will be restored quickly in these states.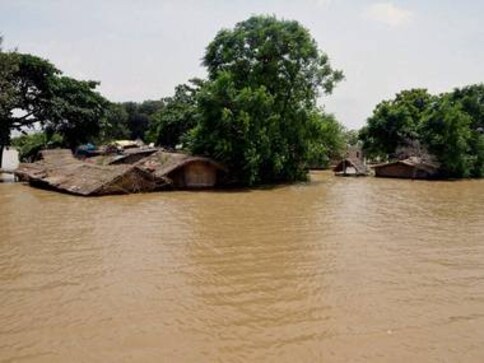 As five states in India are reeling under intense flood situation, Bihar Chief Minister Nitish Kumar on Tuesday met Prime Minister Narendra Modi to apprise him of the flood situation in Bihar, one of the worst-hit states in India.
He said that the flood problem in Bihar is not new as the rivers from both Uttarakhand and Nepal are flooded every season and they flow through the state. However, he conceded that the situation this year is "unprecedented" and "worrisome". He also said that the water retention capacity of the Ganga river is at an all time low due to heavy siltation. The CM also requested the Prime Minister to send an expert panel to find a permanent solution to the flood problem. "It will only grow worse every year if a proper siltation policy is not implemented," Nitish Kumar said.
He also said that the uninterrupted flow of Ganga will also be affected due to excessive siltation. "This will also affect the Modi government's ambitious Namami Gange scheme," he said. Kumar also assured the PM that the entire state machinery is involved in rescue operations.
Meanwhile, the situation remained grim on Tuesday as fresh rain alerts were issued in Gujarat, Odisha and Madhya Pradesh. While Madhya Pradesh is on red alert with predictions of very heavy rainfall in the next 24 hours, Gujarat and Odisha are expected to receive heavy rainfall in isolated places in the next two days, according to the Indian Meteorological Department.
In the present bout of monsoon, more than 26,400 people have so far been rescued by the NDRF from the flood-ravaged areas in Bihar, Rajasthan, Madhya Pradesh and other states.
While UP, Bihar and Madhya Pradesh remain the worst hit states, water has started receding in Gujarat and Rajasthan, rekindling hope that normalcy will be restored quickly in these states. The rescue operations are underway in Uttar Pradesh, Bihar, Rajasthan, Gujarat and Madhya Pradesh.
In north east and east India, Sikkim has also been affected by flooding over the last few days and parts of West Bengal are under threat after the Ganga reached above danger levels in Murshidabad, according to a report in Floodlist.
According to Floodlist, a Home Affairs Disaster Management Division report claims that at least 480 people have died in rain and flood related incidents in the country since the start of this year's monsoon in June while thousands have been evacuated.
Relief operations underway
The National Disaster Response Force has fanned out 56 rescue and relief teams to help people hit by heavy rains in various states and tasked two Deputy Inspector General-rank officers in Bihar and UP with monitoring the situation. "So far, the NDRF teams have evacuated more than 26,400 people from various flood-prone areas in the country this monsoon season. Besides the rescue work, these teams have provided medical care to the more than 9,100 people in these states," the force said.
In Bihar on Sunday, NDRF teams evacuated 3,400 people from Didarganj, 580 from Bakhtiyarpur, 545 from Danapur, 380 from Chhapra, 355 from Vaishali and 15 from Maner in Patna.
The force said 11 flood rescue teams rescued 275 people from Ballia, 275 from Varanasi and 325 from Chitrakoot in Uttar Pradesh on Sunday.
147 marooned people were shifted to safer places from Rewa district in Madhya Pradesh on Sunday.
"An NDRF team pre-positioned in Sikkim conducted similar operations in Tingbung and Lingdang villages and evacuated more than 450 people yesterday," it said.
Prime Minister promises relief
Prime Minister Narendra Modi on Monday promised total support to these flood-hit states in conduct of rescue and relief operations. He said Home Minister Rajnath Singh is closely monitoring the situation and has spoken to chief ministers of of these states.
I pray for the safety & wellbeing of those in areas affected by floods in parts UP, Bihar, Uttarakhand, Rajasthan & MP: PM @narendramodi

— PMO India (@PMOIndia) August 22, 2016
Centre assures total support in the rescue & relief operations. I hope the situation in the affected areas normalises at the earliest: PM

— PMO India (@PMOIndia) August 22, 2016
Meanwhile, Union Home Minister Rajnath Singh had a telephone conversation with chief ministers Akhilesh Yadav (UP), Harish Rawat (Uttarakhand), Nitish Kumar (Bihar) and Vasundhara Raje (Rajasthan) on Monday morning and took stock of the flood situation in their respective states.
In Madhya Pradesh, torrential rains have lashed western parts disrupting normal life.
The Ganga had on Sunday crossed the danger mark in West Bengal, Bihar and neighbouring districts of Uttar Pradesh where Yamuna river is also in spate, while heavy rainfall has created a flood-like situation in some parts of Rajasthan where six persons have died so far.
Flood situation remains grim in Bihar
The Indo-Gangetic plains are the worst hit in the country as six rivers, including Ganga, are flowing above danger levels.
The districts witnessing flood-like situation include Patna, Vaishali, Buxar, Bhojpur, Saran, Begusarai, Samastipur, Lakhisarai, Khagaria, Munger, Bhagalpur and Katihar, a Disaster Management Department statement said. Meanwhile, in the event of more rainfall, water may enter Patna, Bhagalpur, Khagaria, Katihar, Siwan, Bhojpur and Buxar districts.
Altogether 1,39,330 persons have been evacuated to safer places so far and around 1.05 lakh people have taken shelter in 162 relief camps.
UP reels under floods as Ganga flows at an all time high
One of the worst hit district remains Allahabad, the confluence point of two major rivers, the Ganga and the Yamuna as both were flowing above danger levels. Both Ganga and Yamuna have crossed the danger mark by more than a metre and water levels in both the rivers are steadily rising by a rate of about three cm per hour, official sources said. The army has been kept on standby for rescue and rehabilitation efforts in Allahabad. Schools have been ordered to close down and people taking shelter in relief camps.
Low-lying areas of the city, including residential colonies as well as temples located in the vicinity of the Sangam, have been lying submerged for quite some time. An aerial survey was conducted by District Magistrate Sanjay Kumar in remote villages of the district's trans-Yamuna region and also supervised air-dropping of packets of food at a number of places.
Varanasi, Unnao and Balia districts are also inundated with a swollen Ganga as rescue operations continue. Over 100 villages are also facing a critical flood situation in the district. So far, about 10,000 people have taken shelter in relief camps.
Meanwhile, after a decade of facing droughts the Bundelkhand region of the state is also flooded this year. With two straight years of extreme drought and a decade of scanty rainfall, Banda region was unprepared for the flood. The Cane river, in a first, is flowing 8 metres above the danger mark, according to NDTV.
With inputs from PTI
India
In an emotional blog written on his mother's 99th birthday, Prime Minister Narendra Modi recalled his childhood friend Abbas, who lived with them for two years
India
The Bosch India's new 'smart' campus features multiple smart solutions based on sustainability, security, and user experience for associates, visitors, and facility management
World
Narendra Modi, who is visiting Germany to attend the G7 Summit, made the remarks while addressing thousands of members of the Indian community at a grand event held at the Audi Dome stadium in Munich