Nine out of ten Indians favour Narendra Modi in spite of demonetisation, shows survey by think tank Pew
"No other major political figure in India approaches Modi's level of public support" says a Pew Research poll out today citing public opinion cutting across age groups and particulalrly among 18-29 year olds.
The gale force disruption of demonetising 86% of India's currency last November has not dented Narendra Modi's popularity one bit, he remains the show stealer concludes a Pew Research Survey out Wednesday in the US. The poll collates data before an economic slowdown became front page news in India.
Pew's findings are based on face to face interviews with 2,464 respondents in India early this year in 16 of India's 18 most populous states and Delhi. Kerala and Assam have been excluded. Of this universe, the numbers favouring India's prime minister are striking. "Nearly nine-in-ten Indians hold a favorable opinion of Modi" compared with their attitude to the new PM in 2015. Roughly seven-in-ten say they have a very favorable view of Modi.
Headlining the fact tank's home page, the Modi story runs into seven pages under the 'Global Attitudes and Trends' category.
"No other major political figure in India approaches Modi's level of public support" says the report citing public opinion across age groups and particulalrly among 18-29 year olds.
Before India wakes up Thursday morning, The Financial Times, Bloomberg and Straits Times were quick to pick up the story given the rising media interest as the country hurtles towards a clutch of state polls and then the big one in 2019.
"The survey highlights Mr Modi's enduring political strength", reports Financial Times. Yet, the lure of autocracy remains strong. At least 50 percent say military rule is good for India while 55 percent are warm to the idea of a strongman's rule, unencumbered by courts or parliament. A larger chunk (6 in 10) think India will do well being ruled by unelected experts.
In an email to Bloomberg, Bruce Stokes of Pew Research said that the data on hand does not include public sentiment over the last few months after signs emerged that the economy was in a funk after two economic disruptions in 6 months - demonetisation and the GST roll out. "What is important is that satisfaction with the economy was widely shared across demographic groups. And trust in the government and satisfaction with democracy was correlated with economic satisfaction," Stokes told Bloomberg.
Modi's rating is 30 points ahead of Rahul Gandhi and Sonia Gandhi; public approval for the PM's handling of corruption is up 11 points, the poll says.
With the saffron beltway of the BJP gaining ground across the country, the poll shows up gains for Modi in the south - not a BJP bastion, and the West.
The Modi popularity rating runs parallel to the trust factor - more than eight-in-ten (85%) say they "trust" the national government. The partisan split in opinions runs throughout the survey, with more BJP backers than Congress supporters cheering for Modi.
The Pew poll wades into several areas, not just the Modi headline. Views on Rahul, Kejriwal, job opportunities and communal conflicts also figure on the inside pages.
"Modi's lowest ratings are for his handling of communal relations (50%) – the long fractious tensions between Muslims and Hindus and India's various castes – and for his efforts to curb air pollution (48%)", says the survey which finds that communal issues are not a "priority" for Indians.
Related links: Survey methodology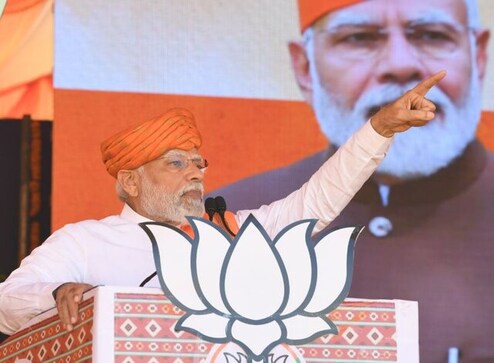 Politics
'Mahatma Gandhi used to say that the soul of India resides in its villages. But Congress leaders never cared to follow such Gandhian values. They actually crushed that soul,' PM said in Gujarat
Politics
Australia's former Prime Minister Morrison on Wednesday unsuccessfully argued against being censured by Parliament for secretly amassing multiple ministerial powers
India
Addressing a rally in Rajkot in poll-bound Gujarat in support of BJP candidates, the prime minister compared his performance with former PM Manmohan Singh's tenure of ten years