NIA to issue red corner notice against Zakir Naik, moves to revoke the preacher's passport
Having delivered more than 4,000 speeches on Islam across the world, controversial preacher Dr Zakir Abdul Karim Naik had allegedly influenced terrorists in Bangladesh to shoot at several foreigners.
Having delivered more than 4,000 speeches on Islam across the world, controversial preacher  Zakir Abdul Karim Naik had allegedly influenced terrorists in Bangladesh to shoot at several foreigners.
In India, Naik came under the scanner to see if his speeches gave rise to "antinational sentiments," according to The Hindu.  
Recently, The Indian Express reported that the National Investigation Agency is prepared to revoke Naik's passport, after he was given the 'wanted' tag in a criminal case last year. Naik allegedly left India on 13 May, 2016 and  has not returned since.
On 21 April, 2017, the special NIA Court at Mumbai issued a non-bailable warrant against him.
Besides attempting to revoke Naik's passport, the agency intends to interrogate him on his financial transactions. According to The Indian Express, Naik owns "at least 10 companies and 19 properties in Mumbai and Pune," with an estimated Rs 104 crore investment.
According to ANI, the NIA on Thursday wrote to the Interpol and CBI for issuing a red corner notice (RCN) against the controversial preacher. Required documents for initiating an RCN have been sent to the National Central Bureau (Interpol) NCB, India, on 11 May, 2017, reported The Indian Express.
There is some confusion concerning Naik's place of residence.
Media reports say that Naik has been said to be "living in Saudi Arabia for past 10 months," as per The Times of India. However, Hindustan Times reported that he has applied for Malaysian citizenship, and that he has acquired status of Permanent Residence in Malaysia, though it also mentioned that he has been travelling between the 'UAE, Saudi Arabia, African, and Southeast Asian countries.'
The physician and preacher has numerous cases against him, largely for radicalising youth and disseminating hate through speeches.
The Hindu reports that in November 2016, the NIA registered an FIR filed against Naik and his associates. As per The Hindu, the NIA alleged that Naik incited Muslim youth towards unlawful and terrorist acts.
Last year, Prime Minister Narendra Modi declared the Islamic Research Foundation (IRF) as an outlawed organisation. The IRF was termed as an "unlawful association" as per a Home Ministry official.
However, Naik seems unfazed from all the allegations, saying that he "welcomes any investigation," regarding allegations of terrorism, as per News 18.
The NIA has been on the hunt for Naik since 2016, accusing him of "encouraging and aiding his followers through his public speeches, lectures and talks, to promote on grounds of religion, disharmony or feelings of enmity, hatred and ill-will between different religious communities and groups," as reported by The Indian Express.
Furthermore, News 18 mentioned that according to the Home Ministry, Naik had allegedly delivered many provocative speeches and engaged in terror propaganda. Naik has cases against him for his alleged involvement in radicalising youths and luring them into terror activities.
Naik transferred the IRF's foreign funds to Peace TV in order to develop "objectionable" programmes. Most of these programmes, which were made in India, included his alleged hate speeches, who had reportedly "urged all Muslims to be terrorists" through Peace TV.
Although the controversial preacher has been known to misinterpret Islam, he continually claims that he has never done any wrong. With connections between Naik and extremist organisations being proven via investigations, it will be difficult for Naik to come clean before India.
With inputs from ANI
India
The Enforcement Directorate has issued a fresh summons to Zakir Naik as part of its probe against the controversial preacher and his Islamic Research Foundation (IRF) under anti-money laundering laws.
India
Islamic Research Foundation, promoted by controversial Islamic preacher Zakir Naik, will soon be banned from receiving foreign funds with the Home Ministry initiating the process for cancellation of its FCRA registration by issuing a final show cause notice to the NGO.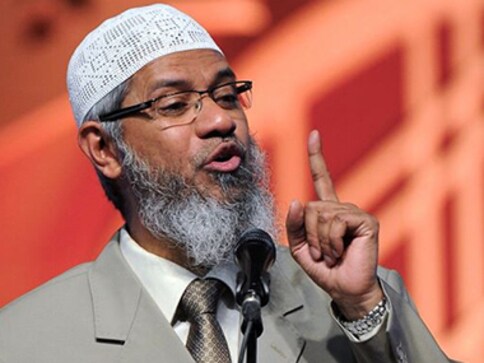 India
The NIA had earlier registered an offence against IRF founder-president and controversial Islamic preacher Zakir Naik and his associates for "promoting" enmity and hatred between religious groups through his public speeches and lectures on various platforms.