Newlywed inter-caste couple in Hyderabad attacked by wife's father; accused arrested; woman's condition critical
The Hyderabad Police has arrested the father who brutally attacked his daughter and her lower caste husband, days after their marriage. The woman whose right hand was almost hacked off is in critical condition while the husband is out of danger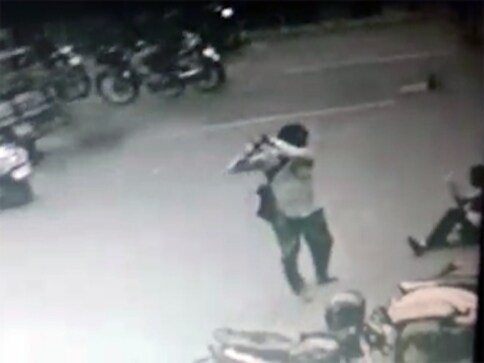 An inter-caste couple was attacked by the wife's father in Hyderabad on Wednesday, days after their marriage. The police have registered a case under Section 307 of the Indian Penal Code against the father, who has been taken into custody.
According to reports, the father was allegedly inebriated at the time of the attack.
Twenty-year-old Madhavi and 24-year-old Sandeep got married earlier this month in Hyderabad against the wishes of the girl's father, said Assistant Commissioner of Police (ACP), Panjagutta division.
Madhavi and Sandeep had known each other for five years and were studying in different colleges in Hyderabad. They wanted to get married, but Madhavi's upper caste family was against the idea. The couple had a simple Arya Samaj wedding in the presence of their friends last Wednesday, NDTV reported.
"On Wednesday afternoon, around 3 pm, (Madhavi's father) Manohar Chari called Sandeep and told him that he was missing his daughter very much… and asked him to bring her near an automobile showroom on SR Nagar Road. He ambushed them from behind with a sickle… Madhavi is in a very critical condition while Sandeep, who received deep gashes, is out of danger,'' ACP Vijay Kumar was quoted as saying by The Indian Express.
The newspaper quoted sources at Yashoda Hospital at Somajiguda, where Madhavi is admitted, as saying that her right hand was almost hacked off, her ear chopped off, and a vein in her neck was cut.
"We are preparing to perform a complicated surgery that may last over 10 hours to save her," the sources said. As per a report from CNN-News18, Madhavi's condition remains critical in the ICU, and she has been put on a ventilator.
The incident comes days after a native of Nalgonda's Miriyalguda was stabbed to death in an alleged case of honour killing. Seven persons, including his father-in-law, who was opposed to the marriage, were arrested.
With inputs from ANI
First Cricket News
The police have booked three cases against Hyderabad Cricket Association after the stampede injured multiple people who were in pursuit of purchasing tickets for the third India vs Australia T20I.
First Cricket News
Hyderabad's Gymkhana Ground witnessed a serious stampede after the overcrowding of fans to buy tickets for the third India vs Australia T20I.
India
A fire broke out at the Hotel Ruby Pride in Secunderabad on Tuesday at midnight leaving eight people dead and seven others injured