Narendra Modi's high-octane diplomacy hasn't forced Pakistan to give up hybrid war strategy, but back channels remain open
It remains to be seen what Narendra Modi's game plan would be when Pakistan's general elections are completed and the next dispensation takes over.
Prime Minister Narendra Modi's high-octane diplomatic style has been the key feature of India's foreign policy during the past four years. From inviting South Asian Association for Regional Cooperation (SAARC) leaders for his swearing-in ceremony to holding two 'informal' summits with the Chinese and Russian leaders, the Modi government's diplomatic performance has witnessed many ups and downs.
Despite shepherding the Ministry of External Affairs with his strong personal commitment, Modi requires more purposeful policies in order to overcome many constraints on India's engagement with Pakistan. Moreover, in the game of geopolitics, personalised diplomacy may not convert leaders of other countries to one's cause, as they are dedicated to safeguarding their own national interests.
While Pakistan's role as a sanctuary for terrorists is incontrovertible, India's options to counter this threat have been relatively limited. Since 2014, the Modi government has been arguing that normalisation with Pakistan is conditional on Rawalpindi's disavowal of support to Kashmir-centric terrorists and acceptance of culpability for the 2008 Mumbai attack and other recent terrorist incidents including 2016 Pathankot attack. New Delhi has evolved an all-encompassing strategy to isolate Pakistan internationally for its sponsorship of terrorism.
However, despite Islamabad's isolation at many important international forums, worsening ties with Washington and a growing reliance on Chinese loans to stay afloat, the Modi government has not been able to force Pakistan to abandon the use of cross-border terrorism as an instrument of State policy. There is no reliable signal emanating from Rawalpindi that Pakistan is ready to give up its time-tested hybrid war strategy against India.
Despite Modi's best efforts which included much-publicised 'surgical strikes' against terrorist launching pads across the Line of Control (LoC) in Pakistan-occupied Kashmir (PoK) a few days after the Uri terror attack in September 2016, Pakistan's capacity and willingness to play spoiler in Kashmir has not abated. Intended to serve as India's new 'red lines', the surgical strikes have not been repeated either.
Pakistan-based terrorists frequently target India's vital installations located along the border as its sympathisers simultaneously keep the counter-insurgency forces in Kashmir engaged with containing civilian unrest. The frequent ceasefire violations along the LoC and the International Border and the suffering of the population in the Jammu sector cry for urgent attention.
However, there have been some signals which indicate a change in India's policy. Replying to a question on a recent statement by the Pakistan Army chief favouring talks with India, India's defence minister Nirmala Sitharaman remarked: "Any comment on wanting peace will definitely be taken seriously."
Pakistan recently hosted India, along with other Shanghai Cooperation Organisation (SCO) member countries to discuss the issue of terrorism. And both India and Pakistan are likely to take part in SCO joint counter-terrorism exercises in Russia in September. This week, India and Pakistan have held a maritime dialogue, which comes almost a year after India refused to participate in the talks scheduled for July 2017 following the Kulbhushan Jadhav controversy.
The Indian high commissioner in Islamabad is also reported to have told visiting Indian journalists about "small steps forward, particularly on the humanitarian side, to build an atmosphere of trust between the countries."
So what prompted India to shift its focus from 'muscular' approach towards Pakistan?
First, global politics is going through a period of unusual disruption. A growing convergence seems to be emerging between Pakistan and other major powers such as Russia and China on the need for a negotiated 'political' settlement between the Kabul regime and Islamabad's proxies: the Afghan Taliban.
India is opposed to rehabilitate the Afghan Taliban without forcing the latter to renounce jihadism and violence. In fact, Modi's recent informal summit with President Vladimir Putin was necessitated as much by President Donald Trump's unpredictable diplomacy and disruptive approach to international affairs as by the need to give a fresh impetus to bilateral ties amidst rising concerns in New Delhi of Russia's tilt towards Pakistan. India is not oblivious to the fact that the more Russia feels isolated in the West, the more it turns to the East. And Pakistan is the real beneficiary of this development.
Second, despite Trump's fiercely anti-Pakistan rhetoric, Washington's so-called 'tough stand' against Islamabad has not resulted in Pakistan being branded as a State sponsor of terrorism. Given America's dependence on Pakistan to sustain its presence in conflict-ridden Afghanistan, more pressure on Islamabad to change its duplicitous policy on terrorism appears highly unlikely.
Third, after the Doka La crisis, both India and China have shown interest in deescalating bilateral tensions, as recently reflected in an 'informal' Narendra Modi-Xi Jinping summit. While China remains deeply suspicious of India's strategic proximity with the US, Beijing is not hesitant to a measure of tactical regional cooperation with New Delhi. But the biggest problem with this approach is that China wants to keep propping up Pakistan against India without New Delhi getting seriously committed to the 'Quadrilateral'.
There are some challenges that need to be overcome before opening a substantive dialogue with Pakistan that could yield positive outcomes. For the Modi government, the most critical issue in any normalisation process will be terrorism.
Modi cannot expect to normalise relations with Pakistan while it continues a campaign of terror attacks in Kashmir.
If a dialogue does take place, India's primary focus would remain on the elimination of terrorist groups in Pakistan such as Lashkar-e-Taiba, Jaish-e-Mohammad, Hizbul Mujahideen and the incarceration of their leaders. But Islamabad would avoid acting against these groups.
The ruthless reaction of Pakistan's military-intelligence establishment to former Pakistani prime minister Nawaz Sharif's recent hard-hitting allegations of State complicity in fomenting jihadist terror is a grim reminder of an unremitting tendency of generals in Rawalpindi to push out from the national discourse topics that it is uncomfortable with.
If Sharif had taken a personal risk to attend Modi's swearing-in, being aware that the mullah-military combine would retaliate, Modi also responded by investing in engagement with Pakistan early in his tenure. But the equilibrium was thwarted by unfortunate events triggered by Pakistan's 'deep state'.
Domestic political dynamics have also played a role as the Modi government failed to build a broad socio-political consensus on how India can deal with Pakistan. As Modi began his ambitious political plans for a 'Congress-mukt Bharat', campaigning in subsequent Assembly elections did not allowed him to be seen as soft on Pakistan.
Thus began a cycle of intermittent Pakistan engagement, followed by swift regression to estrangement. With crucial state elections in Madhya Pradesh and Rajasthan due later this year, followed by the general elections in 2019, the rhetoric of 'strong', 'forceful' action against Pakistan's perfidy is likely to prevail over purposeful policy. It is rightly believed that as long as Pakistan issue is treated for overt and covert domestic political purposes in India, its resolution will remain a pipe dream.
Despite his strong nationalistic image, Modi demonstrated remarkable courage in exploring the possibility of a détente with Pakistan, and made several attempts to reach out to Pakistan. However, expecting only positives through four years is a bit too unrealistic.
The backroom channels with Pakistan are still open, and things are being done quietly.
Moreover, it is possible that the shifting sands of the global geostrategic landscape may have brought about a shift, even if tactical one, in India's strategic posture. But the real question remains as compelling for the Modi government as it was in 2014: Whom to trust in Pakistan and to what extent? Can there be engagement without developing trust?
Everlasting resolution of disputes with the nuclear-armed Pakistan is undeniably far away, but doors can be opened for discussion on many controversial issues. Pakistan would certainly like discussion on Kashmir, as well as the elimination of the possibility of surprise 'surgical' strikes. It remains to be seen what Modi's game plan would be when Pakistan's general elections are completed and the next dispensation takes over.
also read
India
The central government promulgated an ordinance last week to create a National Capital Civil Service Authority for the transfer of and disciplinary proceedings against Group-A officers from the DANICS cadre.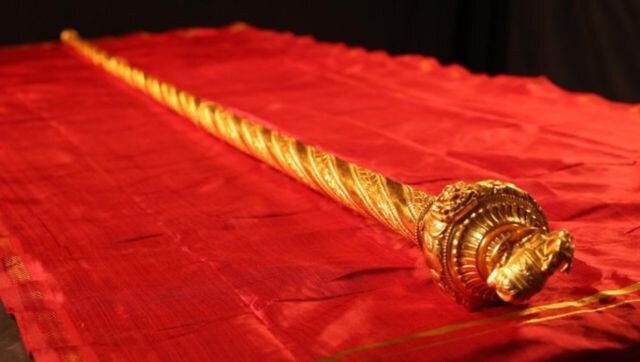 India
Prime Minister Narendra Modi will install the golden sceptre near the Speaker's seat. Traditionally called the 'Sengol', it has roots in Tamil culture
India
Crores of BJP workers, over 300 MPs and more than 1400 MLAs will vigorously participate in this program to take the public welfare policies and achievements of the Modi government to the public. The achievements of the BJP government will reach everyone.