Narendra Modi, in Twitter banter with Ravi Shastri, used wit and cricketing jargon to produce magic PR
The clever way in which Narendra Modi responded to Ravi Shastri's congratulatory note on Twitter with a little bit of cricket lingo thrown in requires savvy, a developed sense of wit, and a certain flair not usually seen in our politicians
Every now and then you hear of Narendra Modi's PR machine, its Indo-American antecedents, and how it uses clever slippery tactics to keep the prime minister in the limelight. To the best of my knowledge, no one has quite identified the team behind these machinations, and we perhaps give Modi less credit than he deserves. Even if there is this crack SAS equivalent of public relations honchos plotting and planning strategies, it's still got to get the Modi good governance stamp of approval.
For example, the clever way in which he responded to Ravi Shastri's congratulatory note on Twitter with a little bit of cricket lingo thrown in. That requires savvy, a developed sense of wit, and a certain flair not usually seen in our politicians.
Thank you. UP polls did not quite go down to the wire. But, at the end of the day democracy is indeed the real winner! https://t.co/suoTqZtXit

— Narendra Modi (@narendramodi) March 16, 2017
This is where Modi scores. He adds that extra dimension and makes the message a little more thoughtful. If you are on his side you can see it as smart. If you are not a fan of his, you can dismiss the chat as no big deal. Which is true — it really is no big deal. But the others don't do it, and the effort he puts in creating bespoke situations for full effect is a sign of character. A PR executive tells me that Modi has mastered this art.
If there is a team functioning to make him marketable 24/7, and have him quoted in multiple fashion so that the rest of the competition is eclipsed, they have also introduced him to being pithy and brief yet make an impact.
In the world of PR, it's known as creating magic moments for your client. These can be singular and specific to an occasion, or general in content; but they are like beads in a necklace which ensure a continuity of the individual in the public eye. As one magic moment fades away or goes up the string, he is ready with the next one.
Sometimes, the strategy can include a bit of self-imposed criticism or even a dollop of negativity followed by a positive. Even his performance in the Varanasi roadshow, which upset purists like me who thought he was compromising security, was overwhelmingly received by the public as a display of guts and glory.
PR at this level comprises the personal touch, the exploitation of a moment and the packaging and selling of a concept. Even if his suit has his name in stripes, it sort of enhances his image as a man making a sartorial statement.
Allow Modi the right to have these elements in sufficient quantity just for a second, to make an argument. So what he does now is employ his own yardstick to see how he can max the advantage. In footfalls. In media coverage. In enhancing his own branding.
You may not agree with everything he does or says, but that panache and timing to generate magic moments is an inbuilt talent that no PR hero can teach a client unless the client himself understands how the mechanics work.
How many of our politicians would have used cricketing jargon to win mileage, like Modi did? Which leader would have come out after winning an election and said now I have to worry about resisting the hubris of power, as he did after UP. They could have, but they did not. His timing is superlative. Seriously, which other Indian politician would have not just weathered the demonetisation fallout, and then reinvented it to his advantage to increase his groundswell of popularity?
That charisma put together through his blog, his news channel and his tweets is giving him an enduring personality strengthened by his own love for the microphone and the ability to connect with the masses when they amass.
The American Physical Society says PR is the science needed to build relationships to advance, promote and benefit the reputation of one's self, your department and communicating your message to gain allies, advocates, supporters, etc in the community.
This man for better or worse does just that.
JFK used to say that when you talk to anyone, make him feel he is the only one in the room. Like it or not, Modi has that trick down to a fine art and you are not going to run him out any time soon.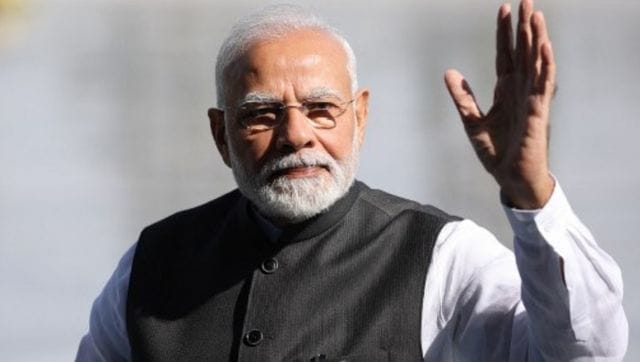 World
Call for an independent probe into the BBC over Modi documentary' on Change.Org, which strongly condemns the BBC for failing to meet the highest standards of editorial impartiality, has attracted over 2,500 signatures since it went online on Sunday night.
World
The incident occurred only a few days after health authorities issued nationwide alerts about the crazy trend. It was the fourth Mexican school in the previous academic year to have many students report being unwell
World
In one such incident, the family of Mohammad Hassan, who was killed in the protest at the age of 26 in September, were attacked by the security forces on the day of 40th day ceremony