Narendra Modi in Russia: 'Informal summit' shows India's US-China balance has become a threeway dance
There was a time when the annual summits proved sufficient to 'further strengthen' bilateral times. However, that time appears to have passed us by
After a whistle-stop tour of Kashmir on Saturday, Narendra Modi arrived in Russia on Monday morning with a Sochi meeting with Vladimir Putin as the high point of the brief visit's agenda.
Modi tweeted before taking off that the visit would seek to "further strengthen the Special and Privileged Strategic Partnership between India and Russia". There was a time when the annual India-Russia Summit, the BRICS Summit and a string of 'sidelines' meetings at most multilateral summits — the likes of the SCO, G20 and UN General Assembly meets, for example — were sufficient to 'further strengthen' bilateral times. However, that time appears to have passed us by.
The lay of the land
In the not-so-distant past and when Russia was a cornerstone of Indian foreign policy, New Delhi found itself maintaining a delicate balance between its ties with Beijing and Washington — careful not to tip the scales one way or another. Successive governments at the Centre managed this balance deftly, but three key issues began creeping into India's foreign policy matrix:
First, there was the gradual but purposeful infusion of warmth into India-US relations, kickstarted by Bill Clinton and Atal Bihari Vajpayee in 2000 and taken to new heights by George W Bush, Barack Obama, and Donald Trump, on one hand, and Manmohan Singh and Narendra Modi on the other. Clinton's visit to India in March 2000, the first by a US president since Jimmy Carter in 1978, saw the signing of a joint vision statement — a rarity then, which has turned into an absolutely essential part of India-US summits today. Along the way, New Delhi has cast aside its non-alignment-era suspicions of Washington and this has filtered into economic, strategic and cultural relations.
Second, there is the impetus given to India-China relations by Modi and Xi Jinping since the former took office in 2014 that were largely static — frequent meetings at the secretary and joint working group-level apart — hitherto. Modi and Xi's injection of a personal touch into their dealings with one another has ensured that the quality of India-China relations has not dipped significantly despite Beijing's (continuing) tacit support of Islamabad's claims to Pakistan-occupied Kashmir and skirmishes like last year's standoff at Doka La. Instead, and despite the divergence on issues like the South China Sea and the Belt-Road Initiative, there have been positive noises emanating from each Xi-Modi meeting — something commentators and foreign ministries on both sides have rarely failed to note.
Third, there is the prickly issue of Russia's apparently growing disillusionment with India. While in public, Modi and Putin have made no effort to disguise their bonhomie — something reflected in the elaborate and far-reaching joint statements and bilateral agreements signed by the duo, it's what has been happening behind the scenes that is of concern to New Delhi. That India has been weaning itself off Russian arms in favour of American ones has been the case for some time. A relatively newer development is Russia's willingness to sell — at the time of writing — military transport, if not weapons outright, to Pakistan. And then there is the CAATSA factor.
What next?
The elaborate dance of Indian foreign policy has become even more convoluted if Monday's 'informal summit' between Modi and Putin is anything to go by. It means that aside from having to balance the US and China, India will also have to balance Russia and its concerns within this matrix. Modi and Xi's informal summit in Wuhan at the tail-end of last month represents the first of what looks set to become a regular feature of India's foreign policy when it comes to small tweaks, nudges and pushes to ensure that the balance remains. The big-ticket issues can be tackled at official summits, but it's at the informal equivalents that mood and tone can be established, concerns can be addressed, trust can be built and assurances can be given, albeit in an unofficial capacity.
That it is with Russia this instrument has to be wheeled out, can be viewed in two ways:
First, it can be seen as a matter of concern that one of India's deepest and warmest relationships has deteriorated to this point.
Second, it can equally be seen as a positive that India hasn't abandoned its decades-old partner and still sees Russia as important enough to the larger scheme of things.
But the bottom line remains that 2018 is not 1998 and that informal summits — that may not have been required two decades ago by India and China — are now here to stay, and in the long run, they are likely to give New Delhi the best shot at maintaining the precarious balance between Washington, Beijing, and as we've come to discover, Moscow.
World
The comments came at a reception hosted by the Indian Embassy on Tuesday for the visiting Science and Technology Minister Jitendra Singh
India
Speaking on "Rising India and the World: Foreign Policy in Modi Era" at Vadodara, External Affairs Minister said the Narendra Modi government's diplomacy made other countries take the issue of terrorism seriously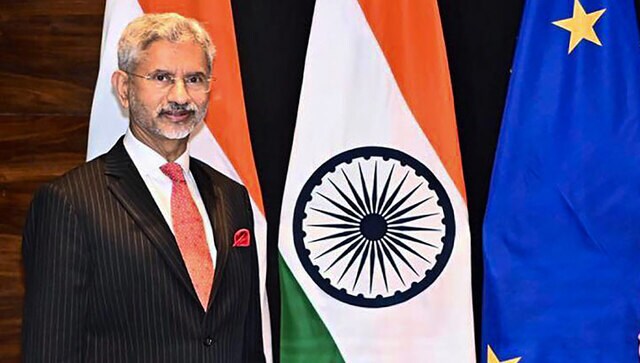 India
India is impatient, because the confluence of factors that has landed it in a geopolitical sweet spot won't last forever