Narendra Modi at Raisina Dialogue: Amid 'peace and prosperity', PM trains guns on Pakistan, China
In his address at the second Raisina Dialogue, in the spirit of Vasudhaiva Kutumbakam, laced with kind words for nearly everyone, Prime Minister Narendra Modi did save a few barbs for China and Pakistan.
New Delhi: After Prime Minister Narendra Modi's inauguration speech at the second Raisina Dialogue on Tuesday, Minister of State for External Affairs MJ Akbar offered a few words. He noted that the most commonly used words in Modi's speech had been 'peace and prosperity', and not just for Indians, but for all. And in the spirit of Vasudhaiva Kutumbakam, laced with kind words for nearly everyone, Modi did save a few barbs for China and Pakistan.
The theme of the two-and-a-half-day series of speeches, panel discussions and interactions is 'Multilateralism with Multipolarity' and it seemed apt that the prime minister would mention that "India's transformation is not separated from its external context… The world needs India's sustained rise, as much as India needs the world… For me, 'Sab Ka Saath; Sab Ka Vikas' is not just a vision for India. It is a belief for the whole world."
On that note, Modi went on to speak about how in the 30-odd months since taking office, his government has made efforts to rebuild connectivity, reshape relationships and build partnerships across the world. Thus began a long journey from India's immediate neighbourhood, to West Asia, Southeast Asia, Central Asia, Far East Asia, Africa, Europe and the Americas, as the prime minister highlighted the sorts of foreign policy initiatives his government has taken.
It was during the section on India's neighbourhood that he began with Afghanistan, moved onto Bangladesh – all the while speaking warmly about how connectivity and convergence has improved. A few members of the audience began to wonder if he would name Pakistan at all. After all, why ruin a speech infused with positivity and brotherhood by getting all worked up?
Then came Nepal, Sri Lanka, Bhutan and the Maldives and the feeling set in that something big was right around the corner. Sure enough, there it was:
"My vision for our neighbourhood puts a premium on peaceful and harmonious ties with entire South Asia. That vision had led me to invite leaders of all Saarc nations, including Pakistan, for my swearing-in. For this vision, I had also travelled to Lahore."
For some reason, Linkin Park's In The End, particularly the line, "I tried so hard and got so far; but in the end, it doesn't even matter" entered my mind. Yes, I'm sorry if having 'the Park' find a way into my head at such a poignant moment makes me a terrible person.
"But, India alone cannot walk the path of peace. It also has to be Pakistan's journey to make. Pakistan must walk away from terror if it wants to walk towards dialogue with India."
Coming at the start of a confluence designed to discuss all aspects of multilateralism, singling out Pakistan for its unilateral derailment of efforts at making peace was a statement as symbolic in its implications as it was scathing in its indictment.
But Modi wasn't done, because there was one more neighbour that needed to be addressed: The country with whom Pakistan shares its famously "higher than mountains, deeper than ocean and sweeter than honey" friendship, China.
He began by offering appreciation to President Xi Jinping, in partnership with whom, the Modi government has sought to 'tap the vast area of commercial and business opportunities'. And while noting that the development of both countries was "an unprecedented opportunity, for our two countries and for the whole world", he didn't shy from pointing out the most fundamental flaw in that vision.
"In the management of our relationship, and for peace and progress in the region, both our countries need to show sensitivity and respect for each other's core concerns and interests."
While this could on one hand, be seen as an acknowledgment that perhaps India must be more sensitive about China's views about the Dalai Lama and Tibet in general, on a lot more hands (to coin a phrase), this was a direct reference to Beijing blocking New Delhi's moves to have the likes of Hafiz Saeed and his organisation blacklisted by the UN. In fact, it could have been a reference to China's general indifference to terrorism – a blight that affects India deeply. This can also be seen as a dig at China blocking India's entry to the Nuclear Suppliers Group
(NSG), in a day and age where the world, India included is moving towards alternate sources of energy. Not to mention the fact that India has shown absolutely no signs that would indicate a predilection for proliferation.
And from India's own problems with China, the prime minister took it a step further to speak of China's own neighbourhood.
"Rising ambition and festering rivalries are generating visible stress points. The steady increase in military power, resources and wealth in the Asia-Pacific has raised the stakes for its security. Therefore, the security architecture in the region must be open, transparent, balanced and inclusive. And (must) promote dialogue and predictable behaviour rooted in international norms and respect for sovereignty."
He was talking about the South China Sea disputes in which Beijing is embroiled with most of its neighbours in Southeast Asia. Of that there can be little doubt. And if any doubt remained, this line went some way in dismissing it:
"We believe that respecting Freedom of Navigation and adhering to international norms is essential for peace and economic growth in the larger and inter-linked marine geography of the Indo-Pacific."
Stern words, certainly. And so were those offered to Pakistan.
Will they have an impact on the mindsets of Islamabad and Beijing? Highly unlikely.
But did Modi lose anything by putting these points out there clearly and concisely? Not a thing.
In fact, they'll hold in good stead with international partners all over the world, but particularly in South and Southeast Asia, and may even improve relations with those countries. And isn't that what multilateralism is really all about?
Find latest and upcoming tech gadgets online on Tech2 Gadgets. Get technology news, gadgets reviews & ratings. Popular gadgets including laptop, tablet and mobile specifications, features, prices, comparison.
India
Modi asserted that the world needs a reformed multilateralism that reflects today's realities and gives voice to all stakeholders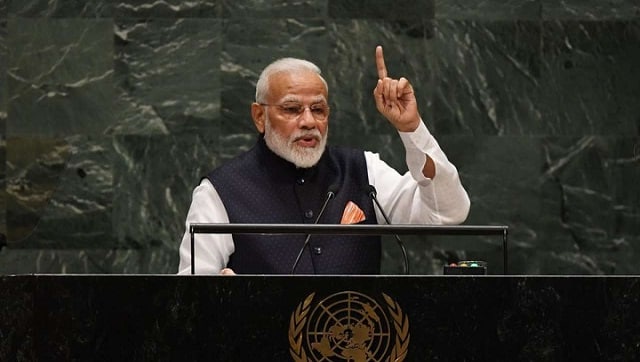 India
The prime minister also asserted that as one of world's largest vaccine manufacturer, India is ready to use its capacity for the betterment of all of humanity during the coronavirus pandemic
India
The strong rebuttal came after Imran Khan spoke about India's internal affairs, including the issue of Jammu and Kashmir, at the high-level General Debate