After torrential rains lashed Mumbai, Thane and other parts of Maharashtra throwing normal life out of gear, common people of Mumbai opened their homes to offer help and take in people stranded on the streets. Help poured in from all parts of Mumbai with not just people but private companies coming out to offer as much assistance as possible. From free accommodation to shuttle services, the non-state apparatus worked tirelessly to ensure help to the affected people.
The travel site for bus tickets Redbus offered to arrange for a free stay in the nearest hotel. Treebo hotels asked people to stay safe and find their nearest Treebo to stay for free.
#Help for ppl stranded in #MumbaiRains
Call redBus Hotels on 08030970888, we'll arrange free stay in the nearest hotel. RT to spread word.

— redBus (@redBus_in) August 29, 2017
Be safe in the #MumbaiRains. Head to your nearest #TreeboHotel & stay for free. Spread the word. pic.twitter.com/U7GiQ6b3Kh — Treebo Hotels (@TreeboHotels) August 29, 2017
Cab aggregator Ola tweeted that they are running free shuttle services to take people to their destination.
#Mumbai We're running free Shuttle services to get you safely to your destination from these locations https://t.co/sHfGSoNAl5 #MumbaiRains

— Ola (@Olacabs) August 29, 2017
Ganesh pandals and gurudwaras also opened up to take in people and offer help. The organisers of Lalbaugcha Raja in Parel said that they have made arrangements to anyone who seeks shelter there. Churches like St Peter's Church and the St Stanislaus School, both in Bandra, also opened their doors, Rediff reported.
Temples, Gurudwaras, Mosques Open Doors! No1can breakthis Idea of our #India Think b4 u spread venom nexttime#MumbaiRains #MumbaiFlooded pic.twitter.com/yknE87Vij1 — Arnaz Hathiram (@Milkyway1955Z) August 29, 2017
Corporate offices like Book my Bai and Radio Mirchi also offered help to the people.
@Mirchimumbai is opening doors to anyone in the Lower Parel area, we have tea, maggi and love waiting for those in need. #RainHosts pic.twitter.com/bbtruOinXU

— Mirchi Mumbai (@Mirchimumbai) August 29, 2017
Bookmybai office will be open to host people who are stranded in Malad west #RainHosts #MumbaiRains — BookMyBai (@BookMyBai) August 29, 2017
Oyo rooms also offered free shelter at select hotels.
Stuck in Mumbai? We are offering free shelter at select hotels, call us on 9313931393 & we'll guide you to the nearest shelter #MumbaiRains

— OYO (@oyorooms) August 29, 2017
Apart from the commoners, celebrities like Terence Lewis offered their places to those trapped in rains.
#Rainhosts started trending on Twitter with people opening their homes to all stranded people.
Anyone near Juhu, Andheri(W) needs help, please feel free to contact me. Our doors are open for the stranded. #MumbaiRains #RainHosts

— Sagar Pathak (@sagarpathak91) August 29, 2017
Anyone stuck in bandra and need help, holler. Will do what I can do. Opening my DM for anyone to message. #RainHosts #MumbaiRains — anvita (@anvitanath) August 29, 2017
People also circulated the address and contact information of the relief centres on social media.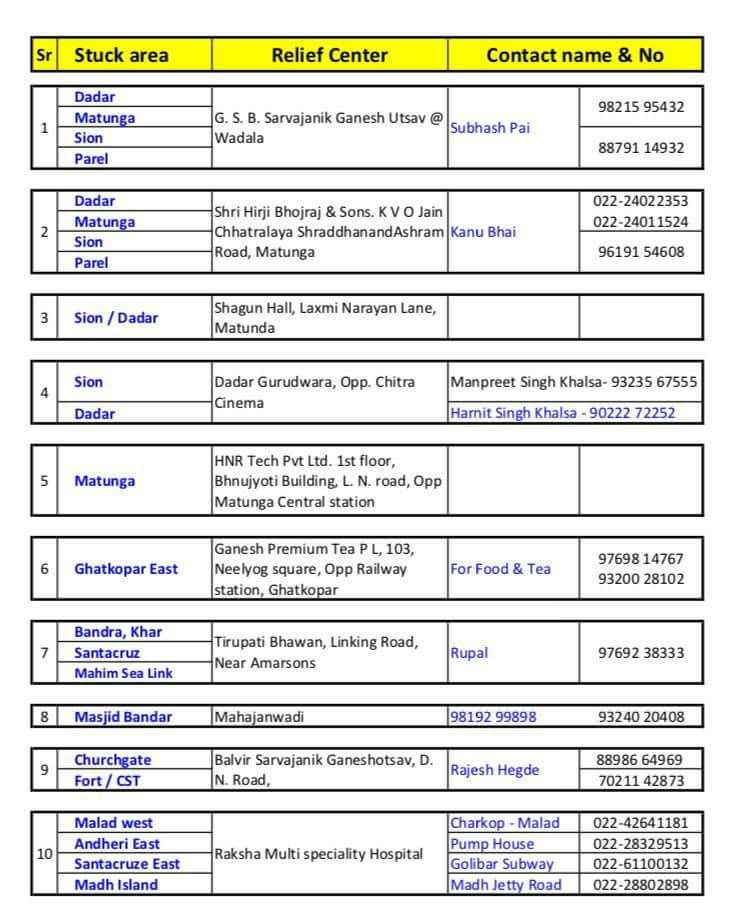 While the Mumbai Police also put out their emergency numbers and tweeted timely updates about the traffic situation, the commoners also pitched in by helping the stranded people by offering to take them in and putting updates on social media. Here is the list of places where the Mumbaikars can go to to seek help or shelter.
Follow our LIVE blog on Mumbai rains
Updated Date: Aug 30, 2017 08:44 AM