More yawn than firestorm: Essar 'scandal' is hardly a Radiagate
But more than anything else the current reaction to the Essar scam shows us how inured we have become to scams.
When Essar-gate grows up it might want to be Radiagate.
Both could be regarded as stories of influence peddling. But while one caused a firestorm, the other is eliciting yawns.
Two nights in a super fancy yacht do not sound that shocking. Referring people for company jobs even less so. And given that the intrepid yacht guest, Nitin Gadkari was a man who while described as a "very important person" was not the BJP president or even an MP at that time makes it seem even less red-hot.
Radiagate pulled the covers off a cozy nexus between lobbyists, journalists, industrialists and politicians. It was something that was always assumed but Radiagate exposed it bare. Media's credibility took a big hit and the idea of paid media gained even more credibility. The scope and stench of Radia-gate felt so pervasive that Essar-gate seems like a blip in comparison.
And of course, Radia gate had at its centre the far more flamboyant figure of Niira Radia – just the sort of femme fatale that keeps gossip mills churning. A woman playing with the big boys set tongues wagging. The hotness of Niira Radia seemed more on trial in the media than alleged misdeeds by her. As Firstpost noted back then:
So let's review the evidence: she's hot, had sex with powerful, unattractive men, got rich by breaking the rules. Her 'victims' were so not hot, had sex with sexy, sexy Niira, got rich breaking the rules. Surely it's Niira who got the raw end of this deal.
Essargate has a luxury yacht but hardly any of the other masala ingredients that make for a juicy scandal. Where are the dancing girls and the briefcases of cash? Nitin Gadkari even stuck to his "pure vegetarian" diet on board that yacht and came on board as a full family which when you think of it, sounds more wholesome than scandals should be. There's no Radia like figure to titillate us with breathless exposes of phone conversations.
Instead the Indian Express has uncovered emails that warn "Guests are very important people as discussed. Kindly see they are comfortable." It elicits the response ""Please be advised that all guests arrived on board Sunrays approximately 45 mins ago…"
The Gadkaris are not the only ones named. Then coal minister Sriprakash Jaiswal, Congress leaders Digvijaya Singh and Motilal Vora, then MP Yashbant Narayan Singh Laguri and BJP's Varun Gandhi are said to have referred candidates for jobs in Essar.
Again for a cynical public that sounds more like what a person in power is supposed to do anyway. And the defence from the politicians has pretty much echoed that line:
Jaiswal told The Indian Express: "I may have recommended a few people to Essar. I used to frequently recommend unemployed youth from my constituency, wherever they asked me to put in a word."
Cue the music for the caring altruistic politician rather than the corrupt greedy one. What's more eyebrow- raising is the Essar executive suggesting 200 slots be kept open for VIP referrals anyway creating in effect a little influence peddling pool for the politicians to wade into.
But more than anything else the current reaction to Essargate shows us how inured we have become to scams. We are so jaded that Essar-gate expose fails to move the needle for us. Corporations try to stay in politicians good books by showering favours on them even when they are not in power? That's hardly news. Politicians recommending people for jobs inside big corporations sounds almost more acceptable than politicians taking wads of money from the same corporations for overlooking inconvenient environmental truths. Gadkari has indignantly protested he knew the Ruia family as neighbours and his yacht jaunt was nothing more than a neighbourly gesture.
"Ruias and I have been neighbours for years in Mumbai and I have not dealt with their cases in any capacity or extended any favours to them. Where is the conflict of interest?"
What's fascinating is that none of the politicians named are denying what they might have done vis a vis Essar. They are not even issuing pro form denials. Instead they are confident that the bar for influence peddling and corruption and conflict of interest is so high for a jaded public that two nights in some yacht in France will appear less than damning.
And recommending someone for a job is hardly a career-ending sin in the eyes of most. The quid pro quo becomes that much harder to prove and while Caesar's wife must be above suspicion, not so with our politicians. In a world where a Robert Vadra's land deals to reap up 600 percent profits in three years, Gadkari's two nights in a yacht don't make our jaws drop.
What it just proves is that these stories have become so routine that we need far more to be shocked out of cynical complacency. It feels like a 2G scandal in a world that has moved on to 4G.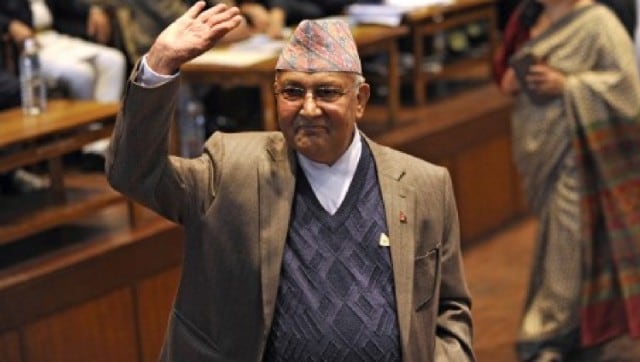 World
After losing the vote of confidence, Oli is automatically removed from his post. Now the new coalition government will be formed as per the constitutional process, said a senior Nepali Congress leader Prakash Man Singh
India
Students who appeared for the examination can visit the official website www.lkouniv.ac.in to check their scorecards
World
Netanyahu's Likud party won the most seats in a March election and was given 28 days to build a majority coalition government, but that deadline passed on Tuesday