MJ Akbar resigns: Junior minister says 'appropriate to step down' from MEA post as he fights 'false accusations' in court
MJ Akbar resigned from the External Affairs Ministry a day before a court is scheduled to hear his criminal defamation suit against Priya Ramani.
Minister of State of External Affairs MJ Akbar resigned from his post on Wednesday.
"Since I have decided to seek justice in a court of law, in my personal capacity, I deem it appropriate to step down from office and challenge false accusations levied against me, also in a personal capacity," Akbar said in a statement.
"I have, therefore, tendered my resignation from the office of Minister of State for External Affairs. I am deeply grateful to the Prime Minister, Shri Narendra Modi, and to the External Affairs Minister Smt. Sushma Swaraj for the opportunity they gave me to serve my country."
This comes a day before the Patiala House Court in Delhi is scheduled to hear the criminal defamation case he filed against journalist Priya Ramani, who was the first to call Akbar out for sexual harassment. It was in response to her October 2017 article in the Vogue, which she replugged on Twitter on 8 October, that several women spoke up with their own stories of Akbar and his allegedly relentless sexual advances towards them. She had not named Akbar in her article, but revealed his identity in a tweet as the #MeToo movement gained ground in India.
After returning from an official trip from African nations on Sunday, Akbar released a statement, in which he rubbished all allegations levied against him by over 15 women. He called the accounts of his former colleagues "false, wild and baseless" and also sued Ramani for criminal defamation after vowing to take legal action for "harming his reputation".
So far, over 20 women who helped Akbar launch The Asian Age and at least 14 others accused Akbar of sexual harassment when they worked with him during his years as a journalist. Th women recounted their ordeals with Akbar right from the 1980s till as recently as in in 2010-2011. Their accounts include details of his "predatory tactics" and incidents ranging from sexual harassment, sexism and abuse of power in his capacity as an editor.
Entertainment
Right from his views on Raju Srivastava to being accused of groping a woman, he could be the king of controversies and not comedy.
World
An article written by 'New York Times' journalists Jodi Kantor and Megan Twohey on sexual harassment by Hollywood giant Harvey Weinstein triggered what is became known as the #MeToo movement. A tweet from actress Alyssa Milano further lit the fuse on social media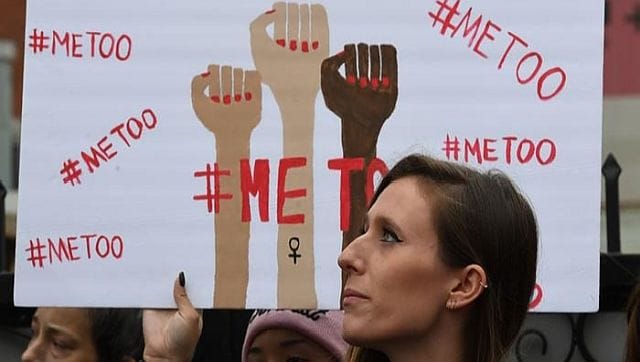 World
From Sweden to Israel, the #MeToo campaign to end sexual harassment and assault has reverberated around the world. It gave rise to homegrown hashtags, landmark cases and even anti-feminist backlashes