#MeToo in India: Suhel Seth named in sexual harassment allegations by multiple women
Suhel Seth is among the public figures now facing #MeToo allegations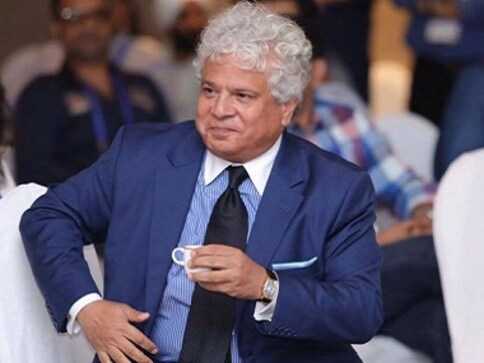 Editor's note: Following Rituparna Chatterjee's report — Is India's #MeToo moment here? Women are angry and they are naming and shaming their abusers — Firstpost will publish a series of articles collating personal accounts of those who have made allegations of harassment, along with responses from those who have been accused of such behaviour. This is an ongoing exercise and will be updated to reflect new developments. If you wish to draw our attention to instances of harassment you may have experienced or witnessed, tweet to us @firstpost with the hashtag #MeToo.
***
Amid the unrelenting wave of #MeToo allegations that have taken over social media timelines in India since last week, accusations have now been articulated against Suhel Seth. The marketing expert and writer has featured in four accounts on Twitter: one, an anonymous narrative, and three others, by filmmaker and entrepreneur Natashja Rathore, by journalist Mandakini Gahlot, and writer Ishita Yadav.
Rathore took to Twitter on 10 October 2018 to share screenshots of a message she reportedly sent Seth; in the message she details unwelcome sexual advances allegedly made by Seth towards her.
Rathore says this was an incident she had "buried deeply" but had decided to speak out about in light of the "current climate where every woman is talking".
As per the screenshots shared, Rathore first met Seth at a work event, where her boss suggested that she go over and greet Seth. Rathore says that after they had a few drinks, Seth insisted that they go to Janpath and eat ice-cream.
Rathore writes that she accompanied Seth (after saying "no" a couple of times; she adds that she was 25 at the time, Seth twice her age, and a figure she trusted due to the opinions he expressed in the public domain) and was shocked when they ended up at his home instead of Janpath.
Not wanting to "make a scene" or walk out in the middle of the night in an unknown area in Gurgaon, Rathore says she accompanied Seth to his apartment.
What followed next, Rathore alleges, was Seth forcibly kissing her (her response to this, she writes, was to "whack him on the head" and ask Seth to behave himself) and putting his hand up under her kurta. At this point, Rathore writes, she whacked Seth's hand as well and managed to pull away. Rathore then asked to be dropped home and Seth's driver did so.
Rathore prefaced her account by tweeting: "I am not doing this for publicity. I am not doing this for money. I am not doing this to malign a person. I am doing this solely to empower other women to directly confront the perpetrator. It's hard — but it's about time. This is my #MeToo message to Suhel Seth."
When Firstpost reached Rathore for comment, she gave us permission to use her account, as shared on Twitter. However, she said she would not be issuing any further statement as, "I've done what I needed to do for closure. And I've done what I needed to do to empower other women. Anything else will be an indulgence and that's not my motive."
Before Rathore tweeted her story, an anonymous account was shared with writer Anisha Sharma, containing an allegation of inappropriate behaviour against Seth. Sharma then tweeted the account from her handle. In the account, the anonymous source claims Seth sent her DMs when she was 17 — after she had sent him a tweet — asking her to join him for drinks in his room (at a hotel). In a statement to The Quint, Seth refuted the account altogether, saying he was not in Mumbai on the dates mentioned and had stamps on his passport to prove it.
A third allegation against Seth emerged on Twitter on Wednesday evening, this one made by journalist Mandakini Gahlot.
In a series of tweets, Gahlot recounted an incident dating to August 2011, when she was 26, and had a freelance job transcribing speeches at a conference in Goa.
Gahlot said that one evening after the conference wrapped up, a group of 100 or so people, including Seth, were chatting over drinks. She claims that Seth made repeated references to his "cottage suite" at the hotel, asking her if she'd like to see it after dinner. Gahlot says she refused.
As she readied to leave, Gahlot claims Seth reached out to her — she assumed it was for a hug — and forced a kiss on her mouth. "I felt his tongue inside my mouth," Gahlot has tweeted. "I was stunned and said something like 'Suhel you can't do that'."
Gahlot writes that she doesn't remember what Seth said in response, but that he laughed, as did the others in the group surrounding them. She recollects rushing out of the room in tears and finding support in someone who had witnessed the incident and assured her of his support should she wish to file complaint.
Gahlot says she decided not to file a complaint for a variety of reasons — being so young and in the early stages of her career while Seth was very powerful — and later brushed off the incident.
As for why she has stepped forward with her account now, Gahlot said: "I felt humiliated and powerless. I am telling this story in support of the other brave women who came forward against him, and others."
A fourth #MeToo account naming Seth was shared on Twitter on 11 October by Ishita Yadav.
Yadav says that in 2009 (when she was 24), Suhel Seth added her on Facebook and they began exchanging messages. Yadav says she doesn't recollect how the conversation began, but Seth soon asked her over to his home for a drink. At first, Yadav says, she didn't think too much of the invite, until Seth allegedly began sending her messages that told her not to bring her car, to brush and bathe before she met him.
She immediately told a friend, who asked her not to go to Seth's home. Yadav says she blocked Seth on Facebook at that time.
"It's pretty much an open secret, and yet, we see him being invited to literature festivals, to panel discussions on news channels, and it is well known that he is close to a lot of powerful people in the media industry," Yadav wrote on Twitter on Thursday.
"Not only does this send out a message that his behaviour is acceptable, but his social connections prevent women from calling him out," she added.
"It's been two days since women have shared their (allegations). Not only has he not felt the need to even respond to these allegations, but all of his celebrity friends who've been aggressively tweeting on #MeToo have chosen to remain silent on him."
Yadav added that unless such harassment was strongly condemned, the courage that some women had shown in sharing their painful experiences and unpleasant memories would have been in vain.
Firstpost reached out to Suhel Seth for comment via WhatsApp with a set of four questions on Wednesday afternoon, when Natashja Rathore's allegations were first shared on Twitter. A follow-up message was sent over WhatsApp on Thursday morning, along with an additional question about Mandakini Gahlot's account. An email with the five questions was also sent to Seth's official ID, along with a direct message to his Twitter account and a third WhatsApp message on Thursday evening. At the time of publishing this article, Seth had not responded to our request. We will update this report if he does.
UPDATE:
The model Diandra Soares has now spoken out against Suhel Seth as well, in a #MeToo story shared to her Facebook page on Wednesday, 17 October 2018.
Soares wrote of an incident in which Seth kissed her without her consent at a party in Delhi some years ago. She had been part of a bridal fashion week, and one of the post-show after-parties had Soares dancing in the VIP section of a bar with other models and some socialities.
She says she was dancing on a couch when "out of nowhere, Suhel Seth shoved his tongue into (her) mouth"; Soares says she retaliated by biting down on his tongue hard and fighting him off. Other attendees at the party took her away to calm her down, and Soares says she felt no further need to address the incident (because she felt she had dealt with it directly) until she began reading the #MeToo stories about Seth.
"It's shocking the kind of responses I have read in his support everywhere — and this, from intelligent, powerful women?" Soares wrote in her post. "Why? Because he's your friend? Because he has never groped your ass or breast or kissed you? Wake up!"
Soares later told Firstpost that she and Seth didn't move in the same social circles but were on greeting terms since he was usually at all the fashion events and parties that took place in Delhi or Mumbai. She also said that the only reason she had chosen to talk about the incident was to give other women courage to tell their own #MeToo stories, and to stand in solidarity with those who had.
A fifth woman, Jasmine Divekar, has also accused Suhel Seth of groping her at a get-together in Mumbai, in January 2017. "I greeted him, just as I greeted everyone else present. And what followed was absolutely disgusting — he groped my breast. My reaction was to immediately back off, scream and call him out," she alleged in a tweet dated 17 October 2018.
She adds that there were six to seven people standing at the bar when this incident occurred, although that didn't deter Seth. "I have seen him at many parties before, and I have witnessed his behaviour, so I kept away from him. He would pass lewd comments about women and would touch them, hold them, without reason. I stayed away lest it happen to me — but it still did," Divekar told Firstpost.
***
Network 18, of which Firstpost is a part, has received complaints of sexual harassment as well. The complaints which are within the purview of the workplace have been forwarded to our PoSH committee for appropriate action.
also read
India
He convinced the wrestlers not to immerse their medals in the Ganga. Today, he will hold a mega meet of khap leaders to discuss the protest. Naresh Tikait, the chief of the Bharatiya Kisan Union (BKU), and older brother of Rakesh Tikait, is all set to fight for India's wrestlers
India
Ace wrestlers, led by Vinesh Phogat, Sakshi Malik, Bajrang Punia, continue their protest against WFI's Brij Bhushan Sharan Singh though they have deferred the decision to immerse their medals. Sexual abuse is prevalent in India's sporting world – there have been 45 complaints between 2010 and 2022
India
Srinivas was accompanied by his lawyer and Assam Congress leaders, including MLAs Rakibul Hussain and Rekibuddin Ahmed