Mehbooba Mufti writes to home secy after attack on Hizbul chief's son in Tihar; family, separatists demand action
Mehbooba spoke to Home Secretary Rajiv Gauba and asked him to intervene in the matter. She also assured that Shahid will not face any kind of 'harassment'.
Srinagar: Following an attack on Shahid Yousuf, son of Hizbul Mujahideen chief Syed Salahuddin, at Tihar Jail in New Delhi, Jammu and Kashmir chief minister Mehbooba Mufti has raised the matter of the alleged "harassment and manhandling of some inmates" at the prison with the ministry of home affairs (MHA).
Mehbooba spoke to Home Secretary Rajiv Gauba on Tuesday and asked him to intervene in the matter. She also assured that Shahid will not face any kind of "harassment".
While Gauba assured Mehbooba of a "thorough probe into the incident and punishing the culprits for having violated the jail manual", family members of Shahid said that he was "injured in the head" and had received wounds on other body parts after being attacked by the Jail authorities at Tihar on 21 November.
Wife of jailed JKLF leader Farooq Ahmad Dar aka Bitta Karate, Assabah Khan, had earlier wrote a letter to the Tihar jail authorities highlighting the lack of facilities in violation of the jail manual. Khan's letter to the Tihar Jail authorities read: "My husband Farooq Ahmad Dar @Bittakaratte, who is chairman of one of the factions of Jammu Kashmir Liberation Front, is lodged in Central Jail No 3 (high-security ward) of Tihar prison. A great inconvenience has been caused to our family and my five-year-old child after we were denied the facility to talk to him."
She further stated that the money wired by the family to the jail had not been received by Dar. "I had sent an e-money order to my husband on 13 May from Srinagar. The EMO no is 044883171013008810 for Rs 5,000 and 044883171013008811 for Rs 1,000. I have the tracking information on the internet and that eMO was handed over to Tihar authorities on 14 October. On 20 October, one of our relatives went to meet Dar in Tihar Jail only to discover that the eMO was not delivered to him. This is a very sorry state of affairs that is prevailing in Tihar Jail. This is a deliberate attempt to torture prisoners from Kashmir by depriving them of contact with their families and of money."
Khan said that "as money couldn't be transferred to my husband, he has been denied facilities at the prison." She also said that Dar has been denied "proper bedding" and "facilities that he is eligible for". "We are not able to credit the money to the Tihar jail authorities, due to which my husband is facing this ordeal," she added.
Salahuddin's family members said that his son was "attacked with sticks and buckets between 8:30-9 pm on 21 November and had received injuries in the head and shoulders."
"We produced the blood-soaked clothes before the Delhi High Court which held that it was an unprovoked attack. Shahid was only given first-aid treatment and has not been hospitalised. We are seeking that he should be shifted to a jail in Kashmir," the family members said.
Shahid was arrested by the National Investigation Authority (NIA) in connection with a 2001 terror funding case for "having received money from his father in Pakistan".
Mehbooba spoke to Gauba after a delegation of the residents of Salahuddin's hometown of Saibug met the chief minister and sought Shahid's release. A 22-member civil society delegation from Budgam met Mehbooba on 28 October at her residence and made a "passionate and earnest appeal to her to secure the release of Shahid." The chief minister assured the delegation that he will be 'bailed out' and not subjected to any harassment.
Salahuddin's family members said that Shahid was "beaten to a pulp along with other inmates" by the Tamil Nadu Special Force at Tihar Jail. The Civil Society Budgam sought that Shahid must be shifted to Srinagar Central Jail to avoid "further such incidents and ensure his safety."
"His father left the family at a time when all his children were innocent. In the 1990s, their home would get frequently raided and frequent arrests and torture were routine. In 1995, their house was reduced to rubble by government forces, which forced them to migrate to Srinagar and go into hiding to evade frequent raids," a statement by Civil Society Budgam issued through one of Shahid's brothers read.
It added that Shahid is a "peaceful citizen, who worked for the last 10 years with the government at a meagre Rs 1,500 per month and only got regularised in March this year".
"Out of Shahid's three kids, the eldest one, 9, is suffering from Down's Syndrome... his upbringing was a major responsibility on the shoulders of his father. However, the absence of his father has taken a toll on the child's wellbeing and it will hinder his education," the statement said.
The separatists have termed the attack on Shahid and the "harassment" meted out to other Kashmiri prisoners as uncalled for and an "expression of the communal mindset". After a petition was filed by Shahid before the Delhi High Court, a probe panel described the 21 November incident – in which Shahid and 17 other prisoners were attacked – as a "gross violation of fundamental human and other legal rights of prisoners who have been subjected to severe physical torture without any justifiable reason".
The Joint Resistance Leadership (JRL) comprising Hurriyat (G) chairman Syed Ali Geelani, Hurriyat (M) chairman Mirwaiz Umar Farooq and Jammu and Kashmir Liberation Front (JKLF) chief Yasin Malik, has "expressed serious concern over the plight of hundreds of Kashmiri prisoners lodged in Tihar and various jails in and outside the state stating."
"The thrashing of prisoners in Tihar has put the lives of all Kashmiri political prisoners at risk," a JRL statement said.
The JRL invoked a Supreme Court ruling as per which "state authorities should lodge detainees near their home cities". The Hurriyat said that the ward where the prisoners were attacked keeps other members of the faction, led by Geelani, including Ayaz Akbar, Raja Meraj-u-Din Kalwal and Altaf Ahmad Shah.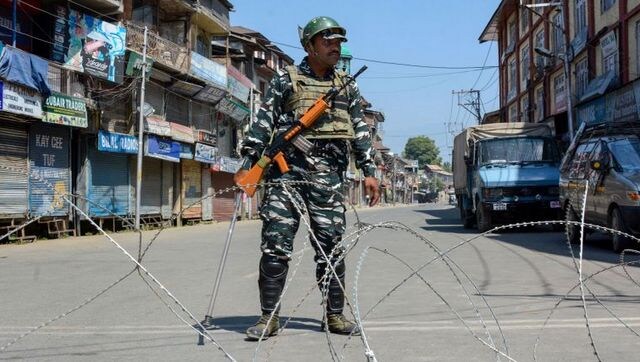 India
Kashmiri Shia politician Ruhullah Mehdi said if the Friday prayers and other major religious functions continue to be banned in wake of COVID-19 pandemic and 'this particular procession suddenly encouraged in isolation, I see nefarious designs behind it'
India
IMD has forecast severe weather for Jammu and Kashmir, with 'widespread intermittent rain most likely to continue till 30 July'
India
A cloudburst is a sudden aggressive rainstorm falling for a short period of time-limited to a small geographical area