Mehbooba Mufti roughed up: Chaos at an event organised for women self-help groups
Jammu and Kashmir Chief Minister Mehbooba Mufti was roughed up at a meeting with members of women self-help groups in Kashmir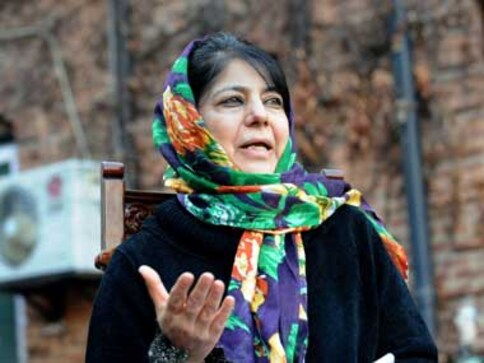 Chief Minister of Jammu and Kashmir, Mehbooba Mufti, was roughed up during an event in Srinagar on Tuesday, reports said. Chaos erupted at Mufti's meeting with members of women self-help groups set up under the state government's ambitious Umeed scheme.
Srinagar: Chaos erupted at J&K CM Mehbooba Mufti's meeting with members of women self help groups set up under J&K govt's UMEED scheme pic.twitter.com/VDVKogcFX0

— ANI (@ANI_news) May 16, 2017
After the incident, Mufti said, "Women were present in large number and probably one of them became unconscious which created panic."
Women wr present in large no.s&probably a lady fell unconscious, seeing that others panicked.Hope this programmme is organised again: J&K CM pic.twitter.com/bSL1oyjOOK

— ANI (@ANI_news) May 16, 2017
Kashmir has been facing an unprecedented number of protests and violent incidents since Hizbul Mujahideen commander Burhan Wani was killed in an encounter on 8 July, 2016 with youths taking to the streets and pelting stones at security forces. Though the violent protests had subsided briefly, they resurfaced again in April 2017 after nine civilians were killed in police firing during the Srinagar bypolls. According to several reports, the latest protests are seeing participation from students as well.
The Umeed scheme was launched in the state with an aim to create self-help groups for women from rural areas, train them to create their own capital as well as offer capital. The goal of the scheme is to either enhance their existing livelihoods or create new livelihood so as to bring rural families out of poverty.
Earlier this week, Mufti had faced severe criticism from the Hurriyat Conference and was accused of "following the diktats of Delhi" after she asked the people of Kashmir to differentiate between Kashmiriyat and Islamic State. Though the Hurriyat also recently criticised the radicalisation of the Kashmir struggle, the fact that the chief minister had to face resistant at the meeting with members of these self-help groups, reinforces the reports that the PDP-BJP government is losing its popularity in the state.
But the troubles for Mufti and her government are not just related to the growing resentment among Kashmiris in the Valley. Mufti is facing challenges with reports claiming that her role in the state government has been reduced to just a photo-op.
According to a column published in State Times, a Kashmiri newspaper, Mufti is losing her significance for its alliance partner BJP and also the ruling party at the Centre. And that a governor rule in the state is more likely considering the growing unrest in the Kashmir Valley.
also read
Opinion
From positive comments by delegates to the decline in stone pelting incidents, smart city developments, record tourist numbers, cultural celebrations, and infrastructural advancements, Kashmir is steadily moving forward
World
The third G20 Tourism Working Group meeting is scheduled to be held in Jammu and Kashmir under India's presidency from May 22-24
World
Stringent security arrangements are in place across the Kashmir Valley to ensure that the high-profile event passes off peacefully, officials said