MEA calls Imran Khan's remarks on Kashmir at Kartarpur event deeply regrettable, says he politicised 'pious occasion'
The Ministry of External Affairs (MEA) on Wednesday reacted to Pakistan prime minister Imran Khan's remarks on Kashmir.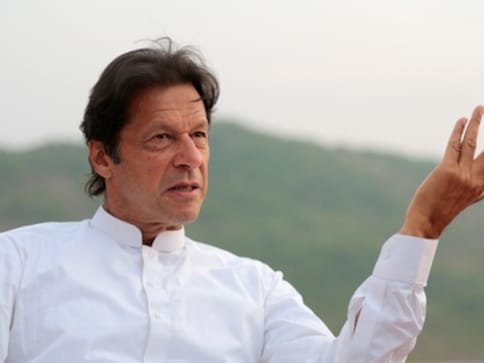 The Ministry of External Affairs (MEA) on Wednesday said Pakistan prime minister Imran Khan's "unwarranted" remarks on Kashmir, which he made while laying the foundation stone of the Kartarpur Corridor, were "deeply regrettable".
"It is deeply regrettable that the Prime Minister of Pakistan chose to politicise the pious occasion meant to realise the long-pending demand of the Sikh community to develop the Kartarpur Corridor by making an unwarranted reference to Jammu and Kashmir, which is an integral and inalienable part of India," the MEA said in a statement.
"Pakistan is reminded that it must fulfill its international obligations and take effective and credible action to stop providing shelter and all kind of support to cross-border terrorism from territories under its control," the ministry added.
At Kartarpur, Imran had said that Kashmir was the only bone of contention between the neighbours, and that the dispute could be resolved if there was a strong-willed leadership on both sides of the border.
"There is immense potential waiting to be unleashed if our borders are opened and free flow of trade is allowed," Imran said, adding that Pakistan was ready to take the double initiative to resolve the conflict if India takes a step ahead to hold peaceful dialogue.
Imran also said he wondered why there was a hue and cry over cricketer-turned-politician Navjot Singh Sidhu's push for peace and brotherhood during his previous visit to Pakistan, claiming that Sidhu could even win an election in Pakistan.
"I heard there was a lot of criticism of Sidhu when he went back to India after my oath-taking ceremony. I don't know why was he criticised. He was just talking about peace and brotherhood," the prime minister said, adding that Sidhu has such a large fan following in Pakistan, especially in the country's Punjab province, that if he contested elections there, he would win.
"He can come and contest the election here in Pakistan's Punjab. He'll win," Imran said.
"Hopefully we will not have to wait for Sidhu to become the Prime Minister of India for relations to improve between the two countries and before that, Indian leadership will take positive steps," he added.
With inputs from PTI
India
The woman's brother, who was a soldier in the Indian Army, had laid down his life during a gunfight in 2017. She now celebrates Raksha Bandhan by tying Rakhi to his statue
India
Budhal is etched in the Pir Panel ranges, which are very tough to access without a proper road. The villagers prior to completion of the road has to walk 13-14 kms everyday in order to get essential services like medicines
India
Jaishankar said he visited a restaurant with his son in the US, where they wanted to see the duo's COVID vaccine certificate. 'I showed them my phone and my son, from his wallet, produced a piece of paper… and said this is my certificate', indicating the technological advancement of India