Maharashtra's south Gadchiroli faces nature's fury as submerged roads and bridges maroon over 200 villages
According to the Indian Meteorological Department, all 11 tehsils in Gadchiroli received heavy to very heavy rainfall with an average of over 91 mm in four hours.
Incessant rains for the last three days have unleashed a trail of destruction in Maharashtra's Gadchiroli inundating over 200 villages in the southern part of the district and submerging roads and bridges that connect them to the blocks and district headquarters. All major rivers and streams of the district located in the Vidarbha region of Maharashtra are in spate destroying paddy fields and sweeping away livestock although no loss of human lives has been reported so far.
According to the Indian Meteorological Department, all 11 tehsils in Gadchiroli received heavy to very heavy rainfall with an average of over 91 mm in four hours. The Sironcha and Bhamragad tehsils in south Gadchiroli recorded over 144 mm rainfall. With the tribal community leading the demographic composition of the district, Gadchiroli has a dense forest cover and four major rivers of Godavari, Pranhita, Vainganaga and Dina. Besides, over eight small rivers and their tributaries flow through and along the borders of the district.
"There have been heavy rains in the south, south-east and south-central Gadchiroli for the last week. Over 15 villages in Bhamragad that is south Gadchiroli are cut off. Around 50 villages from Atapalli and also villages from Aheri and Sironcha tehsils are also cut off. This is happening as there are many small or major rivers in the area. Many bridges that were built long ago are of small heights. Hence bridges and roads are getting submerged and villages are getting cut off. But our disaster management cell is attending to all the calls," said district disaster management officer Krishna Reddy.
Zila Parishad member Lalsu Nagoti expressed unhappiness over the fact that the plea for a new bridge has fallen on deaf ears so far.
"Every year in the three months of monsoon, most of these villages including those in Bhamragad tehsil remain cut off from other areas as the bridge on the Parlkota river that connects Bhamragad to other areas get submerged. We have been demanding for a new bridge for many years. Vilasrao Deshmukh when he was the chief minister promised a new bridge when he had come to this region for a visit. But later nothing went ahead on that front," said Nagoti.
The low height of another bridge nearly caused a disaster but was averted due to the timely intervention of people nearby.
"A Gadchiroli-Hyderabad bus with 25 passengers had fallen into a stream from a bridge in Aheri taluka as the height of the bridge is low and the bridge does not have railings. Fortunately, youths from surrounding villages saved all the passengers. The residential school at Aheri arranged for the food and lodging for the passengers for the night," said the Zila Parishad member.
As per information from the revenue department, over 100 houses in south Gadchiroli have either collapsed or are damaged badly due to the heavy rains. The department is now trying to gauge the extent of the damage.
Bhamragad taluka is among the worst-hit areas forcing residents to take shelters in schools and religious places. Their miseries have been compounded with a shortage of food items and there is no electricity and mobile phones are hardly working due to poor connectivity.
Due to the floods, people have become vulnerable to vector-borne diseases particularly elephant legs that are caused by Culex mosquitoes that breed in filthy water.
"We are conducting a drive from 7 to 31 August in which we will reach every household for check-ups and give medicines. The number of patients with fever and elephant legs are increasing," said Kunal Modaisa, a doctor with the health department in Gadchiroli.
Meanwhile, Ambrish Atram, guardian minister of Gadchiroli, visited the flood-affected areas and asked officials to record all the losses.
"I would get help from the government," said Atram.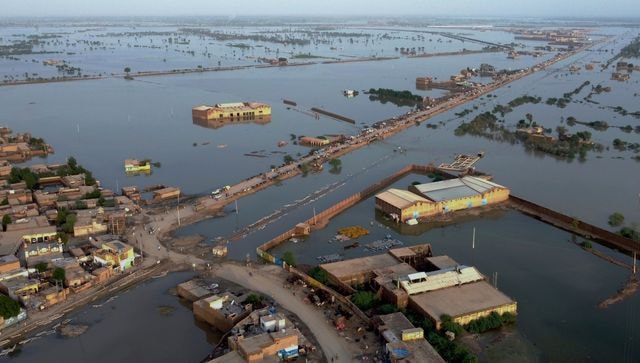 World
Pakistan's massive floods this summer collapsed Mohammed's home and destroyed his four acres of cotton, wiping out most of his income
World
Pakistan Foreign Minister Bilawal Bhutto Zardari raked up the Kashmir issue and said that Islamabad hasn't seen any signs of rebuilding relations with India
India
It is quite difficult to reach the area and the health officials of the villages were cut off from there due to heavy rains, says Additional District Collector, Mungeli