Law Commission redefines hate speech: Proposes changes to IPC to protect minorities
The Law Commission of India, in its 267th Report, has come up with a slew of recommendations to curb hate speech in an attempt to safeguard minorities.
If the present trend of political rewards is any indication, hate speeches by politicians are at a premium, as far as post-election gains are concerned. Yogi Adityanath's ascension to the position of Uttar Pradesh chief minister proves that hate speeches against minorities (read Muslims) ought to be the bellwether of any election campaign.
Though there are various provisions in criminal and other laws to censure, restrict and punish hate speeches, most of them kick in only in the run-up to elections, or if they have the potential to cause, or result in, communal violence.
But what happens to speeches which are so polarising in nature, and irrespective of whenever they are delivered (even during the non-election period) that they create a deep sense of vulnerability and feelings of oppression among minorities and other marginalised sections of society?
The present legal regime, hobbled as it is by the lack of a watertight definition of hate speech, falls short of being able to effectively combat and prosecute cases where hate speeches are made for reasons other than immediate electoral gains. Now, the Law Commission of India, in its 267th Report, has come up with a slew of recommendations to fill in this lacunae.
By broadening the definition of what should be considered hate speech, and suggesting appropriate amendments to the criminal law, the Report seeks to put in place a legal regime strong and comprehensive enough to deal with statements that breed extreme manifestations of vilification and detestation.
Widening the meaning of "hate speech"
In 2014, acting on a Public-Interest Litigation filed by the NGO Pravasi Bhalai Sangathan, the Supreme Court tasked the Law Commission with suggesting measures to curb the proliferation of hate speeches by politicians, which have been increasingly dotting the landscape in recent times.
The Commission, however, has gone a few steps ahead and suggested a mechanism to rein in offending speeches made not only by electoral candidates and their agents, but also by those enjoying prominence in the public sphere.
For this purpose, the Commission has recommended a departure from Sections 153A and 295 A of the Indian Penal Code, and other provisions of relevant legislations, which proscribed and punished speeches or statements only if they led to communal tensions or created law and order problems as a consequence.
The Commission has foregrounded its recommendations on American legal philosopher Jeremy Waldron's book 'The Harm in Hate Speech' (read a review by Justice John Paul Stevens, retired Chief Justice of the Supreme Court of the United States).
In that book, Waldron expresses grave concern for "the use of words which are deliberately abusive and/or insulting and/or threatening and/or demeaning directed at members of vulnerable minorities, calculated to stir up hatred against them."
He contends that hate speech should not be restricted only to those statements which pose a clear and present danger (as held in the US Supreme Court's 1919 decision in Schenck v US) or which poses an imminent threat to lawless action (held by the US Supreme Court in 1969, in Brandenburg v Ohio).
Rather, it should also include speech which does not always lead to violence, but is directed at the dignity of members of vulnerable groups, and provides an incitement to hatred.
Noting that the spread of some ideas, especially with the aid of the rapid speed of the Internet, might perpetuate the discriminatory attitudes already prevalent in a society where inequality is rife, the Commission recommends that the law go by Article 20 (2) of the International Convention of Civil and Political Rights, which requires that statements negating the equality of all human beings should be prohibited and punished by law.
Regarding the identification of which speeches should be regarded as being "hateful" in the eyes of the law, the Commission has adopted the criteria laid down in the Canadian Supreme Court's decision in Saskatchwan (Human Rights Commission) v Whatcott (2013).
In that ruling, the court classified two categories of hate speech. One, that which marginalises individuals based on their membership of a targeted group, thus affecting inclusiveness and dignity. Two, speech which impairs minorities' ability to respond to substantive ideas under debate, thus creating a serious barrier to full participation in democracy.
Creating new offences
August 2012 witnessed people from the North East fleeing Bangalore on an unprecedented scale. This exodus was caused by rumours of communal violence in Assam. In the age of the Internet and social media, these rumours (which were later proved to be not only false, but also deliberately malicious) spread like wildfire, causing hordes of people to nurture fear about their lives and limbs, apprehending that they could be targeted next.
All that the government could do was to impose a blanket ban on the internet and mobile data services in certain regions; it lacked the legal wherewithal which could serve as a restraint and effective deterrent. In order to plug these loopholes in the law, the Commission has recommended the insertion of two new provisions in the Indian Penal Code.
One is Section 153 C, which punishes incitement to hatred by imprisonment of two years, or a fine of Rs. 5,000 or both. The other one is Section 505A, which penalises the causing of fear, alarm, or provocation of violence with imprisonment of a year or fine of Rs. 5,000 or both.
Maintaining a neutral stance on free speech – that is, holding that every offensive speech is not illegitimate or illegal – has severe ramifications for those in minority, who are deprived of the right to protect their dignity from assault. It also violates the principle of equality.
By not limiting the definition of hate speech to those in the political (and electoral) arena, and by prescribing effective remedial and preventive measures, the Election Commission has added another bulwark against the violation of minorities' rights.
India
The ex-IPS officer joined the BJP in 2012 and was appointed party spokesperson from Punjab's Sikh community in September last year
Politics
His selection assumes significance as the dissension-riven Congress faces the Assembly polls in less than five months and the fact that Dalit voters comprise 32 percent of the state's electorate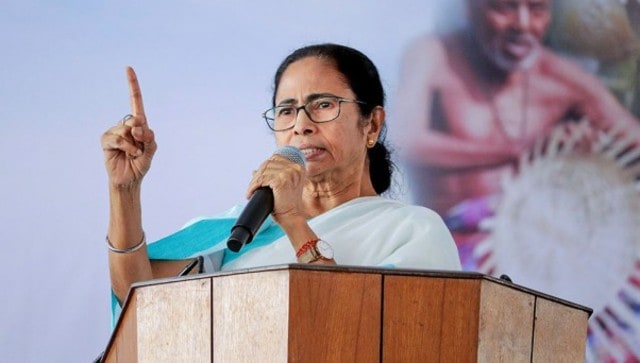 Politics
Sajal Ghosh, the chief election agent of the saffron party's candidate for the constituency, Priyanka Tibrewal, wrote to the EC, raising objections to Banerjee's declaration.