Kolkata court summons Shashi Tharoor for 'Hindu Pakistan' remark; petitioner claims comment 'insulted the Constitution'
Senior Congress leader Shahi Tharoor was summoned by a Kolkata court on Saturday, regarding his 'Hindu Pakistan' remark.
Senior Congress leader Shashi Tharoor was summoned by a Kolkata court on Saturday regarding his "Hindu Pakistan" remark.
Kolkata-based advocate Sumeet Chowdhury filed the case alleging that the Thiruvananthapuram MP's comments had "hurt religious sentiments" and "insulted the Constitution", ANI reported.
A case under sections 153A and 295A of the Indian Penal Code, and Section 2 of The Prevention Of Insults To National Honour Act, 1971, was filed against Tharoor. He was asked to appear in court on 14 August.
On Wednesday, while addressing a lecture on 'Challenges to Indian Democracy and Secularism' in Kerala, Tharoor said, "If they (BJP) win a repeat in the Lok Sabha, our democratic Constitution, as we understand it, will not survive, as they will have all the elements they need to tear apart the Constitution of India and write a new one. That new one will be the one which will enshrine principles of Hindu rashtra, that'll remove equality for minorities, that'll create a Hindu Pakistan."
Zee News reported that the court has allowed authorities to issue summons to Tharoor through his official and Facebook handles apart from the usual process of law.
It is probably the first time the Indian judiciary has issued a summon through Twitter, as claimed by the petitioner.
Tharoor's comments did not go down well with the BJP. The party's national spokesperson Sambit Patra demanded an apology from Congress president Rahul Gandhi over Tharoor's comments and accused the Congress of "defaming" Hindus.
Meanwhile, the Congress too distanced itself from Tharoor's comments, saying that all party leaders were advised to exercise caution and restraint in choosing their words.
Congress's communication in-charge Randeep Surjewala said, "India's values and fundamentals are an unequivocal guarantee of our civilisational role and set us apart from the divisive idea of Pakistan. All Congress leaders must realise this historic responsibility bestowed upon us while choosing words to reject BJP's hatred," he said.
Standing by his statement in a Facebook post on Thursday, the Congress leader reiterated his comment saying that just like Pakistan was created as a State with a dominant religion where the minorities are discriminated against, the same will happen to India with the BJP-RSS idea of a Hindu Rashtra.
"India never accepted the logic that had partitioned the country. That would be a Hindu Pakistan, and it is not what our freedom movement fought for, nor the idea of India enshrined in our Constitution," he said. He added that many proud Hindus like him have no desire to live, as our Pakistani neighbours are forced to, in an intolerant theocratic State.
Politics
The former Congress chief will speak at the 'Ideas for India' conference. He will also interact with the Indian diaspora on what the present and future hold for the country
Politics
Addressing Congress leaders at the brainstorming camp in Udaipur, Rahul Gandhi said that regional parties lack ideology and cannot fight the BJP-RSS team. He believes it is the Indian National Congress party which can do it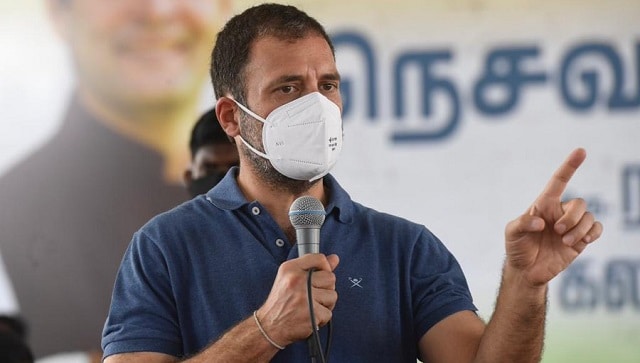 India
Congress leader Rahul Gandhi said there is a fight between two ideologies in the country