Shashi Tharoor warns BJP will make India 'Hindu Pakistan' if it wins 2019 LS polls; Sambit Patra demands apology
'If they (BJP) win a repeat in the Lok Sabha, our democratic Constitution will not survive ,' Congress MP Shashi Tharoor said while addressing a gathering in Kerala.
Congress leader Shashi Tharoor raked up fresh controversy on Wednesday with his remark that the Bharatiya Janata Party (BJP) will turn India into Hindu Pakistan if it wins the 2019 Lok Sabha election.
"If they (BJP) win a repeat in the Lok Sabha, our democratic constitution, as we understand it, will not survive as they will have all the elements they need to tear apart the Constitution of India and write a new one," Tharoor was quoted as saying by ANI during his speech on 'Challenges to Indian Democracy and Secularism' at a gathering in Kerala. He further alleged that BJP's "new" Constitution will remove equality for minorities.
That new one will be the one which will enshrine principles of Hindu Rashtra, that'll remove equality for minorities, that'll create a Hindu Pakistan & that isn't what Mahatama Gandhi, Nehru, Sardar Patel, Maulana Azad & great heroes of freedom struggle fought for: Shashi Tharoor pic.twitter.com/RYjtbBYQzl

— ANI (@ANI) July 11, 2018
According to Manorama Online, the Congress MP said a two-thirds majority in the Rajya Sabha was the only thing that has stood in BJP's way so far. "They already have more than 20 states under their belt, so a Rajya Sabha majority looks near... Now if they could muster what they managed during the last Lok Sabha polls, India is done for," the report quoted him as saying. Tharoor's comments did not go down well with the BJP. BJP national spokesperson Sambit Patra demanded an apology from Congress president Rahul Gandhi over Tharoor's comments and accused the Congress of "defaming" Hindus. "Rahul Gandhi must apologise for what (Shashi) Tharoor has said. Congress was responsible for creation of Pakistan because of its ambitions. Yet again it has gone ahead to demean India and defame Hindus of India," Patra was quoted as saying by ANI. Patra also lashed out at the Congress on Twitter.
MR Sashi Tharoor says India will become "Hindu-Pakistan" if BJP returns to power in 2019! Shameless @INCIndia doesn't lose any opportunity to demean India & defame the Hindus! From "Hindu terrorists" to "Hindu-Pakistan" the Pak appeasing policies of Cong are unparalleled! — Sambit Patra (@sambitswaraj) July 11, 2018
Delhi BJP spokesperson Harish Khurana said that the voters will respond to Congress' "nonsense".
Union Information and Broadcasting Minister Rajyavardhan Singh Rathore also assailed Tharoor, dubbing his remarks as "pure hallucination".
The remark also prompted reactions from other users on the micro-blogging website. Rashtriya Swayamsevak Sangh ideologue Rakesh Sinha took to Twitter and said that Tharoor may be a master of English language but has little understanding of India's heritage and culture.
"Shashi Tharoor reflects contemporary Congress ideology which possesses contempt for the Hindus. His conspiracy theory of Hindu Pakistan is the perpetuation of Congress' narrative of Hindu terrorism. He understands Hindus and Indian democracy from a Western prism. He may be a master of English language but not of Indian tradition, history and knowledge tradition," Sinha tweeted.
Meanwhile, the Congress party quietly distanced itself from Tharoor's comments, saying that all party leaders were advised to exercise caution and restraint in choosing their words.
Congress's communication in-charge Randeep Surjewala, in a series of tweets, said, "India's values and fundamentals are an unequivocal guarantee of our civilisational role & set us apart from the divisive idea of Pakistan."
"All Congress leaders must realise this historic responsibility bestowed upon us while choosing words and phraseology to reject BJP's hatred," he said.
Responding to a question at the AICC briefing in Delhi, Congress spokesperson Jaiveer Shergill said that irrespective of the government that comes to power, Indian democracy will never allow the country to become Pakistan. "Congress advises each of its leaders and workers to exercise restraint, caution, and choose their words and statements wisely. And remember that the Indian National Congress stands for a pluralistic multi-cultural, multi-faith society," Shergill said.
However, unfazed by the controversy, a combative Tharoor took to Facebook to defend his comments, insisting that the BJP and RSS' idea of a Hindu Rashtra was the "mirror image" of Pakistan.
In his post, Tharoor said many proud Hindus like him cherished the inclusive nature of the faith and had no desire to live, as their Pakistani neighbours were forced to, in an intolerant theocratic state. "We want to preserve India and not turn our beloved country into a Hindu version of Pakistan".
"I have said this before and I will say it again. Pakistan was created as a state with a dominant religion, that discriminates against its minorities and denies them equal rights. India never accepted the logic that had partitioned the country.
"But the BJP/RSS idea of a Hindu Rashtra is the mirror image of Pakistan a state with a dominant majority religion that seeks to put its minorities in a subordinate place. That would be a Hindu Pakistan, and it is not what our freedom movement fought for, nor the idea of India enshrined in our Constitution."
Tharoor had courted a controversy a few years ago when he was a minister at the Centre with his comment on Twitter that he would travel "cattle class out of solidarity with all our holy cows."
The comment had followed the then finance minister Pranab Mukherjee's advice to Congress leaders to observe austerity in order to cut down expenditure in the wake of drought in several parts of the country.
Tharoor has been a vocal critic of the BJP-led government at the Centre. In May, he had said that India was not safe in the hands of the BJP. "...unfortunately, the evidence we have seen in the last four years (of the NDA rule) does not suggest that this country is safe in the hands of the present government," he said at a press conference in Lucknow.
During an interactive event in Mumbai in April, Tharoor accused the ruling BJP of "wounding" India's soul by "unleashing forces of intolerance, hatred and bigotry". He also said that Hindutva is a political ideology of the BJP which has nothing to do with religion.
With inputs from PTI
Politics
Addressing Congress leaders at the brainstorming camp in Udaipur, Rahul Gandhi said that regional parties lack ideology and cannot fight the BJP-RSS team. He believes it is the Indian National Congress party which can do it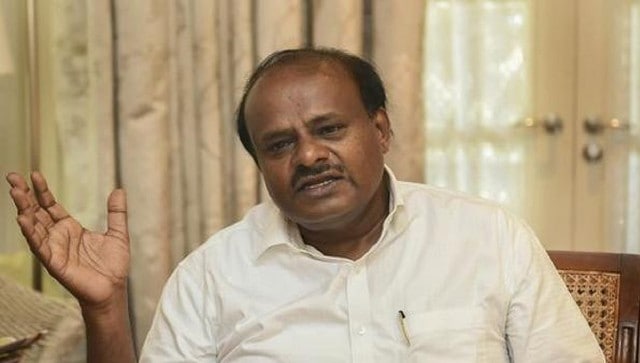 Politics
In his address at his party's 'Chintan Shivir'in Udaipur, Rahul had claimed that regional parties cannot fight the BJP and the RSS as they lack ideology
India
Addressing a tribal rally in Dahod, Gujarat, Congress leader Rahul Gandhi said that the BJP-led government in the state had deprived tribals of their rights