Khalistan sympathiser Amritpal Singh on run as Punjab Police arrest dozens of aides
As the Punjab Police moved in to nab Amritpal Singh, mobile and internet services were restricted in several districts of Punjab. The curbs will be in place till Sunday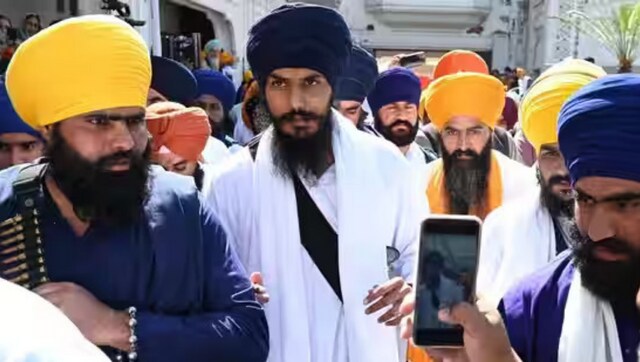 Jalandhar (Punjab): The Punjab Police nabbed dozens of aides of top Khalistan sympathiser Amritpal Singh – who had issued a death threat against Union Home Minister Amit Shah – in a massive state-wide operation on Saturday.
Amritpal, however, is on the run, Punjab Police said.
The Punjab Police had launched action against the separatist leader – who is said to be on the run – and his outfit 'Waris Punjab De' early on Saturday. The Union Home Ministry was reportedly in constant touch with the Punjab government in order to assess the situation throughout the operation.
"Punjab Police launched a massive state-wide Cordon And Search Operations in the state against elements of Waris Punjab De. 78 persons arrested so far, while, several others detained. Several others including Amritpal Singh are on the run & a massive manhunt has been launched to nab them," the Punjab Police said in a statement on Twitter.
"During the state-wide operation, nine weapons, including one .315 bore rifle, seven rifles of 12 bore, one revolver and 373 live cartridges of different caliber have been recovered so far. Waris Punjab De elements are involved in four criminal cases relating to spreading disharmony among classes, attempt to murder, attack on police persons and creating obstructions in the lawful discharge of duties of public servants. FIR stands registered for the attack on Ajnala Police Station," the statement added.
As the Punjab Police moved in to nab Amritpal Singh, mobile and internet services were restricted in several districts of Punjab. The curbs will be in place till Sunday.
According to media reports, after the Punjab Police reportedly traced Amritpal Singh' latest location near Shahkot in Jalandhar district on Saturday morning, over 50 police vehicles chased the Khalistani leader and his associates in an attempt to arrest them.
Meanwhile, Punjab Health Minister Balbir Singh on Saturday said the law will take its course against violators without any discrimination and that Chief Minister Bhagwant Mann has restored the rule of law.
"Our CM has restored the rule of law. Law will take its course against violators. There is no discrimination. It is not as if people died of spurious liquor and nobody is responsible or there was sacrilege and nobody is responsible. This is called rule of law," Balbir Singh was quoted as saying by ANI.
"Whoever violates the law, then the law will take its own course. Everyone will be treated as per law. There is rule of law in the state," Balbir singh said.
Mobile internet services have been suspended in several districts of Punjab until 12 noon on Sunday, State police said on Saturday after launching an operation to arrest Amritpal Singh.
Intelligence agencies are keeping a close watch on the Punjab Police operation.
A senior official said that state had sought several companies of paramilitary forces and these have been provided to maintain law and order situation.
The agencies have got reports of Amritpal Singh's connection with Pakistan's Inter-Services Intelligence.
Mobile Internet services also have been suspended in several districts of Punjab until 12 noon on Sunday, as the State police launched an operation to arrest the Khalistan sympathiser.
Reacting to the incident, chief minister Bhagwant Mann said that these "1000 people" don't represent Punjab, and alleged that they are "funded by Pakistan" to disrupt peace in the state.
Sources said when Amritpal Singh, who now heads 'Waris Punjab De', was in Dubai, he was in close touch with Jaswant Singh rode, brother of militant and chief of Pakistan-based International Sikh Youth Federation (ISYF) Lakhbir Singh Rode.
Amritpal Singh's treasurer Basant Singh Daulatpura was getting funds from Pakistan.Security agencies have been keeping a close watch on the activities of Amritpal Singh since he came to Punjab last year.
Punjab Police were alerted about his activities regularly. Punjab Police has requested people to maintain peace and harmony. The police are working to maintain law and order and have requested people not to panic or spread fake news or hate speech.
(With ANI inputs)
Read all the Latest News, Trending News, Cricket News, Bollywood News,
India News and Entertainment News here. Follow us on Facebook, Twitter and Instagram.
Explainers
Amritpal Singh and his aide Papalpreet Singh have been on the run for the past seven days. They were last located in Haryana's Kurukshetra. Baljit Kaur, the woman arrested by Haryana Police for sheltering them, told interrogators that the duo confided in her that they might move to Uttarakhand next
India
Punjab Police had on Saturday launched a major crackdown against Amritpal, with police arresting 78 members of an outfit headed by him
India
After shaking off the Punjab Police on Saturday, Amritpal Singh Sandhu continues to be on the run for the third day. So far, over 100 aides of the Khalistan sympathiser have been arrested, with four of them being shifted to a jail in Assam