Kerala High Court forcing adult married woman to live with her parents is regressive, violates constitutional rights
A Kerala High Court judgment forcing a married Muslim woman to live with her Hindu parents seems to state that a woman is a property in a man's house, always 'allowed' and 'permitted' to do things, her identity invariably tied to her father, brother or husband
"She has no idea as to what she wants in life. She appears to be under the control of someone else. It is evident that she has been indoctrinated and influenced by persons whose identities have not been ascertained."
In a controversial judgment in May 2017, the Kerala High Court did something unthinkable: it assumed that women don't have the independence of identity, agency and autonomy. The court assumed the role of "legal protector" while exercising its parens patriate jurisdiction in the present case. Parens patriate means that courts of law as "the monarch or any other authority" takes on a protective legal role where it is understood that the citizens concerned are unable to protect themselves.
In this case, a 24-year old woman named Akhila left her house and parents to convert to Islam because Islamic teachings appealed to her. Therefore, Akhila's father, KM Ashokan, filed a habeas corpus petition to get her back home. Akhila, meanwhile, also married a member of Social Democratic Party of India named Shafin Jahan. Akhila's father filed another petition asking the courts to declare their marriage annulled and that Akhila be returned to his custody. The Kerala High Court, in an astonishing move, decided the case in favour of Akhila's father and after the order was made, the police reportedly took Akhila — an adult woman, capable of taking her own decisions — to her parents' house, despite the fact that she refused to do so.
In deciding so, the division bench of the Kerala High Court, consisting of Justice Surendra Mohan and Justice Abraham Mathew, came to nullify the marriage of an adult woman, who by her own volition converted to Islam. In the same breath, the bench declared that the marriage between Akhila and Shafin Jahan, which was alleged to have been performed, is a sham and is "of no consequence in the eye of the law". At the very outset, the judgment is a violation of Akhila's constitutional rights under Article 14 (equality before law), Article 21 (right to life and dignity) and Article 25 (right to freedom of religion).
In January 2016, Akhila's father had submitted a similar habeas corpus petition with similar allegations, and a bench comprising of Justice CK Abdul Rahim and Justice Shaji P Chaly had dismissed it stating: "We are convinced that the alleged detenu is not under any illegal confinement. She is at present staying in the above-said institution on her own wish and will. She is not under illegal confinement. Therefore, there exists no circumstances warranting interference for issuance of any writ of habeas corpus."
The shocking judgment in the present matter is a witness to how patriarchal the judiciary is when it comes to the agency of a woman. The judgment assumes that Akhila, an able adult, is the chattel of her parents, and whose identity is immutably linked to that of her parents. The court, in the case, invokes its parens patriae jurisdiction on its own accord, claiming that Akhila is weak, vulnerable and capable of being exploited. It states: "This court exercising parens patriae jurisdiction is concerned with the welfare of a girl of her age. The duty cast on this court to ensure the safety of at least the girls who are brought before it can be discharged only by ensuring that Akhila is in safe hands." The language of the bench is condescending, to say the least, and it embodies within it a sense of patronisation. Akhila is no child, and yet she is treated like one by the judges in the order. Language such as "custody", "permitted", "welfare" and "vulnerable" used persistently throughout the judgment indicates that the court clearly does believe that women are property of men, and must seek permission from them before taking any decisions. The parens patriae jurisdiction indicates that the court believed that Akhila is unable to protect herself in the present situation and that it had to assume the role of the guardian and ombudsman of welfare so that Akhila could be "defended".
As a footnote to the language used in the judgment, it must also be kept in the mind that the court trusts that Akhila's parents are her true guardians — even though she herself does not wish to live in their house, and orders her back in their "custody". It states: "Akhila is the only child of her parents. There are no other persons in this world, who would consider the welfare and wellbeing of their daughter to be of paramount importance than her parents. Nature provides numerous examples of even animals taking care of and protecting their progeny sacrificing their very lives for the purpose. The Homo Sapien is no exception." At many points in the 95-page judgment, the court invokes Akhila's father's "anguish and sorrow" as legitimate reasons for nullifying Akhila's marriage and the acceptance of the habeas corpus petition.
Another issue is masquerading in the protective nature of this judgment is the overwhelming overtones of religion. While the court explicitly states that it would not want to determine what faith Akhila should follow, but it does pin down that her identity — whether religious or otherwise — is strictly associated with her parents. Through the judgment, it points out that Akhila is the only daughter of "Hindu parents" and that she was brought up as "a Hindu in accordance with the faith of her parents" and that "she has been indoctrinated and influenced by persons whose identities have not been ascertained". Surely, in a habeas corpus petition where the court is concerned with the safety of weak and vulnerable women such as Akhila, the issue of religion should not find a place?
Lastly, while annulling the marriage between Akhila and Jahan, the court indicates that the fact of marriage is "only to scuttle the jurisdiction of this court", and it is a camouflage to transport Akhila out of the country by way of illegal and immoral trafficking. By stating this, the court completely stripped Akhila, and possibly every Indian woman, of independence and agency to make her own decisions as an adult.
While the legislative, the executive as well as the judiciary are looking at legal provisions that prevent crimes against women in a way that they are able to attain self-actualisation, judgments such as these put all Indian women in their right place. She is a property in a man's house, always 'allowed' and 'permitted' to do things, her identity invariably tied to her father, brother or husband, and always asked to remain within the boundaries — the lakshman rekha — that men draw around her to "protect" her.
India
The delimitation commission, tasked with redrawing parliamentary and Assembly constituencies in Jammu and Kashmir, notified its final report earlier this month
India
Those sacked are Altaf Hussain Pandit, chemistry professor at Kashmir University, Mohammed Maqbool Hajam, teacher in the school education department, and Ghulam Rasool, a constable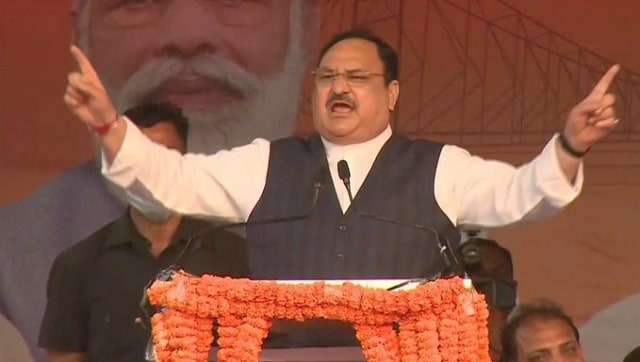 Politics
JP Nadda also alleged that religious communities, especially Christians in Kerala, are concerned about the demographic changes taking place in the southern state