Kerala, After The Flood: As state turns into land of great tragedy; life won't be the same for residents again
It's been just over a week now since floods ravaged Kerala. From Mumbai, I finally managed to get on a train to my home state (Kochi airport, the nearest to my home, is closed till the end of the month)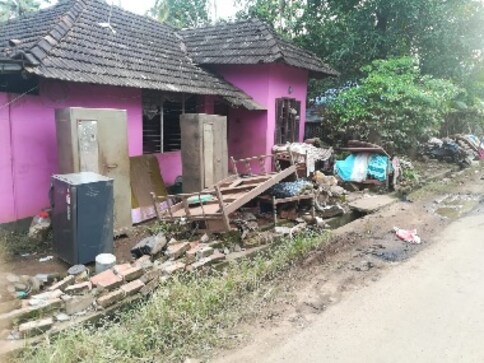 Editor's note: Described as one of the worst since 1924 by Chief Minister Pinarayi Vijayan, the rains in Kerala have left over 350 dead and rendered thousands of people homeless. According to the latest tally, 80,000 have been rescued so far. Over 1,500 relief camps have been set up across the state that currently house at least 2,23,139 people. In a multi-part series, Firstpost will attempt to analyse the short-term and long-term impact of these unprecedented floods on the lives of the people, economy of the state, and the environment.​
It's been just over a week now since floods ravaged Kerala.
From Mumbai, I finally managed to get on a train to my home state (Kochi airport, the nearest to my home, is closed till the end of the month). The Mangala Lakshadweep Express was nearly empty. For most of those aboard the train, this was their first trip to the state after the floods; and among those were people who had lost most of their life savings during the flood. My co-passenger Shaji, was one such person. His family from Aluva is now housed in a relief camp in the town.
Shaji, who runs a small business in Goa, was still in the shock. "How could the government be so irresponsible? My family is lucky to be alive by God's grace. But we lost everything. The house was under water for four days, except the roof. What amount of relief work will hide their idiocy and inefficiency in opening all dams at the same time and triggering such a tragedy?" Shaji asked, "What sort of human judgment places Kerala State Electricity Board's (KSEB) power production above the lives of hundreds of people?"
Shaji's questions are echoed by most flood victims in the state, but there aren't any answers yet. As we were having this conversation, Shaji received a phone call from one of his relatives in Aluva to inform the deaths of two acquaintances in the relief camps. After a 24-hours journey, I reached Thrissur, where my family is from. At this time of year, the town is normally busy with Onam celebrations. But, there is no sign of festivities anywhere; over 400 are dead and around 4.6 lakh are still housed in relief camps. Many of them have lost their homes, their lives' earnings and have no promise of getting back to normalcy in the foreseeable future. Onam, sadly, arrived at the wrong time this year.
Thankfully, my home was one of the least affected in the village surrounded by about 2,000 hectares of paddy fields. But that wasn't the case for around 50 families in the locality, who had to be evacuated over the period of a week after the floods. By that point, the water had receded completely but the walls of homes still carried the watermarks of flood-ravaged days — still wet till a height of around seven feet, power panels detached and packed with mud and waste. Most electronic equipment in the homes was damaged; dress materials, kitchen utensils and even important documents/certificates were scattered across the floor or in the yards. Motor vehicle engines were dead.
Wells, on which most Kerala homes usually rely for drinking water, are still filled with waste water. I could see piles of bottled drinking water in homes, which isn't normal in this part of the state. Only now have people have begun to return from relief camps and other safe locations. But even for those whose houses are intact, it will take many more days before they can start a new life.
Around 22 kilometers from my place, I met 30-year-old Divya, mother of two primary school students from Nellayi, which was one of the worst affected places during the floods. She had returned to her home after a week to begin cleaning. Her husband runs an electronic equipment sale-and-repairs centre in the village. Their recently-built home was underwater for three to four days. She explained the horror she experienced on the morning of 16 August morning when the water level began to rise rapidly.
"It was at around 6 am in the morning; my kids were still sleeping. The water had reached the compound but was no higher than ankle-deep at that point. But it appeared normal to me since this happens in years when it rains heavily. But, in the next 10 minutes, the water level surged to around four feet and had covered most of the house. By around noon, three-quarters of the building was under water and we knew we were trapped. The idea of death wasn't a faraway possibility," Divya's eyes reflected the horror as she recounted the tragic hours.
But her family managed to move out of the house to a safer location on the same day with help of neighbours. Around 500 people in the village, who chose to stay on their terraces, hoping for water levels to drop, weren't that lucky. They had to be rescued on the third day by a navy rescue team. There were infants and pregnant women among those who were trapped.
"I'm told that by the third day, most of them had fainted on the rooftops for lack of food and water. There was no way to communicate with rescuers as telephone and internet networks were down. One person, who jumped into the water on the first day to retrieve some of his valuables, has not been seen since then. The space was barely enough to stand on the rooftops, so no one slept during those frightening hours," she added. As Divya narrated the experience, there were a number of people outside carrying damaged motor water pumps waiting for her husband.
As I drove back from her home, the images from the surroundings told me of the plight of the households. Most of the households' belongings were piled up outside. Luckily, the power supply had been restored by this point and telephone networks were functional. But, wells need to be emptied first to get rid of the toxic waste before they can be used again. I learned that packed water bottles, medicines and groceries were being supplied by local authorities.
It will take many more days or perhaps weeks for Nellayi to return to normal life. In the meantime, like the sites of most tragedies, petty thieves (Divya believes they are migrant workers from West Bengal and Tamil Nadu) are making the most of the situation. It's easier now since they don't need to break into houses, they just need to shop around in the flood-ravaged yards. Small household items and even kitchen utensils have been vanishing over the past few days. Divya explained how an ugly political battle is also on in the locality among political parties over relief programmes and compensation modalities. But, that's normal. Every decaying corpse is fresh food for hungry vultures.
The traffic was unusually thin as I drove back to home on NH-47. But roads have damaged and filled with fresh potholes in many places. According to a report in one of the local Malayalam dailies, 34,732 kilometres of road and 218 bridges — big and small — have been destroyed in the biggest flood the state has seen in the last century. It will take at least a year-and-a-half and no less than Rs 5,815 crore to restore this infrastructure for public use, the report said.
As I wrote in an earlier piece, part of this is a man-made tragedy and there is no assurance that there won't be a repeat of this since there has been significant damage to the state's ecosystem on account of major deforestation, illegal encroachments on the river banks and pollution. Nature has tasted blood in God's own country. It's a long road ahead for Kerala to get back to what it used to be till about a week ago.
India
People winning more than Rs 5,000 in the Karunya KR 584 lottery draw must verify themselves at the lottery department's office. Those winning less than Rs 5,000 can claim it from any authorised lottery shop in the state
India
Nirmal ticket holders can check their NR 311 winning numbers on the official web portal of the Kerala lottery department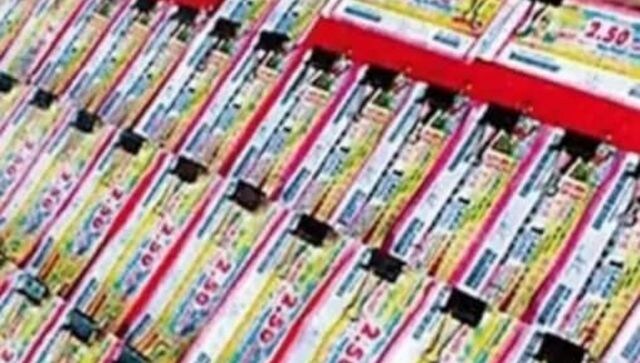 India
Those who receive a Bumper lottery prize amount of more than Rs 5,000 should verify their identity at the Kerala lottery department's office