Kerala floods: Indian government would be churlish to decline UAE's offer of Rs 700 crore for ravaged state
The Government of India has taken the stand that it will meet the financial demands emanating out of the damages inflicted by the heavy rains in Kerala from domestic sources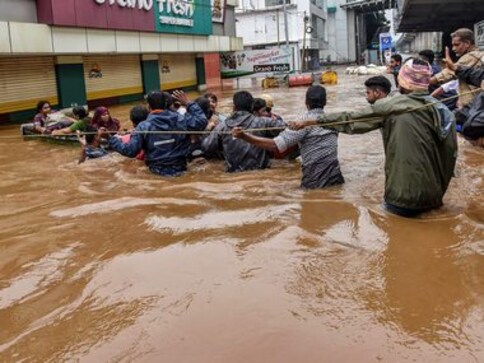 The Government of India has taken the stand that it will meet the financial demands emanating out of the damages inflicted by the heavy rains in Kerala from domestic sources. This is in context of the reported telephone call from Sheikh Mohammed Bin Zayed Al-Nahyan, the Crown Prince of Abu Dhabi, to Prime Minister Narendra Modi making the offer of assistance worth $100 million (Rs 700 crore).
It would be churlish to decline the UAE's offer given the symbiotic ties between it and Kerala, which has the distinction of having sent around 80 percent of the three-million-strong Indian diaspora to the Emirates. It has been a win-win relationship between UAE and Kerala with its enterprising youngsters going there in search of greener pastures mainly in its booming construction industry which has been in decline, of late.
Certainly, there have been stray reports of exploitation of laborers from India but that does not detract from the mutually-beneficial relationship.  UAE perhaps felt impelled to help Kerala in its hour of crisis may be partially to atone for such exploitation.  Whatever the motives, it would be wrong to stand on false prestige in an hour of crisis.  Had the help come from Pakistan, we could have with reason bristled with indignation at the feigned act of magnanimity.
Former prime minister Indira Gandhi was hailed for her boldness and her faith in self-dependency when she ended the US PL–480 program under which India got free wheat. She followed it up with the green revolution that transformed the agrarian landscape in a largely fecund part of the country. Farmers got their livelihood. To become inured to foreign help for essentials can be devastating for a country when hostilities break out, besides rendering its own workers jobless and hence, worthless. But the UAE offer of help comes without any condescension or strings-attached. Would we say no to the Swiss or a Red Cross offer of help when a natural calamity breaks out? It may be recalled that Switzerland has a formidable reputation for its disaster readiness and infrastructure.
Qatar has offered almost Rs 35 crore (~$5 million) while the Maldives too has offered to pitch in with a modest $50,000. It is one thing to seek UN help — reports have emerged of Congress MP Shashi Tharoor arrogating to himself that role, but quite another to accept the help that is being offered without condescension or strings-attached.
If foreign aid is coming to non-profit organisations (NGOs) that are registered under the Foreign Contribution (Regulation) Act (FCRA), then they will not be taxed. But if donations are received by NGOs that are not registered, then it is counted as the income of the NGO and that will be taxed, a senior Indian government official has said. But the UAE's offer is government-to-government and there is no need to be defensive or cautious about it in this hour of need to rehabilitate the ravaged state. The initial assessment of losses is pegged at Rs 20,000 crore. The Central government itself has pitched in with help of just Rs 600 crore, while other states are offering tiny slivers of this amount for which they cannot be blamed. Of course, the Centre has promised more after making a final analysis.
Autarky is denounced as a pigheaded economic policy that superficially sounds noble in the name of self-dependency. And self-dependency sounds even more adamant and unreasonable in the face of a natural calamity.
That the UPA too spurned foreign help during the Uttarakhand calamity is no grounds for the NDA to follow suit. The UAE might even have the agenda of keeping its Keralite labour in good humor while offering to help, but one should not look a gift horse in its mouth.
The author is a senior columnist. He tweets @SMurlidharan
India
People from south India who wish to visit the United Arab Emirates will now get their necessary documents processed at the new consulate general.
India
Relationship between the United Arab Emirates (UAE) and India is "strengthening further" and a major step in that direction is the relaxation of visa rules by the Gulf country for Indian nationals.
World
The chief guest at the Republic Day parade in 2017 will be Abu Dhabi's crown prince Sheikh Mohamed bin Zayed Al Nahyan