Kashmir unrest: Militants thrash, video-record political workers in Pulwama and Shopian, drive them from their homes
Dozens of videos had started surfacing on social media in which Kashmir's political workers, surrounded by gun-wielding militants, were seeking forgiveness from the general public
Scores of mainstream political workers have fled after militants broke into their homes, beat them with sticks and guns, ordered them to tender a public apology and dissociate from mainstream politics, before recording their 'dissociation' on mobile phones across South Kashmir's four districts.
On Thursday, Chief Minister Mehbooba Mufti meet dozens of her party workers from these four districts and assured them that the government would provide safety and security to all political workers, irrespective of their political ideology.
Dozens of videos had started surfacing on social media in which political workers, surrounded by gun-wielding militants, were seeking forgiveness from the general public, before the 3G and 4G services were snapped in the Valley. The gunmen had periodically released these videos to "teach (political workers) a lesson" and have, according to political workers in Pulwama and Shopian district, recorded many such video, but are yet to release them on the internet.
"I fled with my children to Srinagar because my wife and children did not allow me to stay in our house even for a day after at least 20 militants entered the home of our neighbour, who is a PDP worker, and threatened to beat him if did not seek forgiveness," Ghulam Hassan, a PDP worker from Pulwama district of South Kashmir, told Firstpost in Srinagar.
"Militants like 'Sameer Tiger' are roaming on bikes, threatening people in broad daylight and breaking shop windows. How do you expect to be safe in such a place?" he asked.
Sameer Ahmad Bhat alias 'Tiger' was seen recently breaking the shop windows of those shops whose owners had kept them open on a day that the separatists had called for a strike to protest against the killing of stone-pelters. The incident involving two motorcycle-borne militants took place in the Muran area of Pulwama and involved a resident of Drubgam village in Pulwama, who joined the militancy after clearing his Class XII exams.
A majority of political workers living in Karimabad, Samboora, Belwas, Tahab, Neiva, and Drabgam areas of Pulwama; and Heff, Pinjaura, Drobgam, Mimender, Hermain and many other villages in the Shopian area, have fled their homes.
Those who managed to escape the hostility include political workers of all parties, polling agents and many ex-sarpanchs. Most of them have fled to their hometowns along with their families.
On 16 April, the Kashmir Police too issued an advisory to its cops asking them, particularly those from South Kashmir, to avoid visiting their homes for the next few months. "There have been (a) few incidents in the Valley when militants, anti-national and anti-social elements have tried to cause damage to life and property of police personnel," reads the advisory, "In view of these unfortunate incidents, police personnel, particularly from South Kashmir, are advised to exercise extreme caution while visiting their homes. They should preferably avoid visiting their homes for the next few months as their personal security is of paramount importance."
But there are also others who say it's better to get killed than to leave one's home. There is fear but leaving home is not a solution, said Reyaz Ahmad Shah, a former sarpanch and mainstream political worker. To have a washroom inside the house is still a taboo in some far-flung villages of Kashmir. Generally, it is constructed in the courtyard of the house. "I have kept a big utensil inside the house, so that my family and I can relive themselves inside during nights and not have to go outside to the washroom," Shah told Firstpost.
Last week, militants shot dead Bashir Ahmad Dar, a worker of the ruling PDP and injured his cousin in Qasbaya village of Pulwama, after he reportedly slapped a militant and tried to argue with him. Militants also shot dead advocate Imtiyaz Ahmad Khan in Pinjura village of Shopian, who was associated with the National Conference. Abdul Rashid Parray alias Rashid Billa was also killed after militants barged into his home in the Hajin area of Bandipora district. Militants also released a video of Bashir Ahmad Wani, a trade union leader, who cane be seen saying that he is no longer associated with any political organisation.
"They came to my house at 2 am and asked me about my political affiliations with Finance Minister Haseeb Drabu, I told them I have a friend in the PDP, but I have no political affiliation. Still, I was beaten," Hilal Ahmad Dar, a resident of Pulwama said.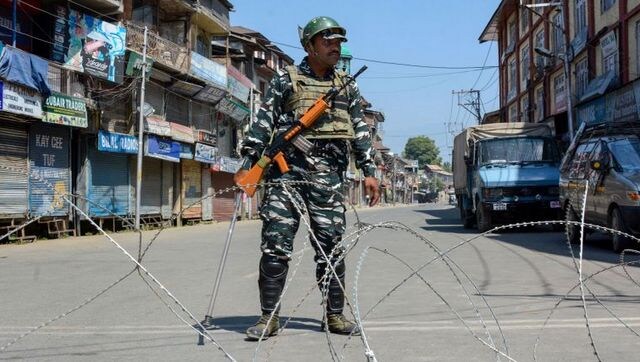 India
Kashmiri Shia politician Ruhullah Mehdi said if the Friday prayers and other major religious functions continue to be banned in wake of COVID-19 pandemic and 'this particular procession suddenly encouraged in isolation, I see nefarious designs behind it'
India
Seven persons were dead and 17 others injured after Honzar village in Dacchan tehsil was hit by flash floods triggered by the cloudburst in the early hours of 28 July, that damaged 21 houses, 21 cowsheds, a ration depot, a bridge and a mosque.
India
This comes after army officials revealed that the new modus operandi to indoctrinate and train Kashmiri youth in militancy was to call them through proper visa channels, rather than having them take the risk of crossing the border illegally.