Kashmir unrest: Militants, armed with camera phones as weapons, prey on political workers
Unidentified gunmen are barging into the homes of political workers across the Kashmir Valley, forcing them to chant anti-India and pro-freedom slogans.
Unidentified gunmen are barging into the homes of political workers across the Kashmir Valley – dragging them out of their beds in the dead of night – forcing them to chant anti-India and pro-freedom slogans; they make them seek forgiveness from the public for being a part of mainstream politics. They then record their statements on video via their mobile phones, before releasing them on social media.
These gunmen, believed to be militants, have periodically released such videos recently. The 'video war' seems to be gaining momentum in the Valley, with two such clips surfacing on Sunday – seemingly recorded by gun-toting militants, who were allegedly forcing political workers in South Kashmir to give up their affiliations with political parties.
In one of the clips, a former sarpanch can be seen begging for his life and the voice of a woman – the sarpanch's wife – can be heard in the background, cursing her husband for being a part of mainstream politics.
"I don't want to talk about what and how it happened... I, too, am scared for my life. Do you want them to come again?" Ghulam Hussan, 47, former political worker of the ruling People's Democratic Party (PDP), in Pulwama district of South Kashmir, told Firstpost.
In another clip, recorded by gunmen armed with AK-47s, Bashir Ahmad Wani, a trade union leader, can be seen saying that he is no longer associated with any political organisation. Sweating profusely, with tears dripping from his eyes, he can be seen saying, "From today, I am not associated with any political organisation or traders federation. Today, the situation is not such that we can be associated with any organisation," Wani said, in the video shot at his home.
Wani is then asked to raise slogans: 'Nara-e-takbir; Yanha kya chalega?, Nizam-e-Mustafa; Azadi is our right'. On carefully listening to the video, the suspected militants can be heard whispering the words from behind the camera. Currently, Wani is hiding in his house, fearing not just humiliation but public ire as well.
In another similar video, a visibly shaken man with grey hair can be seen seeking forgiveness from Muslims for his participation in political activities. The man, identified as Wali Mohammad Bhat, is a political worker of ruling Peoples' Democratic Party (PDP). "I am asking for forgiveness from Muslims. I'm giving up my association, if I had any, with any organisation [sic] because it's dirty politics," he said, struggling with his words.
"Keeping in view those who have lost their lives, the struggles of their families and those who were blinded, I'm asking for forgiveness for my mistakes," Wali said in the video, with an AK-47 seen dangling in the background.
"It is a tragic spectacle," a political analyst based in Srinagar said, on conditions of anonymity. "But the truth can be seen by looking at the comments posted below the video... people seem to be encouraging the gunmen."
A few days ago, some PDP workers were beaten up by unidentified gunmen in the Soaf-Shali village of Kokernag district in South Kashmir. Police made two arrests in connection with the incident. One of the arrested was found to be the head of a local socio-religious group, Jamaat-e-Islami.
On Saturday, PDP worker Bashir Ahmad Dar was killed and his cousin, Altaf Ahmad Dar, was injured when unknown gunmen open-fired on them in the Qasbayar village of Rajpora, Pulwama. Both of them were rushed to the hospital, however, Bashir was declared dead on arrival. Altaf, however, survived the ordeal and is currently undergoing treatment at the hospital.
Such incidents of violence have seen an uptick in last week or so in the Valley, leaving a deep imprint on the minds of grass-root political workers, cutting across party lines, forcing many to flee their homes.
"They are called foot soldiers of the Indian democracy," Suhab Mir, a resident of Pulwama, said. "But pushing and humiliating an elderly person with a gun is wrong."
On Sunday, former public prosecutor for the National Conference-Congress government, Imtiyaz Ahmad Khan, was shot dead by gunmen in the Pinjura village of Shopian. An official said that unknown gunmen had barged into his home and open-fired. In the last seven days, eleven people have been killed, signalling that a new summer of violence is approaching the valley.
Later the same day, suspected militants killed infamous counter-insurgent commander, Abdul Rashid Parray, aka Rashid Billa. The militants barged into his house, firing indiscriminately. Parray, who died on the spot, was a dreaded renegade of his time, said to be involved in killing scores of civilians.
The Anantnag constituency in South Kashmir was scheduled to go for bypolls on 12 April, however, the Election Commission of India decided to defer the election to 25 May, following the recent spate of violence and low voter turnout in the Srinagar polls on 9 April.
The Valley has been on the boil ever since the death of Hizbul Mujahideen commander Burhan Wani. The public ire that followed ensured that South Kashmir became a no-entry zone for mainstream political parties. During the election campaign, no political rallies were organised in South Kashmir districts. PDP's Tassaduq Mufti, brother of state chief minister Mehbooba Mufti, is contesting the Anantnag election against Congress state chief, GA Mir.
First Cricket News
According to Kashmir Premier League, four players from England and one each from South Africa and Sri Lanka have refused to play in the KPL after being pressured by the BCCI.
India
An unidentified militant was killed in an encounter with security forces in Kulgam district of Jammu and Kashmir on Sunday, police said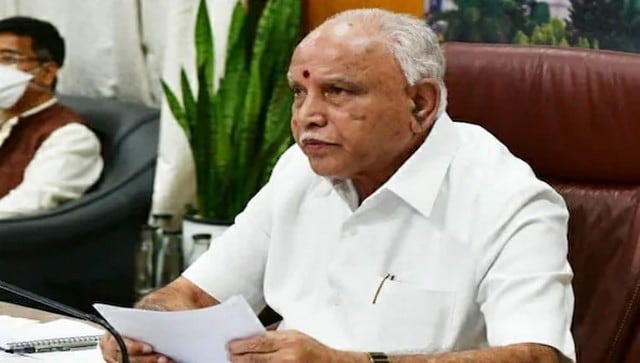 Politics
The 78-year-old Yediyurappa belongs to the older generation of politicians who started their service to the public as a teenager (in his case with the Rashtriya Swayamsevak Sangh) and did not hail from either a political or an affluent family