Kashmir unrest: Infighting, ideological rifts betray Hizbul Mujahideen's deepening fault lines
Hizbul Mujahideen commander in Kashmir Zakir Musa had fallen out with the militant outfit over the issue of tactics, ideology and Hurriyat leadership.
Srinagar: Estranged militant commander Zakir Musa is not the first, and may not be the last, commander to distance himself from the militant outfit Hizbul Mujahideen. There have been many in Hizbul's three-decade-long history.
Pertinently, two years ago, a similar situation emerged in the ranks of the outfit after a commander had quit Hizbul and launched Lashkar-e-Islam. Just like Zakir, this commander had also fallen out with Hizbul over the issue of tactics, ideology and Hurriyat leadership. While Zakir's words metamorphosed into his actions, fault lines prevailed in the militant ranks.
In May 2015, militants attacked a telecom installation in Sopore town in Kashmir, leaving at least one dead and two injured. Following the attack, in a span of over five months, more installations came under attack and five other civilians were killed. At the centre of this outbreak was a newly formed militant outfit called Lashkar-e-Islam (LeI) and its founder Abdul Qayoom Najar.
When militant commander Burhan Wani and his men had captivated the attention of security agencies in the valley, 41-year-old Najar launched a massive onslaught targeting alleged 'local' police and military informers, and telecom installations, mostly in the North Kashmir region. The mysterious actions of the outfit had left both the Indian security agencies and pro-independence parties in a fix, which were unable to establish the motives of LeI.
There was a belief that Najar was targeting the telecom sector in the Valley as most of the militants were being zeroed in by security agencies with the help of mobile networks. But the theory was non-convincing even for security officials, who were left with enough doubt due to infighting within Hizbul ranks.
As the focus shifted from Wani's tech-savvy group to Najar's 'anti-tech' LeI, the latter vanished in the coming months. Most of his associates were killed except for Najar and one of his deputies. Even as security agencies now firmly believe he crossed over to Pakistan, there is still a mystery around what actually transpired at the time. However, a precedent was set.
The defection of the longest serving militant
The landscape of asymmetrical warfare continues to evolve globally with non-state actors and insurgency groups now exercising 'amphibious' approaches of using traditional militant tactics along with the use of technological tools and platforms for recruitment, subversive activities, or for propaganda. The invigorated Kashmir insurgency also ostensibly advanced into this new security reality after a young Kashmiri militant commander, Wani, began using social media, both for a direct outreach to masses and operations.
While slain Wani's advent may have effectively transformed how insurgency functions in the disputed Valley, some of his predecessors continued their militant operations in a traditional form; choosing to stay anonymous and desisting from using any form of technology.
Unlike Wani and Zakir, Najar remained anonymous, shrouded in mystery, without a face. The police used his elder brother's looks as a description to build a sketch of the militant. Najar, described as a man with an average built and dark complexion, almost balding and about 5 feet 7 inches tall in police records, is known as the longest serving militant in the Kashmir insurgency. His outfit Hizbul on the police records has been overwritten with blue ink as LeI.
As he carried out a series of attacks in the Valley two years ago, especially on telecom installations, the telecom network suffered a temporary suspension of services. A wave of fear psychosis overtook people associated with mobile networks across Kashmir.
Najar aka Kabootar, born in the Mumkak locality of Sopore, went underground in the year 1992 to join Hizbul for the first time, according to police records, and features among at the top of the most wanted list of the security agencies.
His father, Abdul Ahad Najar, says, "He was only 16-years-old and a school student when he left home for the first time to join militant ranks." Najar was arrested in the early years soon after he became a militant. His arrest, according to an army officer tracking Najar, helped Border Security Force (BSF) posted in North Kashmir during that time to carry out several counter-insurgency operations in the region.
After he was released, more than a year later, Najar, as his father remembers, began working as an electrician, repairing power transmitters and transformers. "We thought he had left his past behind and was now working to help his family," Abdul Ahad recalls.
The Najar family was caught in trouble after their neighbours complained against them at a local police station, alleging assault in 2005 over a petty issue. The family apologised to their neighbours. But, a few days later, as Najar was looking after his youngest sibling, suffering from asthma, he told his brother he is going out for work. "Within no time, BSF troops raided our house and since then our son never came back," the father said.
After that, the family, including five siblings of Najar, had to make several shifts to escape raids and crackdowns against their militant son. "Two of my elder sons, who are married now, shifted out," he added.
Rashid, another sibling of Najar, says their militant brother never maintained any contact with the family. "The security agencies and local police know that," he said.
The tower attacks
Sopore in North Kashmir, where these attacks began, sunk under the weight of a series of killings led by Najar, who claimed he was eliminating informers.
"The killings happened in the vicinity of telecom installations and, while carrying out these acts, Najar also realised the importance of focussing the attacks on telecoms," a police official posted in Sopore said.
As LeI appeared on the scene, divide in the Valley's major militant outfit Hizbul became apparent. Leading the breakaway faction along with less than a dozen associates, Najar, as security officials believe, attempted to reshape insurgency in Kashmir by eliminating the so-called informers and attracting media attention by targeting telecom installations.
The target, however, was not just these installations but the conventions followed by active militant outfits. The security establishment became apprehensive of Najar's actions, which they felt were aimed at taking over the whole militant network.
"This was something that was new to the town. The public was awestruck by a series of civilian killings and the attacks on mobile towers. It appeared like a bolt out of the blue until we sensed an internal feud in Hizbul ranks," the official recalls.
The list
Before LeI appeared, posters would surface in Sopore with a list of informers. They were threatened with dire consequences if they did not mend their ways. Many in the list publicly denounced any relation with the state and apologised publicly later, except some.
The list included a name, Showkat Hakim of the Muslim League (ML), one of the constituent parties of Hurriyat (G). He was accused of being an informer, who gave up Lashkar-e-Taiba's (LeT) Hilal Moulvi aka Khalid to the police.
Hilal, according to sources, was expelled from LeT ranks before he began hiding in downtown Srinagar, where he was finally killed in 2013. "The discord was based again on whether informers are to be targeted or not. Hilal, it appeared, had begun to admire Al-Qaeda too much," sources said.
Despite militant outfit LeT clearing Hakim's name in the case, militants in the North led by Najar continued to denounce him as an 'informer'.
LeI's apparent obsession for rooting out informers also stemmed from a belief the locals of Sopore still hold – a top LeT man Qari Naveed aka Fahadullah who had come from Pakistan was a double-cross; locals of Sopore, police and journalists have a consensus on this.
The Jammu & Kashmir Police caught Fahadullah on 17 April as he rode a bicycle in Chattilora village without any exchange of fire. Some believed he surrendered and began exposing the whole militant network in Sopore. Fahadullah had succeeded Abdullah Uni, who worked closely with Najar.
The police made a statement after the arrest stating that during questioning, Fahadullah gave a tip-off about two militants, Shabir Ahmed Sheikh alias Shaka and Hilal Moulvi. In the ensuing encounter, Shaka was killed but Hilal managed to escape until he was also killed. Najar's relationship with the militant command based in Pakistan began to strain. A year later, the wedge came out in the open.
The rebel's allies
The chances of a militant surviving after he defects or is expelled from an outfit are minimal. In Kashmir, the militant landscape is uneven. The militants operating in South Kashmir are mostly homegrown and many of them have pictures circulated on social media networks.
In the North, however, mostly foreign militants operate and their photographs do not surface on social media. They remain anonymous, like Najar.
According to sources in the Indian Army, the militant presence is least in central Kashmir, that includes Srinagar city. The data provided by a senior army official puts the number of militants in North Kashmir at about 94, including 65 foreign militants operating under LeT, six under Jaish-e-Mohammad, 20 local boys with Hizbul and three with the Al-Badr outfit.
In central Kashmir, there are as many 12 LeT militants operating in areas around city outskirts and in the vicinity of Dachigam belt.
South Kashmir has the highest number of home-grown militants with as many as 120 militants operating under Hizbul command. At least 12 are believed to be with LeT and they are all foreign militants commanded by most wanted militant Abu Dujana.
The army officials also believe at least two militants have joined the Tehreek-ul-Mujahideen (TuM) outfit and have made several attempts to woo recruits towards the outfit in order to revive it.
TuM was first formed in the year 1990 by Yunus Khan and Sajjad Mir, both residents of Srinagar. Yunus, according to the security official, was a close aide of Abdullah Tairi, a former chief of Jamiat-e-Ahl hadith movement in Kashmir.
The outfit did not survive long but attempts to revive it were made in 2009-10. According to a security official, a former militant who made attempts to revive it was killed in a traffic accident outside Srinagar in Panthachowk.
The fresh recruits in TuM ranks are seen with apprehension among the security establishment to revive an outfit which draws most of its ideological base from Ahl-e-hadith traditions like LeT and the global Salafi ideologies like Al-Qaeda and Abu Sayyaf.
Najar was left with no allies as he was denounced openly by the Hurriyat leadership. Zakir can still operate using the limited militant network around him and a considerable over-ground network in South, that militants like Najar and Hilal were bereft of.
Hurriyat as Target
The Hurriyat leadership then alleged that the attacks and killings were being carried out at the behest of Indian agencies and were widely condemned. Similar mysterious killings were carried out this year as well, but the condemnations were mostly reserved.
The United Jehad Council (UJC), however, a few days after Lt Umer Fayaz was abducted and killed in Kulgam stated that the militant outfits have not carried out the killing but has been perpetrated at the behest of Indian agencies.
At the same time, Zakir came out lambasting the separatist leadership, bringing the political leadership and the militant at loggerheads, like it was at the time of Najar. In his video message released earlier last month, Zakir threatened police informers. The young militant, in a low-resolution unverified video clip, warned about a coming 'war'. A few days ago, in his recent video statements, he quit Hizbul after facing a backlash from the militant command based in Pakistan for his anti-Hurriyat rant.
Najar too had within a month managed to gain attention from across the border in Pakistan by killing six civilians – identified as Rafiq Akbar, who worked in a BSNL franchise, Ghulam Hassan Dar, a former militant, Shiekh Altaf, a Hurriyat activist, Khurshid Ahmad Bhat, who also had cases of stone pelting against him, Meraj-ud-din and Ajaz Reshi, both former militants – all of whom were from Sopore.
He was targeting, a police official said, individuals on his 'list'. No one including the Hizbul command in Pakistan and the separatist camp in Kashmir believed that the killings were as random as they appeared in the beginning. But, the killing of a Hurriyat activist by LeI created suspicions on the outfit and their leader even among the security grid, the official said.
The UJC, led by Syed Salahuddin, who heads the conglomerate of all militant outfits operating in Kashmir, rejected Najar's offensive against informers. Senior separatist leader Syed Ali Geelani, who leads prominent pro-freedom political conglomerate Hurriyat (G), also 'condemned' these killings.
Najar became an eye-sore for the Hurriyat leadership, who launched a tirade against these killings, calling them state-sponsored. "For us, he could have never been linked to working against the interests of people of freedom," a Hurriyat insider said.
Even as the newly formed outfit claimed in its statement, issued to local papers in the Valley, that the attack on telecom network is justified as they are a part of the "conspiracy" that has weakened "armed resistance" and affected militants, especially of outfits like LeT and Jaish-e-Mohammad, the security officials believed it was merely a 'diversion'.
Najar's anonymity gave him an advantage over the security grid. He was able to move from North Kashmir to other parts easily. "He moved from Srinagar to South Kashmir and also managed to travel to Jammu," a senior security official in the army said.
In July, Najar moved to Srinagar. In a single day, three attacks were reported in the city in the vicinity of Karan Nagar and Shaheed Gunj. The attacks happened again on telecom installations but, according to security officials, was a part of his 'diversion' tactics.
"Najar's influence was growing and he had suddenly become the epicentre of armed insurgency in Kashmir without submission to his former handlers in Pakistan. His visit to Srinagar was aimed to take on Hizbul as well as Hurriyat by increasing his influence in the city," the official added.
Najar was now fighting against security agencies, the Hurriyat leadership and also against the Pakistan-based militant command. In Srinagar, he also met with other pro-freedom leaders. In one of the meetings, according to sources, he claimed to confess that he still considered himself among the Hizbul cadres and expressed his 'allegiance' to the outfit till his death.
"He said he wanted to transform the insurgency including eliminating informers under a shadow banner of LeI but the pro-freedom camp was creating hurdles by issuing statements against him," the Hurriyat insider said.
Both the security officials and the Hurriyat insiders say Najar and his deputy Tariq Mir had met with top Hurriyat leader Geelani at his residence. "Najar invoked teachings of Abdul Ala Moududi while both Geelani and Najar argued with each other over the actions. Najar was accused of defection and senseless killings," a Hurriyat insider said, wishing anonymity.
Many pro-freedom leaders outside Hurriyat Conference had vouched for Najar and urged the pro-freedom camp to reserve their judgment. Najar had received support from at least two Srinagar-based militants turned separatist politicians.
But, security officials by then had firm apprehensions that the infighting could lead to several killings. "Another militant commander, Yaseen Yatoo, now Valley-based operational chief of the outfit, was tasked to bring Najar in by the top handlers," an official said.
The exit
In the first week of August, police intercepted two militants – believed to be Najar and Tariq – in Mirgund area on Srinagar, near Baramulla highway. After a brief shootout, the militants, according to police, jumped into a river canal. While Najar managed to swim across the river canal, his deputy Tariq could not follow. His body was fished out hours later.
Over the next month, scores of militants were killed including the ones working under Najar. Another killing was reported in Sopore, by unidentified militants, in which a father-son duo, identified as Bashir Ahmad and his toddler son Burhan, was killed in a shootout. The killings were attributed to LeI.
Three bodies, identified as LeI militants, were recovered from an orchard in Pattan area, shrinking the ground beneath Najar, Kundoo and another aide Sameer, killed later in May 2016. Kundoo and Najar survived.
By the end of August, Najar's father Abdul Ahad was handed a letter from his son. "Living here has become difficult for me. There will be no more problems from my side from now onwards," the letter read.
Sources in police and army share the opinion that Najar managed to flee across the border. "He went to meet the top Hizbul commanders to explain himself and end the rivalry," an official said.
Najar's father-in-law, Abdul Khaliq Janwari, lives alone these days in Batpora locality of Sopore. Father of three girls and a son, Janwari is a frail old man, whose son Showkat Janwari aka Munna was also a militant in the LeT ranks until he was killed in the year 2007, after remaining active for more than five years. It was Munna who brought LeT's Uni to Sopore's main town, where he met Najar.
According to Janwari, his son was a brave fighter who took on cable network operators in Sopore, that resulted in the suspension of cable networks in the area for at least six months.
"He, along with his associate Haji, was against these networks responsible for spreading deceit," Janwari recalls.
Janwari, who says he is unaware of his daughter's whereabouts, had last year gone to Pakistan. He says he met with his son-in-law there. "He seems fine and wants to come back. Sofi's father had also gone," he said.
Najar's father-in-law clearly appears disillusioned with Hurriyat leadership but, he seems not to hold Najar responsible for the killing of a Hurriyat activist, Altaf, in his locality.
Disconnect between the local cadre and its command based in Pakistan, the agencies believe, is one of the advantages the security establishment had. The defection of Zakir from Hizbul is seen as a déjà vu moment to what transpired in the militant ranks two years ago.
In the videos, the Hizbul commanders – Wani and now Zakir – have made several threats to the police officers and their informers. Zakir has already praised global jihadist outfits like Al-Qaeda and the Islamic State.
As much as it is a concern for the traditional security establishment, that will now require a grand plan to protect their assets and instil confidence in them following these incidents, it is a bigger challenge for militant outfits like Hizbul and the political Hurriyat leadership, who have never minced their words against Al-Qaeda or the Islamic State.
Find latest and upcoming tech gadgets online on Tech2 Gadgets. Get technology news, gadgets reviews & ratings. Popular gadgets including laptop, tablet and mobile specifications, features, prices, comparison.
India
It is time for the stakeholders to formulate a plan that will keep principles of sustainable tourism upfront. The pandemic has forced consumers to be more cautious and focus on sustainability and local communities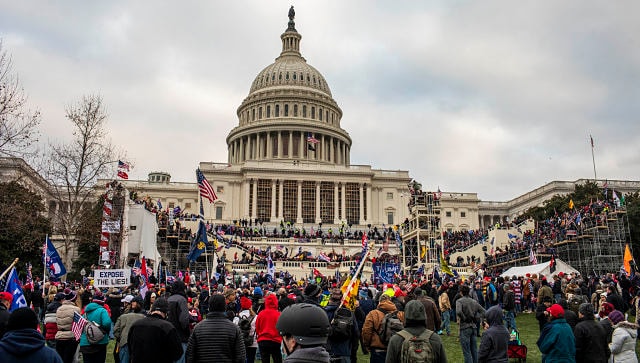 World
A full reckoning will take months or even years, and many lawmakers have called for a formal commission to investigate
India
Governments can ensure that religious processions don't end in violence. For that though, the lives of innocent citizens, especially minorities, should matter to them