Kashmir unrest: 100 days after Burhan Wani, lies and mismanagement run rampant
A hundred days after Kashmiri militant commander Burhan Wani was killed, lies and mismanagement have seamlessly turned a mass uprising into large-scale cross-border militancy.
A hundred days after Kashmiri militant commander Burhan Wani was killed, lies and mismanagement have seamlessly turned a mass uprising into large-scale cross-border militancy.
The lies are so blasé that they have even got the century mark wrong. Kashmir was awash with talk on Sunday that it was the 100th day of curfew. Of course, twisting facts is more or less normal in this 'conflict zone,' but this particular twist is bizarre. For, it is precisely because the government did not impose curfew on those fateful days, 8 and 9 July, that South Asia is now set on a terrible course.
Since the news of Burhan's death only spread after 7 pm on the evening of 8 July, and there certainly was no night curfew, the first possibility of curfew would have been on 9 July, the day of Burhan's funeral.
Especially those who have reported the many back-to-back funerals (eyewitnesses say half-a-dozen, interspersed with long rounds of speeches) should know how strict the curfew was imposed on that day. In fact, hysterical mobs attacked police stations and paramilitary camps across the valley. Some posts were set on fire. One police station was burned to the ground. Its armoury was looted.
Even after 9 July, curfew was not imposed on most of the last 100 days in significant parts of the Kashmir Valley. In Tral, from where Burhan hailed, there was no sign of police, army or paramilitary until a month ago - i.e., most of the first 70 days. That was excellent strategy. For, there was no death or injury there either.
Of course, the phase of repression and depraved police brutality that has followed will only cause more alienation, and insurgency.
But the 'narrative' is oblivious to these variations. It says in its blithe two-dimensional imbecility that the entire place has been locked down for hundred days.
Migrant work ethic
On the morning of 11 July, the Monday after Burhan was killed, I drove through large parts of Srinagar. In many places, I saw large numbers of migrant workers standing or squatting on the roadside — waiting for contractors who would hand out work for that day. No contractors were to be seen. Most of those whom the Indian taxpayer pays salaries were absent from work. A few shops were open, though their owners looked uneasy.
The government was invisible. It remained paralysed for several weeks, as those in power waited in vain hope for things to 'settle down' without their having to lose popularity. A very vain (pun intended) hope on both counts, as it predictably turned out. Things didn't settle down. Their popularity plummeted.
But nobody apparently had the intelligence to figure out that the common pattern of attacks on security establishments across the valley could not have been a gigantic coincidence. A long war would unfold.
Restrictions versus narrative
During the first few weeks, the then divisional commissioner had said that 'restrictions' were in place. It was a suitable term. For, in fact, there have been only restrictions, at least in most parts of Srinagar through these 100 days. Security men have allowed one past their barricades, even in the often turbulent Downtown on a Friday afternoon in late July, so long as one was not agitating.
And yet, nobody in government challenged the 'narrative' of a total lockdown curfew in those crucial early weeks. I would love to be corrected here. Really, I would!
It is only over the last week or so that they have got a couple of news channels to portray what the stone-pelters have been doing. Coming so late, these bold reports risk being perceived as a less-credible counter-narrative. Nationwide, many viewers complain of being confused. Naturally!
Earlier this month, Education Minister Naeem Akhtar addressed a poignant open letter to the high profile secessionist leader, Syed Ali Shah Geelani, highlighting the priority Islam gives to ensuring education. (Most educational institutions have been shut for three months.) The heart-touching letter would surely have moved Geelani.
The sad fact is that, by and large, the boys on the streets don't acknowledge the Hurriyat leaders. And in any case, control over what is happening had passed across the Line of Control several weeks before.
In those crucial weeks of July, when the government was paralysed, some of its putative managers were actually trying to cozy up to 'narrative' walas on Facebook. It was the same old 'we are with you, against them' narratives that have been whispered in Delhi and Jammu and Srinagar far too often — 'us' and 'them' being as variable as convictions, morality and concern for the people. It happened from 1950-52, 1977, 1982 and 1987, but even those who should know better don't seem to learn.
More recently, those managers have been trying to buy over  the 'narrative' walas. That's another familiar story — raise the price and then squeeze. Such absolutely intolerable cynicism pervades this 'conflict zone' that some of those who kill militants have been known to do much the same with regard to the price on militants' heads.
The problem with all this is not so much that the world at large is confused or misinformed as a result; the problem is the two-fold anger dividend on the ground. One, the 'narrative' raises the anger of the agitating youth, as it is calculated to do. In the bargain, it demoralises and frustrates those of the forces that have exercised restraint. Sooner or later, the resulting anger among soldiers will wreak havoc.
No wonder we are skidding headlong into the quagmire of a war-like situation.
India
Four accused people Waseem Ahmad Sofi, Tariq Ahmad Dar, Bilal Ahmad Mir alias Bilal Fafu and Tariq Ahmad Bafanda, all residents of Srinagar were arrested during the searches carried out in Srinagar, Pulwama and Shopian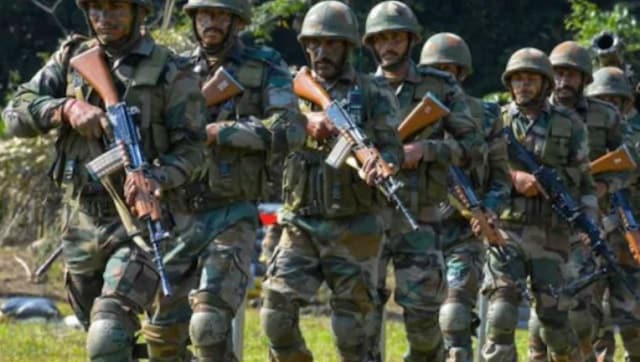 India
There is nothing in the situation that India has not faced before and overcome with resolve and Pakistan's desperation will soon convert into more frustration
India
Traditionally, the president participates in Dussehra celebrations in the National Capital