Kashmir: Politics casts shadow over the Rohingya refugees sheltered in Jammu
These Rohingya Muslims have being subjected to the worst kind of violence by the Buddhist majority in Myanmar.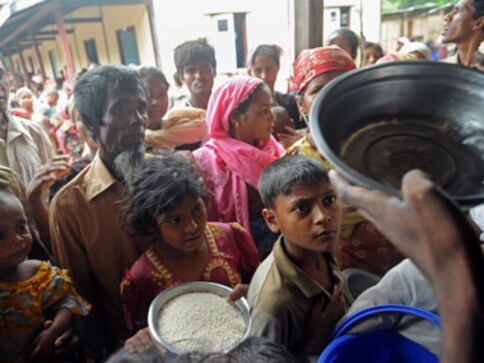 Mohammad Yousf can be seen sitting outside his tin-shed in Bathindi area of Jammu. Like thousands of Rohingya refugees from Myanmar, Mohammad has taken a refuge in Jammu city. Despite the campaign that has been started against them by the Jammu and Kashmir National Panthers Party for getting them out of the region, he sounds optimistic of staying back. "We have hopes in the UNHCR. They will not let us die. We are staying here to save our lives." he said.
The Panthers Party had recently put up hoardings in Jammu, asking the city residents to 'clean' the city of Bangladeshi Muslims and Rohingyas. Bearing photographs of party chairman Harsh Dev Singh and other political leaders, the hoardings ask Jammuites to unite against these refugees for saving the Dogra culture. "Let all Jammuites unite to save history, culture and identity of Dogras," the hoardings read.
"They want to clean the city by driving us away but we are working to keep the city clean. Our people work in malls, hospitals etc to clean the toilets," Yousf said.
These Rohingya Muslims have being subjected to the worst kind of violence by the Buddhist majority in Myanmar and driven out of their home state Rakhine. Many lost their lives while fleeing the country. Rohingyas are considered "stateless entities", as the Myanmar government has refused to recognise them as one of the ethnic groups of the country. For this reason, they lack any legal protection from the government of Myanmar and are regarded as mere refugees from Bangladesh, and face strong hostility in the country. Many of them want to return to Myanmar, but fear for their lives.
"We have fled our home to save ourselves. Our own people were killed. Our girls were raped and killed. We fear going back," Mohammad Rafiq, another refugee told Firstpost.
Rohingyas have found Jammu and Kashmir as a safe haven for their survival. Recently, Jammu and Kashmir Chief Minister Mehbooba Mufti — while replying to a written question of BJP MLA Sat Pal Sharma in the legislative assembly — estimated the number of these refugees to be 5,700, who are living in Jammu and Samba districts. She also said that the refugees, who fled persecution in Myanmar, had come on their own and some Delhi-based NGOs were helping them financially.
Many among these refugees work and live in rented accommodations away from the refugee camps but they fear being ousted from the city. Mohammad Arfat lives in Narwal area of Jammu city with his wife and eight month old daughter. "Jammu has become my home after fleeing Myanmar. I have many friends in the city. People here are very nice. It's a political game that we are being targeted," he told Firstpost.
After Panthers Party hoardings came up in the city, the Rohingya refugee issue sparked up many debates and discussions in the political circle. Many also came forward to support the campaign. State president of Shiv Sena Dimpy Kohli and other party leaders made an appeal to the people of Jammu, especially the Hindus, to "wake up" and "unite" to "save the history, culture and identity of Dogras". National Conference spokesperson Madan Mantoo stated that his party has many a times sought deportation of the illegal settlers as per the Foreigners Act. "Who is stopping the BJP-led NDA at the Centre and the PDP-BJP government in Jammu and Kashmir in tackling the Rohingyas and Bangladeshis?" he asked.
On 29 January, Harsh Dev and other party members took to the streets of Jammu "wearing black banners and raising slogans like 'Bangladeshi and Rohingya Immigrants Quit Jammu'". While talking to reporters, Dev said, "These refugees have settled illegally across the Jammu city. It's reported that they have attacked the Buddhists and army in Burma and they have a criminal background. They are settled here in Jammu and have become a security threat". He also said that, "The PDP-BJP government is doing nothing about it."
While talking to Firstpost, Mohammad Rafiq, who had gone to Delhi along with several other refugees to seek the UNHCR support by visiting their office, was convinced by their reply. "They assured us not to worry as they will talk to the government," he said. Replying to the allegations made against the Rohingya refugees, he said, "We are doing our own work. We never engage in any criminal activity. I salute India for accommodating us but if we are ousted from here as well, where will we go?" he asked.
Chief Minister Mufti in the legislative assembly had stated that the Rohingya refugees are mostly concentrated in the Jammu and Samba districts and there have been no reported instances of radicalisation in the community. She added, "17 FIRs have been registered against 38 Rohingyas for various offences including those related to illegal border crossing."
Several Jammuites are even unaware of Rohingya Muslims living in any part of the city. "If they are able to earn livelihood and live their life normally, we don't have any problem," a shopkeeper from Bathindi area told Firstpost.
The vocal politician, Engineer Rasheed, an independent MLA from Langate constituency in northern Kashmir, while talking to Firstpost, said, "They (Panthers Party) are not talking about expelling the West Pakistan refugees out of Jammu. It reveals their double standards. Anybody can take those refugees, but these Rohingyas, they can't go anywhere."
"They are being harassed because they are Muslims. It's rubbish to call them criminals. They are real victims," he added.
Whatever the politics of the Rohingya issue, it is evident that the hapless community is looking at another period of uncertainty after fleeing from their homeland.
The author is a freelance journalist based in Srinagar. He focuses on the socio-political issues of the Kashmir Valley.
India
Officials said soldiers noticed some suspicious movement along the LoC near Darshan Post and challenged the intruders, who opened fired leading to the troops retaliating
India
This comes after a Pakistani terrorist of Lashkar-e-Taiba (LeT) and a local terrorist were killed in the Kulgam district on Sunday
India
When Deepak Chand, another Kashmiri pandit, was killed in October last year, there was a threat perception and Bhat thought that something may happen to him as well, said a Kashmiri Pandit employee