Kashmir human shield row: Farooq Dar says Leetul Gogoi is falsely calling him a 'ringleader' of stone-pelters
A day after Major Leetul Gogoi shared his side of the story on the controversy over allegedly tying a Kashmiri youth to a army jeep to deter stone-pelters, Farooq Dar, on Wednesday, claimed that Gogoi had lied about him being a ring leader of a stone-pelting gang.
A day after Major Leetul Gogoi shared his side of the story on the controversy over allegedly tying a Kashmiri youth to an army jeep to deter stone-pelters, Farooq Dar (the man who was tied), on Wednesday, claimed that Gogoi had lied about him being a ringleader of a stone-pelting gang, reported Hindustan Times.
"The army major is lying to save himself," Hindustan Times quoted Dar, who also added that had he been the ringleader of stone-pelting mobs, he would not have cast his vote. The 27-year-old said that the army is there to save people and "not to use common people to shield themselves."
Dar also reiterated his resolve to never vote again. "I won't vote again after what they did to me. I will boycott voting," the report quoted Dar as saying.

Gogoi's version of what happened on 9 April

While interacting with the media on Tuesday, Gogoi had defended his action on 9 April while adding that Dar was tied to the jeep as he could have been the ringleader of many stone-pelters.
The army officer finally broke his silence over the incident when fresh controversy erupted after Gogoi was honoured on Monday with the Army Chief's commendation card for "his sustained efforts in counter-insurgency operations".
Narrating the circumstances leading to the controversial decision, Gogoi said that about 1,200 stone-pelters had surrounded a small group of security personnel at a polling booth in Utligam village of Budgam district on 9 April and if he had ordered firing, there could have been at-least 12 casualties.
The mob, which included women and children, was threatening to set ablaze the polling booth, he had said.
Gogoi said that he (and five other army personnel) had gone to that polling booth after a "distress call" about a small group of ITBP personnel and few members of the polling staff being surrounded by a big crowd of about 1200 stone-pelters.
He said that when he reached Bandipora, the crowd had started pelting stones. He said that despite repeated requests on his megaphone, the crowd, comprising several women and children refused to budge. As the stone-pelting increased, Gogoi ordered his men to take hold of Dar, the man who seemed to be instigating the attacks.
"This thing I have done only to save the local people (sic). Had I fired, there would have been more than 12 casualties... With this idea, I have saved many peoples' lives," Gogoi told reporters at the Beerwah camp in Budgam district.
Dar was a ring leader, claims Gogoi 
Talking about Dar, Gogoi had said, "He tried to flee on a bike but somehow, despite intense stone-pelting and getting hurt, we caught hold of him."
He said after catching Dar, the army personnel moved towards the polling station with the help of mine-protected vehicle.
"Once we got inside, I rescued four civil polling staff, seven ITBP personnel and one Jammu and Kashmir Police constable," he had said.
Later as the army men started moving in their car, they realised that there was heavy stone-pelting from all sides and that is when the army Major decided to use him as a human shield to protect the local people.
Gogoi had said as they got a "fraction of moment (sic) to get out" and that they used the opportunity to "save at least 12 lives".
"The crowd threw one petrol bomb at us and we had to face many roadblocks," Gogoi said.
The officer said that while they were leaving the polling station, their mine-protected vehicle got stuck in the mud. "My team and I ensured smooth polls," Gogoi said.
Dar slams army officer 
Dar, on the other hand, dismissed the probe into the case as a farce. Dar said he was yet to be called by the police or the army — which has instituted a court of inquiry into the incident of 9 April — for his side of the story.
"It is a complete eyewash," he said about the inquiry. "They were never serious. I am a small person and why should anyone care," Dar said.
"It has been over a month since then and I am yet to hear from the local police. Even my statement has not been registered," Dar told PTI from his home at Chill in Budgam district.
The 27-year-old embroidary worker also reacted to the honour recieved by Gogoi. "I wonder whether tying a person to a jeep are his efforts in counter-insurgency operations," Dar said, regretting having stepped out of his home to vote. "I was told that my statement had to be recorded but that has not happened so far. Even if the army is conducting its own inquiry, my statement is needed for I am the victim," he said. Dar believes the state and central governments are trying "bury the truth" in the files.
Kashmiri politicians and separatists outrage
In Kashmir, people across the ideological divide, including the ruling Peoples Democratic Party (PDP), were outraged after the Indian Army felicitated the major despite a court of inquiry report yet to be tabled.
PDP general secretary Nizamudin Bhat said honoring the major was "improper" and "not a right decision", and said the state government would investigate the incident properly.
"PDP's stand is that such incidents are bad for public perception and should be probed. If he (Gogoi) has been rewarded for this bravado, I don't feel this is proper," Bhat told reporters in Srinagar.
Hurriyat chairman Syed Ali Geelani also said the decision of honoring the major is extremely "distressing and shameful". "Honoring such an officer clearly vindicates our claim that this is a state-sponsored policy, and if not stopped, it will prove detrimental to human lives. We are looking towards the International Court of Justice to intervene, like it did in the Kulbhushan Jadhav case," Geelani said.
"It's ridiculous to award the officer for the insensitive human shield incident. The authorities' version is not acceptable, and it was actually a severe act against humanity. His intentions were not sincere, and he just tried to harass people in the area; it was a deliberate attempt to drag people to polling booths," Geelani added.
Jammu and Kashmir Liberation Front (JKLF) chairman Muhammad Yasin Malik termed the army officer's commendation as an "act of naked fascism", but said he was not surprised. "This is why we find the Indian Army, security forces and the police are killing Kashmiris with impunity, maiming and blinding people shamelessly, and oppressing humans openly," Malik said.
He added, "Much before this commemoration, the politicians adhering to the mindset of fascism have termed this act as 'self-defence', and said that 'everything is fair in love and war', which speaks volumes about their fascist mindset."
With inputs from agencies
Find latest and upcoming tech gadgets online on Tech2 Gadgets. Get technology news, gadgets reviews & ratings. Popular gadgets including laptop, tablet and mobile specifications, features, prices, comparison.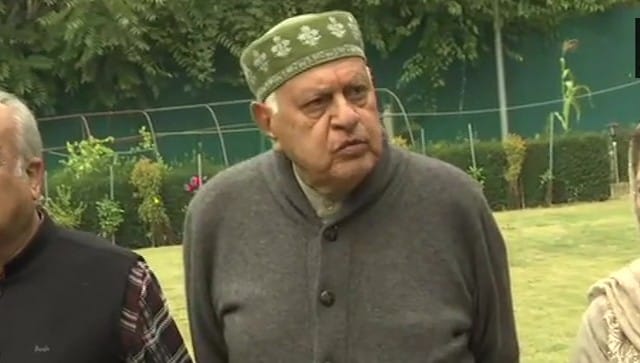 India
Reacting to the list, Omar Abdullah said "Dr Farooq Abdullah has not availed of the Roshni scheme for either his residence in Srinagar or in Jammu and anyone who says otherwise is lying."
India
The encounter started after a vehicle carrying the terrorists was intercepted by security forces personnel near the Ban toll plaza of Nagrota district, officials said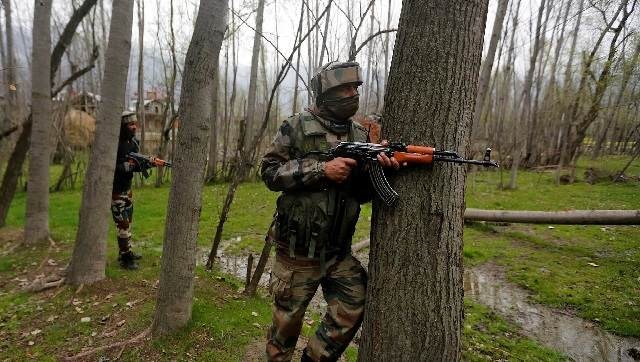 India
The sources said intelligence-based targeted strikes are being conducted by the Indian Army to neutralise mostly Pakistani and foreign terrorists, and the collateral damage has been very negligible in these operations