Kamala Mills fire: Mumbai Police announces Rs one lakh reward for information on absconding pub owners of 1Above
Mumbai Police announced a reward of Rs 1 lakh to those providing information about the whereabouts of the owners of '1Above' pub in the Kamala Mills Compound
Mumbai: Mumbai Police on Friday announced a reward of Rs 1 lakh to those providing information about the whereabouts of the owners of '1Above' pub in the Kamala Mills Compound, a police spokesperson said.
The pub owners, Kripesh Mansukhlal Sanghvi, Jigar Sanghvi and Abhijeet Mankar, have been absconding ever since a fire claimed 14 lives and injured over 30 others on 29 December.
An offence of culpable homicide not amounting to murder under sections 304, 337, 338, 34 of the Indian Penal Code was registered against the three at the NM Joshi Marg police station following the incident.
An official said that police teams were trying to track the three and a lookout notice had also been issued.
India
The merriment of Khushbu Bansali soon turned into mayhem as a fire broke out shortly after midnight at Kamala Mills. She lost her life in the incident.
Mumbai
More than a fortnight after the Kamala Mills tragedy, this will be the eighth big arrests made in the case, where the rich and mighty were charged with non-compliance of safety norms and negligence resulting in loss of lives.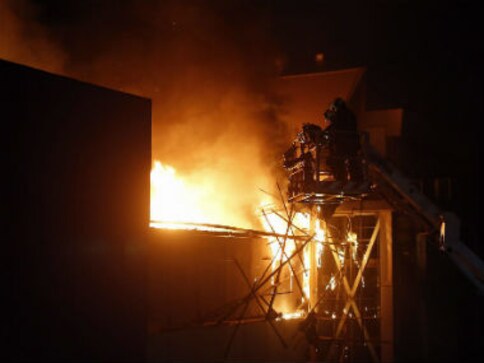 India
Vishal Karia (42), a hotelier, businessman and close friend of cricketers, actors and politicians, was arrested for allegedly sheltering the three wanted owners of the 1Above pub at his Juhu residence. The Mumbai Police arrested Karia for helping Kripesh Sanghvi, Jigar Sanghvi and Abhijeet Mankar to evade the police in connection with the Kamala Mills fire on 28 December. His name has been added in the FIR under Section 304 for culpable homicide, confirmed a senior police official from NM Joshi Marg police station.