Justin Trudeau's India visit a complete mess, but it should be viewed as a stepping stone and not in isolation
Should India and Canada use this meeting as a stepping stone in the bilateral, no one will even remember what Justin Trudeau was wearing
On Saturday, Canadian prime minister Justin Trudeau completed an eight-day India visit that also happened to be his first State visit to these shores. It's tremendously difficult to know for sure what's going on behind the prime minister's ever-present smile, but it's safe to assume he didn't expect the sort of rancorous press coverage — or at least the degree of rancour — his visit would attract. News media at home — most notably Toronto Sun's savage coverage (see here, here and here) — and in India spared no opportunity point and sneer at the roadbumps (of which there were a considerable number) Trudeau's India tour hit.
When it comes to mapping expectation against result, the visit could even be said to have been comparable to the May 2017 India jaunt of a fellow Canadian and fellow Justin, whose over-the-top antics (and similarly ostentatious list of requests) failed to live up to the hype and overall outcome made a lot of people very angry. But stare at that link too long and the more tenuous it gets. Let's move on.
It's possible that the opprobrium directed at the prime minister and his India visit is linked to his battered and scuffed-up halo that has been slipping since he took office in 2015. Led by Trudeau, it may be recalled, the Liberal Party of Canada stormed to its second-biggest electoral victory in October 2015. The son of Pierre Trudeau was fêted worldwide for, among other things, being one of the rare Liberal leaders to win an election in a time when it was mainly Conservative ones who were winning elections all over the planet. Flash-forward to 2018 and in Canada, the Stephen Bronfman-Paradise Papers revelations, the conflict-of-interest allegations and affordable housing crisis have contributed to a steadily dropping approval rating.
One of the primary criticisms levelled against Trudeau was that he was using the pretext of a State visit to take his family on holiday and that of the eight-day-long sojourn, only one day actually went into doing any real work. Some felt it was an outrage that a family holiday of this scale and magnitude was being conducted at the expense of the exchequer. It was also felt that he spent more time pandering to vote banks back home with one eye on the October 2019 election than on the bilateral (considering his dropping approval rating, history may view this as a smart move to arrest a sharp decline in popularity). The airport snub was another topic that spiralled into a major issue. Then, there was the cameo appearance thrown in by separatist and convicted would-be-assassin Jaspal Atwal. Things were not looking good.
But before we engrave the tombstone for a fantastic (!) bilateral, let's take a look at the realities of the India-Canada relationship. For starters, how many news reports even spoke of India-Canada relations 10 years ago?
Ties between the two Commonwealth countries have never been top priority for either and total trade worth $6 billion (as of 2016) is testament to that fact. Further, the 1985 bombing of Air India Flight 182 and Ottawa's reaction to New Delhi's nuclear tests of 1974 and 1998 contributed to an extended freeze in relations. The lack of any significant trade, defence or energy component in the bilateral meant it wasn't at the top of either country's agenda to firm up or deepen ties. Certainly, an India-Canada Working Group on Counterterrorism was established in 1997, but even as the Indian diaspora in Canada continued to go grow, there was little forward movement of any significance in bilateral relations. Even today, India and Canada will never be each others' most important international partners and it would be naive to expect that.
It was former prime minister Stephen Harper's State visit in 2009 that laid out a roadmap for how India and Canada should move forward. In the joint statement issued by then prime minister Manmohan Singh and Harper, the areas of energy, trade and commercial relations, technology and people-to-people connects were identified as key. Manmohan visited Canada in 2010 for the G20 Summit, but it wasn't until 2012 and Harper's second visit that the list of agreements signed began to give shape to the 2009 vision. Apart from an agreement on social security (that took cognisance of the Indian diaspora in Canada and sought to provide double-taxation avoidance), MoUs were signed for cooperation in Information Communication Technology and Electronics, and in the areas of joint research and development in Defence Science and Technology. Here too the four key areas mentioned above found precedence in the joint statement issued by the two prime ministers.
Just as with India-US relations, if it was Manmohan and his counterpart at the time who brought warmth into relations, it was Narendra Modi and his counterpart at the time who infused the bilateral with energy, dynamism and ambition. Rather aptly, the joint statement following Modi's historic first State visit (not linked to a multilateral summit) by an Indian prime minister in 42 years was titled 'New Vigour , New Steps'. The always-there-but-never-quite themes of 'Civil Nuclear Cooperation' and 'Defence and Security' enjoyed a degree of prominence in this document, and in doing so, deepened and broadened the scope of the New Delhi-Ottawa relationship.
Friday's Modi-Trudeau joint statement was a focussed document titled 'Partnership for Security and Growth' and brought to the fore the theme of 'mutual growth'. Eschewing some of the aspects of the Modi-Harper joint statement, it built on 2015's vision for security and people-to-people connects, while introducing a lengthy section on climate change. The somewhat minimalistic statement indicates that both sides seem to have identified areas on which work has begun and can be accelerated. Far from being trivial or a throwaway statement, this one actually shows a resolve to build on areas of convergence — that such areas even existed may have seemed bleaker as Trudeau's visit wore on. The accompanying release of a slightly older (19 February) agreement under the header 'Framework for Cooperation between India and Canada on Countering Terrorism and Violent Extremism' is also worth noting.
The aforementioned joint working group has been around since 1997, however, it's safe to say there's been very little in terms of tangible outcomes to emerge from the series of consultations under that banner. The framework agreement is specific and addresses the issues of 'collaboration between the law enforcement and security agencies of both countries', 'disrupt(ing) recruitment, terrorist movements and the flow of foreign terrorist fighters', 'address(ing) the threat posed by cross-border and state-sponsored terrorism', 'stop(ping) sources of terrorist financing' and so on.
Namedropping the likes of Al-Qaeda, the Islamic State, the Haqqani Network, Lashkar-e-Taiba, Jaish-e-Mohammad, Babbar Khalsa International and the International Sikh Youth Federation is important because it sends out the message that one more country is on the same page as India, with regard to terror threats to the country. In time and with the right amount of legwork on both sides, this framework has the potential to be as transformational as the 'India-US Joint Strategic Vision for the Asia-Pacific and Indian Ocean Region'. But, time will tell on that one.
As it will on all aspects of the relationship. It must be kept in mind that there are no binaries -- best friend or worst enemy and nothing in between -- in foreign policy. International partners play their own roles in a country's network of partners, some players are bigger than others. It's here that understanding the potential of a relationship goes a long way and to that effect, the memoranda signed between Modi and Trudeau are instructive.
By themselves, these agreements and understandings mean little — which is the case with most concurrences of this sort, but when viewed as part of the trajectory of India-Canada relations, they present a foundation from which Ottawa and New Delhi can move forward while being mindful of the limitations of this bilateral. Remember, it took years for India and the US to go from being on opposite ends of the Cold War divide to becoming 'natural partners'. Remember also that trade is unlikely to ever be the cornerstone of a bilateral that is equally unlikely to be as broad and financially massive as India's relations with the US, Japan, Russia or even the UK. And so, new avenues (commercial relations among businesses, technology and energy cooperation) have been identified and these should be deeper explored. The frequent mentions over the past few days of machine learning and artificial intelligence present a new dimension to be explored.
And should India and Canada build on this meeting, no one will even remember the series of outfits modelled by la famille Trudeau during its India visit, never mind writing reams of critical commentary about them.
Explainers
Mahsa Amini slipped into a coma and died while in police custody in Tehran. The 22-year-old, visiting the capital with her family, was detained after the 'morality police' took issue with her headscarf. Her death has led to widespread anger with Iranian women leading protests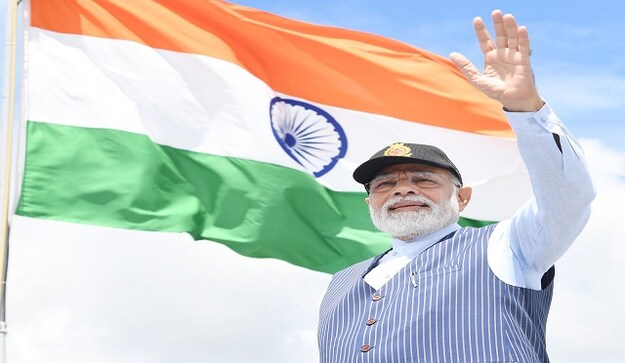 Explainers
Prime Minister Narendra Modi has been unflagging in his promotion of yoga. But that's not all. During his tenure, he laid the foundation stone of the first-ever Hindu temple in Abu Dhabi and has been endorsing Indian art through the gifts he gives his foreign counterparts
World
Defending the incident, a spokesperson for the Canadian prime minister said, after dinner on Saturday, the prime minister joined a small gathering with members of the Canadian delegation, who had come together to pay tribute to the life and service of Her Majesty