Journalistic blackmail: why it's getting less viable
More people are finding the courage to complain against blackmail by journalists, and its a phenomenon that needs to grow.
In the current climate of transparency, the issue of media blackmail is coming out into the open.
Consider this report in The Indian Express today.
"The owner of a garage in south Delhi has accused two television journalists and the head of an NGO of trying to extort Rs 20 lakh from him after having secretly filmed him with women who he says were prostitutes. A city court on Thursday directed the police to record the complainant's statement and seize the recording of a purported conversation he had with the alleged blackmailers. The journalists — Bhumika Sharma, a correspondent with India TV, and Pradeep Srivastava, a senior special correspondent with ABP News — have been suspended, the two news organisations said late on Thursday night," the newspaper reported.
This allegation of blackmail by news TV professionals comes close on the heels of Naveen Jindal's allegation last month that Zee TV executives were threatening to release damaging stories about his companies unless they were paid Rs 100 crore in an advertising deal. Zee, of course, vehemently denied the allegation and said the Jindals were attempting to bribe them.
Last month, the Express reported that "a freelance journalist was arrested on Thursday for blackmailing a Faridabad-based property dealer after secretly filming him in a compromising position with a woman".
Blackmail by journalists (or allegations of blackmail) is not new. They have been around for a long.
"Even while the debate over the ethics of a newspaper 'selling news' was hotting up into a regular war of words between two of the country's top-selling English dailies, journalism was dealt another stunning blow. Last week, the Mumbai police arrested Rishi Chopra of The Economic Times along with an accomplice (a former journalist with another business daily) in an alleged extortion attempt. The duo was reportedly trapped accepting a Rs 700,000 bribe which was the second installment of a Rs 2.5 million payoff to kill a report about the shenanigans of one Poonamchand Malu of Malu Financial Services. Worse, the payoff itself had apparently been haggled down from an initial demand of Rs 10 million to Rs 2.5 million," Sucheta Dalal wrote in 2003.
It will be some time before the allegations made yesterday or in the Zee-Jindal case are proven to be correct or unfounded, but we do see an emerging pattern in all these.
In the immediate aftermath of the Jindal sting, Firstpost had written, "What Jindal has done, in the context of possible blackmail, is to send a signal to all those who have been, or could be in the future, victims of such practices. They could follow Jindal's lead, risking the possibility of negative or damaging stories appearing in media, rather than to yield to blackmail threats."
Yesterday, it is the owner of a garage who has had the courage to stand up to alleged blackmail. Last month, it was a property dealer who showed that he, too, had the courage.
Rumours of blackmail and attempted blackmail by journalists have been doing the rounds for decades; targeted victims making complaints against those who attempt blackmail is a fairly recent phenomenon – and it's a phenomenon that needs to grow.
Disclaimer: Firstpost is a part of Network18, which also owns TV channels that compete with Zee TV and Zee Business, India TV and ABP News. CNBC TV18, owned by Network18, competes with ET Now, the TV brand extension of The Economic Times.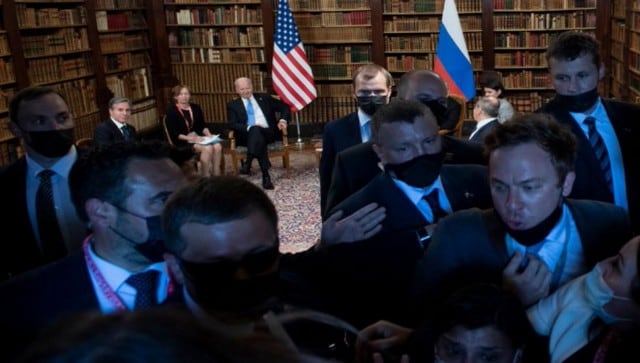 World
American journalists described Russian security and news media grabbing them by the arms and clothes to try to hold them back
Arts & Culture
Megha Rajagopalan partnered with two contributors, Alison Killing and Christo Buschek, for the report. The 2021 Pulitzer Prize win is the first for BuzzFeed.
Entertainment
Winfrey said she was inspired by her own memories of knowing poet Maya Angelou when Winfrey was young, and how Angelou stressed the importance of sharing stories from the time she grew up.