Umar Khalid escapes unhurt after being shot at, says Delhi Police; JNU student blames 'hateful propaganda' for attack
JNU student Umar Khalid escaped unhurt after an unidentified man allegedly shot at him on Monday outside the Constitution Club of India in New Delhi, police said.
Jawaharlal Nehru University (JNU) student Umar Khalid escaped unhurt after an unidentified man allegedly shot at him on Monday outside the Constitution Club of India in New Delhi, the police said.
According to an eyewitness, who identified himself as Khalid Shafi, Umar Khalid was attending an event at the Constitution Club when the incident occurred. "We were at a tea stall when a man in a white shirt came, pushed and opened fire at him. Umar lost his balance and fell down, and the bullet missed him. We tried to catch the man. He fired aerial shots and the pistol slipped off his hands before he fled," ANI quoted him as saying.
There was an event, Umar Khalid accompanied us. We were at a tea stall when a man in white shirt came,pushed&opened fire at him. Khalid lost his balance,fell down&bullet missed him. We tried to catch the man. He fired aerial shots,pistol slipped off his hands,he fled: Eyewitness pic.twitter.com/oqRcfgRPcY

— ANI (@ANI) August 13, 2018
Umar was at the venue to attend an event titled Khauff Se Azaadi, organised by the United Against Hate group. After the shooting, Umar said, "There is an atmosphere of fear in the country, and anybody who speaks against the government is threatened." Speaking to The Quint,  he said, "A person came with a gun, tried to overpower me, (and) tried to shoot me down. Thankfully, my friends were there, who tried to overpower him in return and he ran away and fired from across the road."
Umar blamed the "hateful propaganda" by trolls and the media for the attack. "I was very scared at that moment when he pointed that gun at me. At that moment, I was reminded of what happened to Gauri Lankesh, and I thought that moment has arrived," he added.
'Air of frenzy at the event'
A source in the organising committee of the event told Firstpost that this was United Against Hate's anniversary event. This year, those known to Najeeb Ahmed, the JNU student who has been missing since October 2016, and Alwar lynching victim Rakbar were attending the event. The families of victims of the lynchings in Dadri, Una and Koregaon and the communal clashes in Kasganj were also associated with the event.
"Half an hour before it was scheduled to start... we saw Nadeem Khan (one of the organisers) along with some others rush Umar into the hall. His legs were stained with mud, and it looked like he had had a bad fall," the source said. "An air of frenzy took over the hall... Nadeem narrated the story... There were two male attackers, one of them in a white shirt with brown hair. His friends tried to push the two attackers away. The armed attacker attempted to fire a shot and in the process, dropped the gun on the road... Nearly 30 minutes later, the police reached the spot and took charge of the situation."
Nadeem told Firstpost: "Despite what happened, we decided to go ahead with the event, which is ironically titled 'Khauf se Azadi.'"
An eyewitness said Umar and his friends were having tea at a stall on Rafi Marg and were about to enter Constitution Club when two men, "who looked like they 28 to 35 years of age" attacked Umar. "They pushed him to the floor and one of them pulled out a gun. When his friends and the rest of us retaliated, the two started to run away. The one in the white shirt, who had the gun, fired a shot in the air and dropped the gun there," the eyewitness said.
Online support for Umar
Shortly after news of the incident spread, people took to Twitter to express their shock and anguish. Former JNU Students' Union vice-president Shehla Rashid called it "shocking and highly condemnable".
Shocking and highly condemnable: a guy attacked Umar Khalid from behind and tried to shoot him in Delhi. This is the direct result of hatred whipped up by Republic TV & other hate media. I spoke to Umar. He's okay, but we should be very very worried about his safety. — Shehla Rashid (@Shehla_Rashid) August 13, 2018
Comedian Kunal Kamra, known for his show Shut Up Ya Kunal!, called it spine-chilling.
If this doesn't chill your spine what will? If you choose silence now when will you speak?
If this is not wrong, what is wrong?

In Solidarity.
https://t.co/mu6LG55RNW

— Kunal Kamra (@kunalkamra88) August 13, 2018
Former Jammu and Kashmir chief minister Omar Abdullah said the attack was a direct result of the "relentless hate campaign using both social and mainstream media".
Wage a motivated hate campaign against individuals & sooner or later someone will feel emboldened enough to take the law in to their own hands. The attack on @UmarKhalidJNU is the direct result of the relentless hate campaign using both social & mainstream media. Glad he's well. — Omar Abdullah (@OmarAbdullah) August 13, 2018
Communist Party of India member Kavita Krishnan said it was the "hate speech and fake news" peddled by news channels that led to the attack.
Shocking attempt to kill #UmarKhalid - ironically outside Construction Club in Delhi. The hate speech and fake news by news channels targeting him and others as 'anti national' directly results in such murderous violence. Those burning Constitution are, of c not 'anti national'!

— Kavita Krishnan (@kavita_krishnan) August 13, 2018
Gujarat MLA Jignesh Mevani reacted to the incident and said he suspected that the people who killed journalist Gauri Lankesh and rationalists Narendra Dabholkar and Govind Pansare were behind the attack on Umar.
My reaction on Umar Khalid pic.twitter.com/wkjOLFyip3 — Jignesh Mevani (@jigneshmevani80) August 13, 2018
Umar was in the news two weeks ago when he accused the JNU administration of a vendetta and said that they have not allowed him to submit his PhD thesis despite the Delhi High Court ordering the institute to not take any coercive action against him till 16 August.
"...The proctor refused to accept my submission, arguing that it was not coercion. This is another level of vendetta. I will definitely not pay the fine... I will contest this further," he was quoted as saying.
JNU students Umar, Kanhaiya Kumar and Anirban Bhattacharya were arrested in February 2016 on charges of sedition in connection with a controversial event at the university campus. They are all out on bail. Umar was earlier rusticated from JNU and slapped with a fine of Rs 20,000 in connection with the 2016 incident.
On 20 July, the Delhi High Court listed for 16 August a plea by Umar. The JNU counsel had said no coercive steps would be taken against him and a few other students, who also moved the court against the penalty the varsity imposed on them.
With inputs from agencies
With inputs from Pallavi Rebbapragada
Find latest and upcoming tech gadgets online on Tech2 Gadgets. Get technology news, gadgets reviews & ratings. Popular gadgets including laptop, tablet and mobile specifications, features, prices, comparison.
India
Seema Dhaka is the first police personnel to be given the promotion under the Asadharan Karya Puraskar, which is reserved for a cop who rescues 15 or more missing children under 14 years within 12 months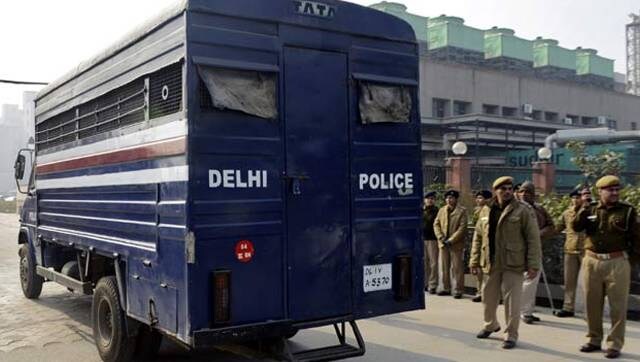 India
Both suspects, who are residents of Jammu and Kashmir, were apprehended at around 10.15 pm on Monday, a senior officer said
India
Last month, the Joint Committee of Parliament on Data Protection Bill came down heavily on Twitter for showing Ladakh as part of China, saying it amounted to treason and sought an explanation by the US-based parent of the social media platform in form of an affidavit