Jammu and Kashmir policemen 'quit', apologise to public after Hizbul Mujahideen kills three cops in Shopian
Hours after three Jammu and Kashmir policemen were abducted and killed by militants, nine others reportedly announced their resignation—some on social media—hinting at a panic among the force.
Hours after three Jammu and Kashmir policemen were abducted and killed by militants, nine others reportedly announced their resignations—some on social media—hinting at a panic among the force. Even as Ministry of Home Affairs (MHA) denied the reports of resignations and said they are based on "false propaganda by mischievous elements", senior police officials said they are "trying to confirm the authenticity of the videos." However, some confirmed the resignations.
Some of the Special Police Officers (SPOs), who are not permanent employees and work on meagre salaries, also posted letters of apology  along with their identity cards on the networking sites.
In Jammu and Kashmir, local police officials said they were "unnerved" by the killing of three policemen in Shopian. Even though the police earlier issued an advisory asking local police not to frequently visit home and do so only in times of emergency, some said it was "not possible to avoid visiting home."
"I live in Shopian,'' said one official, speaking on the condition of anonymity.  "How can I avoid going home?''
Most of the resignations came from policemen in Shopian district. Two Kulgam policemen also resigned; another from Pulwama's Wahibugh apologised for working with the police.
This comes after militants warned that those contesting that those contesting the upcoming panchayat and urban local body polls, scheduled to be held next month, will be killed. Shahid Ahmad Bhat, a resident of Qazigund, has been a policeman since September 2017. He said he is resigning from his SPO job in view of the threats by militants. "I don't want to work as a policeman anymore," Bhat said.
Another SPO, Nayeem Ahmad Bhat, from Pulwama's Wahibugh area, tendered an "apology to the people" for working with police. "I have not worked against freedom movement. Today, I am resigning and the copy of my resignation will also be submitted to superintendent of police," he wrote in an apology letter which went viral on WhatsApp.
Pulwama superintendent of police Chandan Kohli said the police is "ascertaining the authenticity of the videos". Earlier, the videos of Irshad Ahmad Baba of Shopian, Tajal Hussain Lone resident of Shopian, and Shabir Ahmad Thoker went viral on social media. Tajal posted a video that he was working as SPO for the last six years and although he had resigned earlier, he was uploading the video now. Shabir said in the video, "I was working as SPO for the last eight years. I have no connection with police from today. I am posting this video without force or fear."
The video of SPO Nawaz Ahmad Lone of Kulgam also went viral. A police official posted at Qazigund police station confirmed that Lone had resigned. "SPO Nawaz Ahmad Lone, who was working with us, has resigned," the police said.
The Hizbul Mujahideen (HM) earlier released a video claiming responsibility for the abduction of the family members of the police on 30 August. Local Hizbul commander Riyaz Naikoo released a video saying they were forced to do so as the families of militants were frequently being detained, beaten up and their personal possessions were burned. The police's kin, who were later released, said they were not subjected to any "harassment" after being picked up by militants.
Find latest and upcoming tech gadgets online on Tech2 Gadgets. Get technology news, gadgets reviews & ratings. Popular gadgets including laptop, tablet and mobile specifications, features, prices, comparison.
India
Four close aides of underworld don Dawood Ibrahim have also been named in the list: Shaikh Shakeel alias Chhota Shakeel, Mohammad Anis Shaikh, Ibrahim Memon alias Tiger Memon and Javed Chikna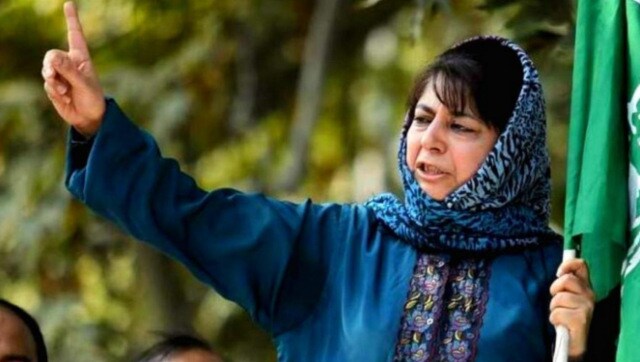 India
Mehbooba Mufti had said she would hold the national flag only when the separate flag of the erstwhile state is restored.
India
The identity and group affiliation of the slain militants was being ascertained, an official said, adding that preliminary investigation suggests that one of them was a foreigner