India's water crisis: Errant rainfall, dearth of employment opportunities cause migration from Bundelkhand's farmlands
Farmers from Bundelkhand, eight districts of Uttar Pradesh and five districts of Madhya Pradesh have been moving to cities due to agrarian distress.
Editor's note: A recent NITI Aayog report on India's water resources presented an alarming state of affairs. The country, according to the think tank, is in the grip of the worst water crisis in its history, with 600 million Indians faced with "high to extreme water stress", resulting in 2 lakh deaths a year. Firstpost will run a series of ground reports from across the country to determine the extent to which depleted reserves have affected daily life.
Read all stories in the series here.
***
Bundelkhand: On a warm May evening the Jhansi Junction railway station is jam-packed with people headed to different destinations — the majority of them departing from their hometowns to other places in search of employment. Among this migrating crowd is Arjun Yadav, a labourer from the parched region of Bundelkhand.
Arjun, a 22-year-old from Birora Pahad village in Tikamgarh district of Madhya Pradesh, around 50 kilometres from Jhansi, is headed to Mumbai in search of a job. While his parents look after the four bigha land they own back home, his elder brother, the other earning member in this family of four, has already moved to Patiala in Punjab to work at a wool mill.
"Until now, I was farming and doing other odd jobs so I could feed my parents, but I am moving to Mumbai now in search of a job. I cannot farm anymore as there is a serious water crisis in our village. We do not even have water to drink and cook, so farming is out of the question," says Arjun, adding that his father had to borrow Rs 2,000 for his journey to Mumbai.
"We have tried growing pulses and wheat, but we haven't been able to cultivate crops in the last four years. We had to sell our ox for a small sum, and we have a debt of Rs 9,000, which we have to pay on time," he says, adding that almost the entire village has migrated to other cities.
Mukesh Kumar, 26, a resident of Gursarai village in Datia, adjoining the Jhansi district border, who is all set to board the train to Pune, says that he is leaving behind a family of ten in search of a job. "I will return home after a year or on festivals with a lot of money. I am responsible for my family members, and we cannot depend on agriculture for our livelihood. There is no water anywhere, it is all desert with small mountains and dry ponds," he says.
'62 lakh migrated in 2017'
According to social activist Ashish Sagar, who runs a non-profit for farmers in Bundelkhand, the migration rates have been growing by the day in Bundelkhand, and no one is paying attention to this. "Our NGO conducted a survey last year to understand the ground reality. What we found was that more than 62 lakh people had migrated to other cities for jobs. There is no water and no economic activity, so there is nothing left for these farmers and labourers here. In fact, every village in Bundelkhand has only elderly people, women and kids left, as they look after the home while the men live in different cities," Ashish says.
The situation is getting grimmer by the day, and so, farmers from Bundelkhand, eight districts of Uttar Pradesh and five districts of Madhya Pradesh have been moving to other cities with the hope of a better life for their families.
According to Girish Kanchan, chief public relation officer and divisional commercial manager at Jhansi railway station, between 21,000 to 25,000 tickets are sold per day, and around 25 percent to 40 percent of the passengers are those migrating to other places. "The rainfall in this region has been very low for a long time, due to which the exodus has increased from this area. It will stop if this area receives plenty of rainfall, which is not happening," says Kanchan, who sees a large number of farmers and labourers board different trains. According to a News18 report, based on the sale of railway tickets, more than 18 lakh people migrated to Delhi alone in 2015-16.
Nothing to keep them back home
According to Magsaysay Award-winner Rajendra Singh, known best as the 'water man of India', the pattern of migration has changed in recent years, with hardly any people returning to their native places. "If you look at the pattern of migration, you will see that now, more people are moving to cities, and this includes women and children. Earlier, only the males would migrate. The most worrying part about this is that very few people return to their native places, even during the rains," Singh says.
"Bundelkhand ki jawaani, paani aur kisaani toh barbaad ho chuki hai, aur sarkaar bhi iski taraf dhyaan nahin de rahi hai (Bundelkand's youth, water and agriculture is ruined and the government has not paid any attention to this)," he adds.
He further says that the package given by the government to Bundelkhand is just an eyewash, and people have been moving out in search of jobs. But, people would stay back in their native place if there were enough employment opportunities. "Time is slipping away like sand from your fingers, and now, the government should differentiate between internal migration, forced migration and displacement. The problem here is more of a displacement issue or forced migration, because there is nothing here to keep people from moving away from the hometowns," Singh says, stressing upon the need to build awareness on water and farming in Bundelkhand, which is sadly not happening.
It may be noted that the central government, on 11 November, 2009, approved of a Bundelkhand package worth Rs 7,266 crore, out of which Rs 3,505 crore was for Uttar Pradesh, while the rest for Madhya Pradesh. The government later decided to continue the funds from 2012-2017. Back in February, prime minister Narendra Modi announced that a defence industrial corridor will be made in the parched Bundelkhand region at a cost of Rs 20,000 crores, which would provide jobs to around 2.5 lakh youth, and also connect the region with Agra, Aligarh, Jhansi and Chitrakoot.
(Saurabh Sharma is a Lucknow-based freelance writer and a member of 101Reporters.com, a pan-India network of grassroots reporters)
also read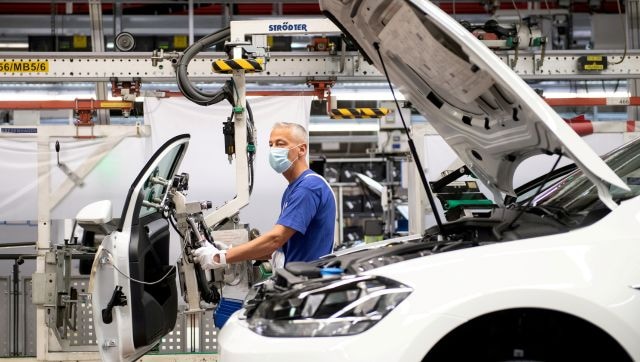 Explainers
Germany's GDP fell .3 per cent in the first quarter of 2023 following a .5 per cent decline in the last quarter of 2022. Though Chancellor Olaf Scholz described the outlook for the economy as 'very good' experts say this is a rude awakening for the country and the entire continent
Explainers
Elon Musk's brain-computer interface company Neuralink has received approval from the FDA to conduct its first in-human clinical study. The firm wants to put coin-sized implants into human beings, which will allow people with paralysis regain motor function, restore vision, and treat brain diseases
Explainers
Tipu Sultan, the 18th Century Mysore ruler, slept in a hammock suspended from the ceiling of his locked bedchamber with this sword by his side. Found in his private apartments after his defeat at the battle of Seringapatam in May 1799, it was previously owned by Vijay Mallya