India must declare Pakistan a 'terror state' instead of having outbursts at the UN
What is India's Pakistan policy? The current policy (if there is one) seems to be an unstable oscillation between naïve ad-hocism and macho posturing.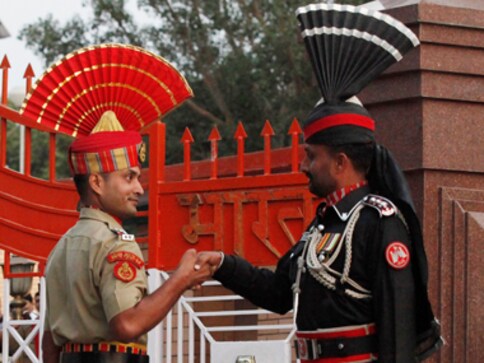 Are Indian policymakers tasked with chalking out a Pakistan strategy following the script of BJP-Shiv Sena relationship in Maharashtra? Fatuous as it may sound, India's recent actions give space for such a speculation to rise. On the one hand the Centre — citing the most laughable of excuses — says it will oppose a private member's bill to term Pakistan a 'terror state', on the other hand it throws the kitchen sink at its favourite bête-noire on yet another United Nations platform.
On the back of these confusing signals, it is time to ask some questions to the Narendra Modi government.
What is India's Pakistan policy? The current policy (if there is one) seems to be an unstable oscillation between naïve ad-hocism and macho posturing. How does it plan to tackle the relentless cross-border terrorism being devised, abetted and executed from across the border? In the wake of increasing Pakistan-supported insurgency in Kashmir, what is the NDA government doing to ensure that violent insurgencies — such as the one we just emerged from — are not allowed to fester again into a gangrene? Beyond periodic impotent fulminations on UN forums, how is India planning to shape the broader bilateral relationship?
It must have become boring for the UN dignitaries to watch the habitual India-Pakistan pirouette. Islamabad will open the routine by raising India's "human rights violations" in Kashmir and call for intervention. New Delhi will retaliate by asking Pakistan to dismantle its jihadi factories and stop exporting terror. As an added attraction, recent exchanges have been peppered by India's references to Pakistan's state-sponsored atrocities in Khyber-Pakhtunkhwa and Balochistan provinces.
It isn't clear what strategic benefit this hackneyed routine brings for India, but the 34th session of the Human Rights Council in Geneva on Wednesday saw yet another staging of the charade.
Pakistan's law minister Zahid Hamid called India an "occupying power" bent on brutally snuffing out Kashmir's right to self-determination and added that India's narrative on Kashmir being an internal affair "is factually incorrect, legally untenable and in violation of the UN Security Council resolution."
Ajit Kumar, India's permanent representative to the UN in Geneva, mouthed the usual rebuttals.
In an apparent reference to Hafiz Saeed, he said, "During last two decades the world's most wanted terrorists found succor and sustenance in Pakistan." Referring to the spate of terror attacks in Pakistan's Sehwan, Lahore and other places resulting in the deaths of hundreds of civilians, Kumar added: "Pakistan has created terrorist groups against India, these monsters are now devouring its creator." Calling for Islamabad to vacate Kashmir before invoking UNSC resolution, he said Pakistan is "the true epicenter of global terror."
Impressive. And completely meaningless.
Does the world need reminding that Pakistan is the global epicenter of terrorism? Not so long ago at the UNGA address in September last year, India had called Pakistan a "terrorist state" that runs from its soil the "Ivy League of terrorism" affecting the globe with its "toxic curriculum" and uses terror as an "instrument of state policy" which is a "war crime". Smarting and outraged at the stunning attack on Army headquarters at Uri, India's righteous indignation was evident. It appeared that the proverbial Rubicon has been crossed and words will now be translated into action.
And yet, just a few months after calling Pakistan a "terrorist state" at the UN, Rajnath Singh's office informed the Parliament Secretariat that Independent MP Rajeev Chandrasekhar's Bill, seeking to declare Pakistan a "terror state", will be opposed.
Tabling the Bill in Rajya Sabha on 3 February, Chandrasekhar cited data from 1998 to 29 January, 2017, to inform the House that 14,741 Indian civilians have fallen to terror attacks and 6,274 security force personnel have lost their lives in this period while 23,146 terrorists have been neutralized. More importantly, he stressed on the need for India to walk the talk.
"Pakistan's history and track record of fostering terrorism and terrorists is long and indeed distinguishable and incontrovertible… It is time that we stop running to other countries to declare Pakistan a terror state and stood up and did this job ourselves," Chandrasekhar said during the presentation.
In response, a government official told The Hindu that such a move may "jeopardize international relations under the Geneva Convention". What?
"We have diplomatic relations with the neighbouring country which includes High Commissions as well as trade relations. It will be not prudent to declare any country as a terror state as India is bound by international norms," he was quoted by the newspaper as saying.
What diplomatic relations are we talking about? One that rewards Modi's Lahore stopover with terror attacks? Or maybe one that fingers the old Khalistani wound?
Why were these considered views on diplomatic ties and trade relations absent when India was frothing at the mouth at the UN? Or is it that instead of a coherent foreign policy, we rely on a set of knee-jerk reactions?
When it comes to Pakistan, why do we fluctuate between vehement retribution and blissful somnolence depending on whether or not there is a terror attack? It does little for India's image as a rising, ambitious Asian power and grossly undermines its geopolitical influence when New Delhi is seen as dithering and undecided in fixing its most pressing geostrategic problem.
As Chandrasekhar had rightly pointed out in a column for The Times of India, "the tragedy in India is that the public narrative and opinion about Pakistan, waxes and wanes with terror attacks."
If we understand that Pakistan sees the asymmetric war as a legitimate foreign policy tool against a much powerful India, it stands to reason that we use the tools at our command to minimise our risks. Outbursts at UN or trying to diplomatically isolate Pakistan won't have much bearing in an international order driven by mercantile ties, self-interest and realpolitik rather than idealism. We have tried smoking the peace pipe. It has remained ineffective at best and grievously injurious at worst.
Declaring Pakistan a "terror state" is a largely symbolic move. But it goes a long way in announcing India's intent to the rest of the world. As global geopolitical order goes through a period of turmoil, India's position as an emerging economic power and a democratic counterbalance to a revisionist China remains secure. We must seize the chance to tell the world that our patience with Pakistan is ending.
World
Abdul Rauf Azhar was sanctioned by the US in December 2010. This is the second time in less than two months that China has put a hold on a listing by the US and India to blacklist a Pakistan-based terrorist under the sanctions committee of the UN Security Council
World
This is the second time in less than two months that China has put a hold on a listing by the US and India to blacklist a Pakistan-based terrorist under the sanctions committee of the UN Security Council.
India
"We continue to carefully follow developments regarding the safety and security of Ukraine's nuclear power reactors and facilities," India's Permanent Representative to the United Nations, Ambassador Ruchira Kamboj said