India lost one of its best environmentalists with Professor GD Agrawal's death, but other sadhus vow to keep up Ganga movement
Swami Sanand (Professor GD Agrawal) died at AIIMS, Rishikesh, on 11 October after a 111-day-long fast demanding that the Ganga be cleaned up and hydroprojects on rivers be stopped to ensure their uninterrupted flow.
Haridwar: Matri Sadan, or the Home of the Mother, has been the fountainhead of the agitation to clean the Ganga. Situated on the banks of one of the river's many tributaries in Haridwar at the tail end of Kankhal in the city, the sadhus at this very basic facility are willing to sacrifice their lives to ensure that the Ganga retains its aviral, or uninterrupted, flow.
Having already lost young Swami Nigmanand Saraswati in 2011, Baba Nag Nath in 2013 and, more recently, the highly-acclaimed Swami Sanand (Professor GD Agarwal) to this cause, Matri Sadan's fourth monk, Swami Gopal Das, is now on a fast unto death to achieve this objective.
The only parallel that can be drawn anywhere in the world of monks willing to sacrifice their lives for a cause was in the mid-sixties of the last century, when Buddhist monks had launched an agitation against the corrupt oligarchic president of South Vietnam, who was trying to force Roman Catholicism on a largely Buddhist population.
Officials of the local administration in Haridwar have picked up Swami Gopal Das and taken him to the AIIMS facility in Rishikesh, from where, fearing adverse publicity following Professor Agrawal's death, he was taken unexpectedly to Chandigarh to be admitted to the PG Hospital there. He was discharged on 21 October and is expected to be brought back to Rishikesh on Monday.
Swami Sanand died at AIIMS, Rishikesh, on 11 October after a 111-day-long fast. The circumstances of his death have left environmentalists and the larger community of spiritual leaders extremely agitated, especially as they feel there are many unaddressed questions regarding his death that need to be answered.
This concern spilled over at the shraddhanjali (homage) ceremony held at Matri Sadan on 20 October, attended by environmentalists, including advocate MC Mehta and Rajendra Singh, along with a few spiritual leaders, including Swami Avimukteshwaranand of Varanasi, who is also at the forefront in the save the Ganga movement.
Swami Shivanand, who heads Matri Sadan, has been asking one question repeatedly: Why, in the first place, did district authorities take Professor Agrawal to AIIMS in Rishikesh against his wishes?
"On 10 October, he was well and active and had spent the morning walking around Matri Sadan, despite having been on a fast for 110 days, having survived on a diet of salt, honey and lemon water. He had earlier announced that he would go on a fast unto death from 10 October since the government was not willing to concede to any of his demands," said the aged Swami Shivanand, who was a chemistry teacher at Jadavpur University in Kolkata before he moved to Haridwar.
The Uttarakhand government, afraid that they could not handle the public outcry if Swami Sanand had died at Matri Sadan, had ordered the district authorities to get him admitted to the AIIMS facility in Rishikesh.
When the local sub-divisional magistrate, Manish Kumar, arrived at Matri Sadan in the afternoon of 10 October to take him away, Swami Sanand can be seen in a video protesting vehemently while being carried to a waiting ambulance. Two police officers can be seen lifting the frail, 86-year-old man onto a chair, even as he is kicks and insists that he be allowed to stay.
The next day, a video shows him lying on a hospital bed at 6.45 am, writing a note, which appears signed by him, in which he admits to facing a potassium deficiency. His handwriting is firm and clear as he writes, "Tests have showed a critical shortage of potassium in my blood. I have agreed to accept the potassium being administered to me both orally and 500 ml a day by IV."
A little later in the morning of 11 October, a doctor informed him that he was going to be shifted to AIIMS in Delhi. His close associate, Dr Ravi Chopra, who heads the People's Science Institute in Dehradun, pointed out: "This news agitated him greatly and was probably responsible for his death. He was admitted to the ICU, where he breathed his last, though, of course, the sadhus at Matri Sadan also believe that an overdose of potassium could also have caused his death."
Surprisingly, doctors at AIIMS, Rishikesh, refused to allow his supporters to enter his room to bid him their last farewell. It was only after Dr Chopra, Rajendra Singh and several other sants went on an impromptu fast outside AIIMS that they conceded to their request to see Agrawal.
His comrades-in-arms at Matri Sadan also demanded that they be allowed to bring his body back to the ashram so it can be bathed and ritually purified before being returned to AIIMS, to which the Ganga activist had donated all his organs. However, this request was also turned down.
Swami Mukteshwaranand pointed out that former West Bengal chief minister Jyoti Basu had also donated all his organs, but his family was allowed to bring the body home for the ritualistic bath and final ceremonies. "Basu was a communist, but Swami Sanand is a Hindu saint, and this request should not have been denied to us," he said.
By his death, there is little doubt that India lost one of its greatest environmentalists. This IIT-Roorkee graduate and Berkeley University scholar had been appointed the first head of the newly set up Central Pollution Control Board by former prime minister Indira Gandhi. It was during this tenure that Agrawal began to realise that the hydro-electric projects being set up on Himalayan rivers would adversely affect both their aviral (uninterrupted flow) and nirmal (purity).
It was to save the Ganga that he undertook a series of fasts in 2008, 2009, 2010, 2012 and 2013. It was the month-long fast that he undertook in 2010 that led the then environment minister, Jairam Ramesh, to cancel the three hydro projects on the Bhagirathi river and also to declare the Bhagirathi region from Gaumukh to Uttarakashi an eco-sensitive zone.
Dr Chopra emphasises that in the four letters Professor Agrawal wrote to Prime Minister Narendra Modi this year — in February, June, August and September — he had made four demands. These included establishing a Ganga Mahasabha, halting all construction of dams on tributaries of the Ganga, and also creating an autonomous Ganga Bhakt Parishad, which was mooted in 2012 to be the sole deciding authority for the river, to include members committed to protecting the interests of the Ganga and its tributaries.
The government did not accede to any of his demands.
Rajendra Singh, another close aide of Professor Agrawal, refuted Minister of Water Resources, River Development and Ganga Rejuvenation Nitin Gadkari's claims that the Centre had acceded to 80 percent of his demands.
"Not one of his demands was met. By September, Swami Sanand had whittled his demands down to just two key ones. The first was to have three hydroprojects on the Bhagirathi, Alaknanda and Mandakini rivers cancelled. This would have helped ensure the aviral of the rivers. The cost incurred by the government to halt these projects would be around Rs 300 crore, unlike the cancellation of the Loharinag Pala project, whose cost amounted to five times those of these projects," Singh explained.
"His second demand was for the setting up of an autonomous Ganga Bhakt Parishad, part of whose draft had been prepared many years ago. He was keen to negotiate with the government, which is why when minister Uma Bharti persuaded him to talk to Gadkari in August, he did so. But when he told Gadkari that rivers are part of nature's cycle and if their natural flow is not restricted, they will be also able to clean themselves, Gadkari slammed the phone down on him," Singh said.
"One of his demands was that the water flow of the Ganges be restored to 80 percent of its original flow. Swamiji was demanding a stop to ongoing and any new dam constructions," he added.
"The e-gazette notification issued by the Ministry of Water Resources on 9 October asks the project developers and authorities to maintain the environmental flow in the Ganga only up to Unnao. What happens to the river after that ? It does not talk about halting construction activities along the Ganges either. Then how will the e-flow come about?" questioned Singh, who runs water conservation and management non-profit Tarun Bharat Sangh in Alwar.
"Swamiji saw the e-gazette and just threw it on the floor. He was of the view that the government was trying to fool us by taking out that order," said Singh.
Singh and others plan to keep up the momentum of the Ganga Sadbhavana Yatra, which Agrawal had started on 29 September to press authorities to accept his demands. Singh said that members of the Yatra will continue their agitation till 14 January.
Futhermore, Gadkari claimed at a press meet — organised after Agrawal's death — that as per Agrawal's wishes, a legislation to curb pollution in the Ganges had been sent to the Union Cabinet, after which it would be tabled in Parliament. Gadkari had also cited the 9 October e-gazette at the press conference, which laid down guidelines for companies and authorities to maintain the environmental flow of the Ganges.
"Professor Agrawal would have broken his fast if the prime minister had personally assured him," said Suresh Raikwar, another close aide of the Ganga activist and another leading member of the Ganga Sadbhavana Yatra.
The aging Swami Shivanand of Matri Sadan insists that he and his monks are going to keep up the pressure to have River Ganga cleaned. "We are acting as a matter of principle. If we fail to act now, what explanation will we offer to future generations?" he said.
India
Congress president Sonia Gandhi was admitted to a hospital on 12 June after she started profusely bleeding from the nose following a recent COVID-19 infection, party's chief spokesperson Jairam Ramesh said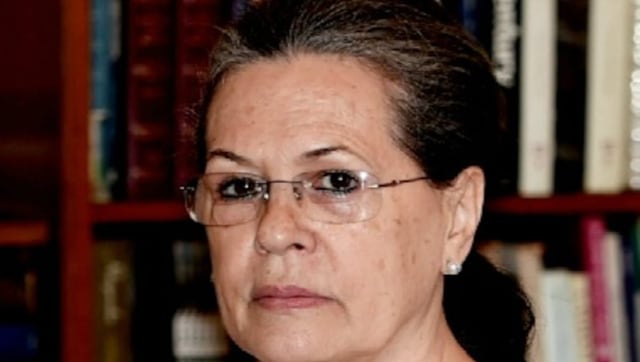 India
As per the party statement, the Congress president was undergoing treatment for a fungal infection in her lower respiratory tract along with post-COVID symptoms
India
Dr Guleria was appointed as the director for a term of five years on 28 March, 2017, and before his tenure was to end on 24 March, it was extended by three months till 24 June