Pranab Mukherjee sends clear message to Congress: If ignored, ex-president is ready to be courted by RSS
In his speech at the RSS event in Nagpur, Pranab Mukherjee also made it clear that his idea of nationalism had not changed.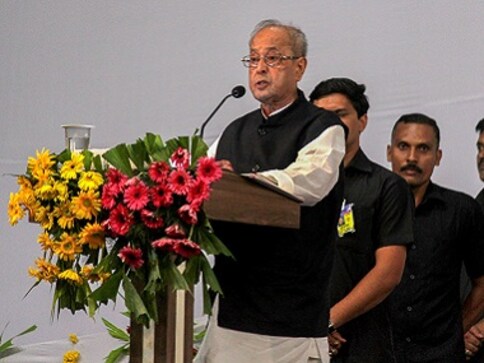 To the old adage, 'never judge a book by its cover', former president Pranab Mukherjee added another lesson for the Congress, most importantly for his daughter Sharmishtha — 'don't assume the likely content of a speech by its venue, the occasion and the host'.
At the end of the speech when Congress leader after leader began cheering Mukherjee for "holding the mirror to to the Rashtriya Swayamsevak Sangh", they could not have escaped feeling a bit sheepish. By pushing former colleagues in a spot of verbal ineptness, the former president held out a clear message — he still has a lesson or two to offer his former party and its leaders.
Mukherjee has unambiguously let it be known that his hurt for being overlooked in 2004 is intense, and now that no compulsion of office or reason to remain loyal holds him back, he can truly be his own man with enormous capacity to embarrass.
He has thrown his hat in the ring, though not the way most do to put their hand up for a post. Mukherjee has yet to give the slightest indication of angling for a role in the run-up to the 2019 Lok Sabha elections and beyond. Yet, he has not so subtly conveyed to the Congress leadership that he wishes to be a trailblazer by remaining active in a political arena beyond his presidential years.
With his visit to the RSS headquarters in Nagpur, Mukherjee has conveyed that he has chosen a path where no president has perhaps tread, not even Gyani Zail Singh who, after his turbulent tenure, could have given wind to the Opposition's sails after the Bofors controversy gathered ground within months of his retirement.
On Thursday, Mukherjee conveyed a mixed message from Nagpur — describing RSS founder KB Hedgewar as "a great son of Mother India" before saying that the "soul of India resides in pluralism and tolerance". "This plurality of our society has come through assimilation of ideas over centuries," he had said. "Secularism and inclusion are a matter of faith for us. It is our composite culture that makes us one nation. India's nationhood is not one language, one religion, one enemy."
The former president's messages from Nagpur were assorted and palatable to both sides. His exposition of nationalism would have assured Congress leaders that he had not 'strayed' and embraced the RSS idea of cultural nationalism. Mukherjee said nationalism evolved through calls by Congress leaders in colonial India "for an Indian nation comprising the territorial areas of British India and the territories of 565 princely states" — an emphatic endorsement of Congress' territorial view of nationalism.
For the RSS, besides the glowing reference to Hedgewar, Mukherjee's sweeping mention of "Muslim invaders" capturing Delhi and his concluding two words — Vande Matram — would have been music. Although he expounded an opinion divergent from the RSS worldview, he stuck to generalities and did not get into specifics of his argument.
Mukherjee agonised over "increased violence around us" before adding that "we must free our public discourse from all forms of violence, physical as well as verbal". However, he left it at that and remained silent on causation and responsibility of such brutality.
Moreover, his visit for a crucial function — a veritable graduation parade from the RSS Shiksha Varga — has come at a time when the Congress, especially its president, Rahul Gandhi, is waging an all-out ideological campaign against the Hindutva group. It cannot be ignored that Mukherjee's lavish words for the RSS founder come days before Rahul Gandhi is to appear in a court in Maharashtra's Bhiwandi in a defamation case filed against him for accusing the group of playing a role in Mahatma Gandhi's assassination.
By providing both sides with key takeaways from his engagement with the RSS, Mukherjee has sent a clear signal to the Congress that he is ready to be 'courted' by the RSS if the party did not engage with him. He has given no indication of his wishlist from the Congress and left the ball in its court. But after the Nagpur sojourn, the Congress can stay aloof from the former president at its own peril.
Despite being ideological adversaries, the functional relationship between Mukherjee and Prime Minister Narendra Modi was not marred even after the former made several statements as the nation's conscience-keeper. These included a rebuke for the government's preference for 'Ordinance Raj' and repeated reminders to India's plurality, tolerance and how an insular view of Hinduism was against the fundamental tenet of Hinduism.
Yet, at his retirement last August, Mukherjee and Modi displayed a picture of bonhomie, and the former president heaped praise on the premier. Mukherjee had even said that Modi was "driving transformational changes" in India with "passion and energy". Given the background that as president, Mukherjee acquiesced to the central government's efforts to topple the administrations in Uttarakhand and Arunachal Pradesh, his decision to address the RSS gathering gave rise to worries that he had 'crossed over'.
However, in his inimitable style, Mukherjee used the occasion to convey to the Congress that he remained committed to its true belief and still shared the party's notion of nation, nationalism and patriotism, the three concepts "so closely intertwined that it is difficult to discuss any one of them in isolation".
For Congress leaders, it is important to understand that while the worth of Mukherjee being 'with them' may not be of immense value in the run-up to the elections, his being seen, even remotely, as sympathetic to the RSS and its affiliates would cause incalculable damage.
In July 2017, days before demitting office, he chose Jangipur in West Bengal for his last visit as the head of state and to inaugurate a rural football tournament he had started in 2010 in memory of his father Kamada Kimkar Mukherjee. The town is part of the Lok Sabha constituency of the same name from where Mukherjee had registered his maiden electoral win in 2004 after three and a half decades in public life.
He had told the people that he would "come back as an ordinary citizen of India". It was in this spirit that he chose his Twitter handle @CitiznMukherjee. But his Nagpur visit underscores that he is no 'ordinary' or detached Indian, a message for the Congress and other Opposition parties to read.
Opinion
There are no political discussions in any of the RSS training camps; the focus is on ideology, physical strength, character-building, organisational work and key challenges faced by the nation
India
His right to privacy, life and liberty is at risk because he cannot use the toilet, take bath, or change clothes in front of a camera that's running 24 hours, said his family in a letter to Maharashtra home minister
India
Arvind Kejriwal said he didn't want to defeat anyone in politics but sought to make India the number one country in the world