In Jammu and Kashmir, a mother laments death of her militant son: 'I could not bring him back and it will haunt me forever'
Since the day her son disappeared in January—after which he joined the Pakistan-based Lashkar-e-Taiba (LeT)—Mehmooda Wani made frantic and often desperate attempts to locate her youngest son, thinking up ways of persuading him to give up arms and come home.
Hablish, Kashmir: Since the day her son disappeared in January—after which he joined the Pakistan-based Lashkar-e-Taiba (LeT)—Mehmooda Wani made frantic and often desperate attempts to locate her youngest son, thinking up ways of persuading him to give up arms and come home. But Yawar Bashir Wani, 21, never returned to meet his parents, particularly his mother, after joining militancy. He was a militant for 308 days. The end came swiftly. On Monday night, security forces blew up a residential home in Kulgam, killing Yawar and two foreign militants.
One August morning, the Jammu and Kashmir Police identified Yawar among the four militants who were allegedly part of an attack on the pilgrims returning from Amarnath Yatra on  10 July which left eight worshippers dead and more than 20 injured. The attack shook Kashmir and was widely condemned by political parties and civil society across the ideological spectrum. "I wish they are lying," Yawar's father Bashir Ahmad Wani, 55, a government employee in the forest department, told me earlier this year. The other three, Inspector General of Police, Munir Khan, said, were all foreigners. "No religion teaches killing of innocent people, and particularly when they are on their religious duty," Wani added.
Mehmooda knew the police blamed her son for the brutal attack. However, she remained unconvinced and never abandoned her search. The second wife of Bashir, Mehmooda would look for her son at the homes of active and former militants, their over-ground workers, religious figures, seminaries, bus stands, in buildings under construction and even a nearby forest.
Bashir married Mehmooda in early 2002, after Yawar's mother died at a young age. He accompanied his father on the day of his second wedding, sitting in the front seat of a taxi that carried the groom, Mehmooda told me one recent morning, as we drove to a nearby village after news broke that one of the militants trapped in an encounter was Yawar. "Bashir's children were young and that is why he got married again," Mehmooda said. "He wanted to make sure they did not feel the absence of a mother."
After a grueling search, in the last week of October, when a phone rang, Mehmooda got dressed and stepped out of her single-storey house in Hablish area of Devsar in Kulgam district. Bashir stood on the narrow path between the front steps of the home and the small gate.  "Where are you going?" Bashir asked his wife. "I am going to find my son," Mehmooda replied calmly. "People will say you have gone mad. He is a militant. They will say you are an informer for police," Wani scolded his wife. He stopped her from leaving their home.
After that, Mehmooda hardly ever left home. Confined to her kitchen and thinking about her son, she spent most of her days looking through a window which offered a panoramic view of the vast paddy field behind her home and the Pirpanjal mountains. A few days later, I sat with Mehmooda in her kitchen, sipping nun chai, as the paddy in the field swayed with the wind.  "I am his step mother,"Mehmooda said, "I have to try harder than his own mother. If I don't, people will say I was the reason behind his joining militancy. I can't afford to miss any opportunity that comes my way to get him back."
It is often an unexplained yet traumatic experience when you sit with parents of those who have chosen the path of violence as a political ideology. The experience of dealing with the decisions of their children can, at best, remain unexplained. But it is the life afterwards which is more traumatic. Covering it as a reporter also means consciously keeping an observant eye instead of becoming part of the story. Returning home empty-handed, Mehmooda would often find people staring at her for trying to get back a militant, who was on the "path of Allah now." But then, the next morning, she'd embark on another journey without, in most instances, informing her husband.
Yawar was a student at a religious seminary Darul-Uloom Bilaliya in Srinagar before he joined the LeT. He decamped with a weapon from a policeman at Hazratbal area of Srinagar. He soon announced his decision on Facebook. Bashir, who despite being in the forest department, a highly corrupt bureau in Jammu and Kashmir, is not a rich man. The house is not well furnished; a small area turned into a park is filled with dust coming from outside. "When my children needed money, I hardly had it," Bashir said, "Now, I have it but the boy who needed it most is gone."
A few days before he left, Yawar asked his father to change his seminary from Srinagar to Anantnag. Bashir was furious. After all, he'd recently paid Yawar's fees. This led to an argument and the father and son were not on speaking terms. Bashir said on the last day his son was home, he asked Yawar asked for forgiveness and told him to hug him tight. "I will always remember that I did not hug him tightly," Bashir said, almost murmuring. "If I knew he was not going to come back, I would have hugged him tightly and told him to forgive me."
On Monday, a group of militants attacked a convoy which was coming from Jammu to Srinagar, near Qazigund area of south Kashmir in Kulgam district, killing an army soldier. The militants fled from the scene and entered a double-storey house. Yawar was among the militants killed by security forces. "I could not bring him back and it will haunt me forever," Mehmooda shouted even as people began gathering at their home on Tuesday morning in the run up to the funeral prayers. "My son, I will soon join you in your world," she cried, as Yawar's body was taken away to be buried.
India
Seven persons were dead and 17 others injured after Honzar village in Dacchan tehsil was hit by flash floods triggered by the cloudburst in the early hours of 28 July, that damaged 21 houses, 21 cowsheds, a ration depot, a bridge and a mosque.
India
This comes after army officials revealed that the new modus operandi to indoctrinate and train Kashmiri youth in militancy was to call them through proper visa channels, rather than having them take the risk of crossing the border illegally.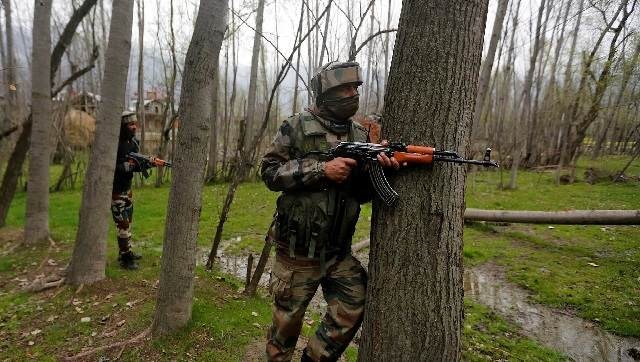 India
Security forces launched a cordon and search operation in Shokbaba forest in the Sumblar area of Bandipora in north Kashmir following inputs about the presence of terrorists, officials said