Imran Khan writes to Narendra Modi: Pakistan PM seeks to resume dialogue on Kashmir and terrorism
Pakistan prime minister Imran Khan on Thursday continued the peace talks between India and Pakistan with his letter to Prime Minister Narendra Modi in which he asked for the two neighbouring countries to resume dialogue and iron out differences.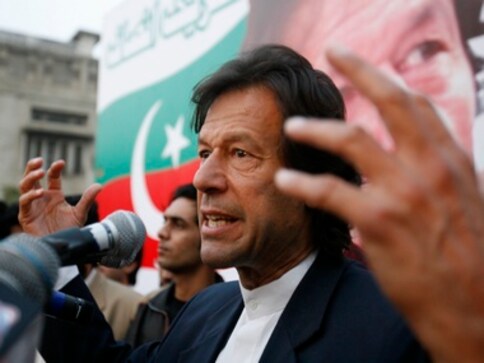 Pakistan prime minister Imran Khan on Thursday continued the peace talks between India and Pakistan with his letter to Prime Minister Narendra Modi in which he asked for the two neighbouring countries to resume dialogue and iron out differences. The Times of India reported that he also suggested a meeting between External Affairs Minister Sushma Swaraj and Pakistan's foreign minister Shah Mehmood Qureshi. The Ministry of External Affairs confirmed Khan's letter to Modi on Thursday.
In Khan's first official communication about bilateral talks since he took office in August, he said that all major issues, including terrorism and Kashmir, should be resolved through dialogue. Khan's letter comes a month after Modi own letter on 20 August in which the prime minister said that India was committed to peaceful neighbourly ties with Pakistan.
Khan's letter is the first formal proposal of bilateral dialogue since he formed the government in Pakistan last month. It came in response to Modi's own letter on August 20 which conveyed that New Delhi was looking for constructive and meaningful engagement with Islamabad. The letter sent by Modi stated that India was looking for constructive and meaningful engagement with Pakistan. He had also stressed the need to work for a terror-free South Asia.
The Pakistan prime minister's communication comes amid the Kartarpur corridor issue and speculations regarding whether Swaraj and Qureshi will meet on the sidelines of the United Nations General Assembly in New York later this month.
Pakistan Foreign Office (FO) spokesperson Mohammed Faisal, confirming "engagement" with India to plan a bilateral meeting between Swaraj and Qureshi, said that no decision has been taken on the issue so far. "We are engaged in the matter," he said when asked about reports speculating if both sides have formally approached each other.
Qureshi, in his maiden address before taking the post of foreign minister in August, had stated that, "My message is for the Government of India. I want to tell the Indian foreign minister that we are not just neighbours; we are also the atomic powers besides we have a lot of common resources between each other," he stated.
He claimed that the issues between the two countries are complicated and in order to resolve them, "we must engage". "We will have to admit that we are facing problems, we must admit that Kashmir is a reality. The Islamabad declaration is a part of our history," he said.
According to reports, this is the first concrete step for resolution of differences between India and Pakistan since 2015, when Swaraj had attended a 'Heart of Asia' conference in Islamabad. The efforts were stalled after the terror attacks on the Pathankot airbase and Army camp in Uri in 2016.
Ever since Khan took office in August, there have been several interactions between the Indian and Pakistani prime ministers. On 30 July, Modi called Khan to congratulate him on the Pakistan Tehreek-e-Insaf (PTI) emerging as the single largest party in Pakistan's recently conducted general election.  Modi, in his conversation with the PTI chief had expressed hope that democracy would take deeper roots in Pakistan.
In response to Modi's letter after Khan was sworn in as prime minister on 18 August, Khan had tweeted that the neighbours need to "resolve their conflicts, including Kashmir." He said, "The best way to alleviate poverty and uplift the people of the subcontinent is to resolve our differences through dialogue and start trading."
International support for peace between India and Pakistan
On 12 September, the US responded to the positive messages that were exchanged between India and Pakistan and said that it would be "very supportive" if conditions can be created for productive talks between the two countries, however, underlining that Washington understands New Delhi's position that "demonstrable reduction" in cross-border terrorism would create the confidence for such a dialogue.
Alice Wells, the Principal Deputy Assistant Secretary of State for South and Central Asia. said that the US had sent a two-pronged message to Pakistan: a desire to engage constructively and an emphasis on the need for Pakistan to implement its promises to fight all terrorist groups.
On 22 August, China too, said that it was willing to play a "constructive role" in easing relations between India and Pakistan. Chinese Foreign Ministry spokesman Lu Kang said the improvement and development of relations between India and Pakistan are quite important to regional peace, stability and prosperity.
"We have noted relevant reports and we welcome the positive remarks made by the Indian and Pakistani leaders on improving bilateral relations," Lu said while replying to a question on the statements made by the two leaders. "Both Pakistan and India are important countries in South Asia. As a common neighbour to Pakistan and India, China firmly supports the two sides to enhance dialogue increase mutual trust, properly handle and solve their differences," Lu said. "China hopes the two countries can jointly stay committed to regional peace and development," he added.
With inputs from agencies
Explainers
IEDs kill more people each year than any other explosive ordnance - accounting for 43 per cent of all global civilian casualties from explosive weapons. The IED used in Mangaluru was made by placing explosive material inside a pressure cooker and fastening a blasting cap to its lid
Business
Calling out former Reserve Bank of India (RBI) governor Raghuram Rajan in a tweet, BJP leader Amit Malviya claimed that NPAs of the Pradhan Mantri Mudra Yojana - also known as Mudra loan scheme - are lower than the banking sector average 7 years after it was launched by Prime Minister Narendra Modi
Explainers
From Australia to the US, Sweden and India, scream therapy seems to be gaining ground with women. But the concept first advanced in 1970 by American psychologist Arthur Janov has left experts unimpressed