IMD predicts normal Southwest Monsoon as West and North India braves heat wave
All eyes are on the Indian Meteorological Department's first monsoon for 2017. The IMD is expected to announce its forecast at 3 pm on Tuesday.
In a major relief to farmers reeling under the effect of drought, the India Meteorological Department on Tuesday forecast a normal Southwest Monsoon in India. The IMD in a presser said that they expected 96% rainfall in the oncoming monsoon season, with a margin of five percent. The weather forecast agency said that the monsoon is likely to escape the hampering effect of El Nino.
India Meteorological Department (IMD) Director General K J Ramesh said there would be good distribution of rainfall across the country. "The country will receive 96 percent of Long Period Average," he said.
Anything between 96 and 104 percent of the LPA is considered as "normal". Anything under 96 per cent is considered as "below normal" and 104-110 pe cent of the LPA
as "above normal".
Last year, the IMD had predicted a 106% rainfall, while the recorded precipitation was 97%. With India being a monsoon dependent country, IMD's forecast is crucial for policymakers, businessmen and the common man alike. This announcement came as a relief after the country faced a severe heat wave in 2016, with more than 130 deaths recorded by the month of April.
Ultimately, the Indian monsoon ended in September 2016 with three percent less than normal rains, Business Standard reported.
"The 2016 southwest monsoon has ended with normal rainfall," the report had quoted the ministry of earth sciences as saying. The report had added that it was the third time in a decade that the IMD's prediction went wrong.
Heat wave predicted across North and West India
Meanwhile, on Sunday, the IMD had issued a heat wave alert over Maharashtra, Gujarat, Rajasthan, Punjab and Haryana for the next 3 to 4 days.
According to Scroll, the heat wave has already claimed the lives of nine people, with three people dying in Maharashtra.
The heat wave is the result of an anticyclone over Pakistan and western Rajasthan, the impact of which is being felt across the northern plains.
Severe heat wave conditions are likely at Rajasthan, West Madhya Pradesh, Saurashtra,Kutch, Vidarbha and East Madhya Pradesh during next 3-4 days. Heat wave conditions are likely in Punjab, Haryana, south Uttar Pradesh and central Maharashtra at the same time, the IMD said.
"Heat wave conditions at isolated places are very likely over the lower reaches of Jammu and Kashmir, Himachal Pradesh and Uttarakhand during next 3-4 days," the IMD said.
While heat wave was predicted across the North and West of India, IMD had predicted thunderstorms and heavy rainfall in the North East and Andaman and Nicobar Islands over the next few days.
With inputs from PTI
India
Meanwhile, heavy rains continue to lash various parts of the state with the Shimla meteorological centre issuing a red weather warning.
India
The IMD has predicted fairly widespread to widespread rainfall with isolated heavy to very heavy rainfalls over Himachal Pradesh and Uttar Pradesh during 26-29 July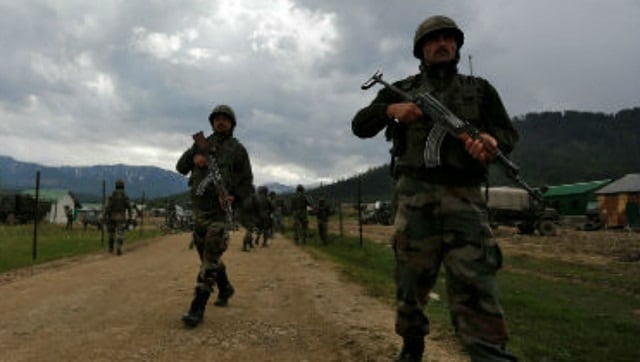 India
One of the militants was identified as Ishfaq Dar alias Abu Akram, a top commander of LeT, said DGP Dilbag Singh