Heavy rains, snowfall lash parts of north India; several dead in Himachal Pradesh, 'chardham yatra' affected in Uttarakhand
Incessant rains and snowfall have lashed many parts of north India in the past two days. The downpour has caused several deaths in Himachal Pradesh.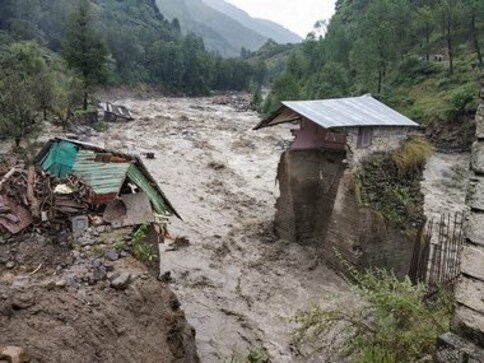 Incessant rains and snowfall have lashed many parts of north India in the past two days, leaving many people dead. The downpour and snowfall caused several landslides and disrupted normal life.
Himachal Pradesh
Hundreds, including school students, remained stranded across Himachal Pradesh after heavy rainfall for the third consecutive day, snapping over 200 road links, officials said.
Visuals on News18 Hindi showed inundated streets and stranded vehicles in Kangra district.
A man and a girl were swept away in Kangra and Kullu districts, respectively, as heavy rains triggered flash floods. Elsewhere, two people were washed away in the Parbati river in the Manikaran valley, while one girl died near Bajaura. Both incidents occurred in Kullu, one of the worst affected districts by flash floods.
A man was drowned in a swollen rivulet near Palampur town in Kangra district, while another was killed when a building was washed away in a rivulet in Una district.
Several houses in Kullu town were swept away in flash floods as the Beas is flowing above the danger mark.
Deputy Commissioner Yunus has issued "high alert" for Kullu district.
Meanwhile, schools in most districts of the state were closed Monday as a precautionary measure due to continuing moderate to heavy rains.
People residing in low-lying areas, especially in Kangra, Chamba, Kullu and Mandi districts, are being evacuated, officials said. They are also being asked to remain alert due to rising water levels in rivers and streams, they said.
In Chamba, the Ravi river is still flowing at a dangerous level and people are being evacuated from low-lying areas by the administration since Sunday, Superintendent of Police Monica Bhutunguru said. The gates of the Chamera dam were opened in Chamba district to release excess water, ANI reported.
The MeT department has predicted heavy rains in middle hills, plains and snowfall in upper hills in the state till Monday.
Most parts of Himachal Pradesh witnessed moderate to heavy rains, Shimla MeT centre director Manmohan Singh said.
Uttarakhand
Incessant rains lashed Uttarakhand on Monday, affecting the 'chardham yatra' with the roads to Badrinath,  Kedarnath and Yamunotri shrines blocked by landslide rubble in the hills.
Most of the places in the state including Dehradun, Haridwar, Pauri, Uttarkashi, Rudraprayag, Chamoli, Tehri, Pithoragarh and Bageshwar received showers with around 45 rural roads blocked in these districts, the state emergency operation centre said.
The Rishikesh-Badrinath National Highway was blocked at Lambagad in Chamoli district while the Rishikesh-Kedarnath Highway was blocked near Doliya Devi temple in Rudraprayag district by boulders falling in landslides, it said.
The Rishikesh-Yamunotri highway was also blocked in Ojri-Dabarkot area of Uttarkashi district.
Apart from these major highways, 45 rural roads remained blocked in different districts.
The MeT department has predicted heavy to very heavy showers in isolated places across Uttarakhand, especially Dehradun, Uttarkashi, Chamoli, Rudraprayag, Pithoragarh and Bageshwar districts over the next 24 hours.
Jammu and Kashmir
Thirty people, including women and children, were rescued in Jammu and Kashmir during a flash flood in Kathua district, police said on Monday.
These people were marooned in different parts of the district following heavy rains. They were rescued after a night-long operation in Billawar, Nagri, Jakhole and Chabbe Chak among others, a senior police officer said.
Due to the incessant downpour, the gates of Ranjit Sagar Dam were opened to release excess water, ANI reported. Deputy Commissioner Rohit Khajuria said, "We had warned people that gates will be opened and they should stay away."
The rescue was carried out by the state police and State Disaster Response Force (SDRF) teams.
Incessant rains led to swollen streams and rivers in the Jammu region, but with the improvement in the weather, authorities expect the water level to recede over the next 24 hours by Tuesday.
All educational institutions in the hilly district of Doda have been closed as a precautionary measure.
Traffic on the Jammu-Srinagar highway was restored on Monday after it was suspended due to heavy rains along the Ramban sector on Sunday.
Punjab
Normal life was thrown out of gear in Punjab due to incessant rains, prompting the state government to issue red alert and order closure of educational institutions on Tuesday even as the army remains on alert.
The Bhakra Beas Management Board (BBMB) issued an advisory on Monday to the Punjab government that it will release "excess" water from the Pong dam in the wake of incessant rains in the catchment area of the Beas river.
While reviewing flood-like situation triggered by continuous rains in the state, Chief Minister Amarinder Singh put the army on alert to help the state deal with any eventuality.
Fearing damage to kharif crops because of the widespread downpour, the state government also ordered a special 'girdawari' to assess crop damage.
Rains are likely to lash isolated places in Punjab and Haryana on Tuesday, though it will recede thereafter, an official of the Chandigarh Meteorological Department said. Punjab has been witnessing widespread rains for the last two days and the downpour continued on Monday as well.
With inputs from agencies
World
The floods damaged most of the water pipeline systems in affected areas, forcing more than 5.4 million people, including 2.5 million children, to rely solely on contaminated water from ponds and wells, UNICEF said.
Explainers
Amritpal Singh and his aide Papalpreet Singh have been on the run for the past seven days. They were last located in Haryana's Kurukshetra. Baljit Kaur, the woman arrested by Haryana Police for sheltering them, told interrogators that the duo confided in her that they might move to Uttarakhand next
World
Firefighters from half a dozen cities were dispatched to the area to help. More than a dozen rescuers stood at the edge of the landslide as they worked to remove debris